Keyword research tools helps you research keywords for your search campaigns (PPC) and for your Content strategy.
If you've ever launched a website, published content, or sold something online, you're aware that search engine optimization (SEO) and search campaign (PPC) is critical to getting people to know about your product  or service.
 Keyword research is a critical component of search engine optimization and search campaign.
This is because high-quality keywords are one of the most effective ways for your ad search campaign and website to appear on Google or other search engines when people are looking for products and services that are similar to yours.
It helps to drive quality traffic to your website whether through organic search or paid search advertising.
Therefore quality keywords is equivalent to quality traffic which will lead to increase in conversion or sales.
To get quality keywords inorder to drive quality traffic to your site, you need the right keywords which will be aligned to what your potential customers are searching for online.
That's where keyword research tools comes in handy.
A keyword planner tool provides you with thousands of keywords relevant to your product and services, and you can use this keywords for paid search campaign or to optimize contents on your website blog page for SEO.
There are  lots of keyword research tools that you can use to search for keywords but in this article am going to list ten (11) effective keyword planner tool that you can use to research for keywords for your paid search campaign or for content writing.
What is keyword research tool?
Keyword research tool is designed for you to discover important keywords linked to the product or services you offer as well as locating data for those keywords such as search volumes, competitions and ad pricing.
Using keyword research tool is the basis of all online marketing.
The reason for this is because if you don't know how searchers are looking for the products you sell, the services you offer, or the information and expertise which you are sharing, then there is no way you can be found online.
The purpose of keyword research is to help you determine what your target audience is looking for and what it will take to rank for those terms or what will it take for your ads to show up for those terms.
If you want to drive traffic to your website or operate a high-converting Google Ads campaign, you need to know what your audiences are searching for and base your growth Strategy on that knowledge.
Ten keyword planner Tools
The right keywords can help you get your ad or content in front of the right customers but you will need a keyword research tool that will help you sort for the perfect keyword.
There are different keyword research tools which can help you discover keywords that you can use to properly optimize your website, target terms for linking building, know which content to generate for your audience or the keywords to target for search campaigns and they include:
The Google keyword planner tool is a component of the Google ad system.
This tool is free, but you won't be able to use it unless you have an active Google ad campaign.
Because the data comes directly from Google, it is widely used and the most accurate source of keyword data, and the findings are compatible with AdSense monetization.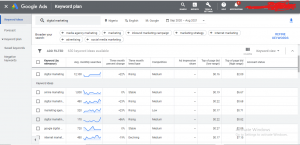 SEMrush is one of the most effective keyword research tools available because it is well vast in every industry and website
It provides you with access to the world's largest database, which includes 20 billion keywords, 310 million advertising, and 17 billion URLs crawled each day.
When using this tool, you receive more than just numbers, it analyze your data and provides you with lots of information such as immediate SEO, content marketing and advertising recommendation that can help you boost your online presence. 
When you search for a particular keyword on SEMrush, it can provide you with hundreds of keyword idea.
It also provides you information about the domains that appear at the top of a search engines result page for a specific search query which is related to the keyword you search.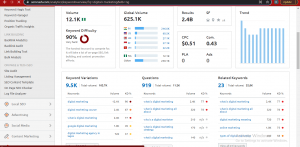 The Ahrefs keyword generator is a free tool that can help you find long-tail keywords and target keyword terms that aren't  competitive.
It is one of the best keyword research tools for content authors.
It uses a database of over ten billion keywords from 170+ countries to get the top 100 keywords for each keyword term or phrase you type in.
These keywords are generated using Google, Bing, YouTube, and Amazon.
The monthly search volume is provided by the Ahrefs keyword generator, as well as keyword difficulty scores for the first ten keyword ideas and how frequently a term has been changed.
You can conduct an unlimited number of searches without creating an account, but you can't download your results. If you don't have an account, you must also confirm that you are not a robot with each new search.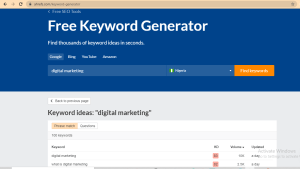 It is usually refer to as Moz keyword explorer and before you can access this tool, you have to signup on the platform.
This tool is not a free tool but when you signup you will have access to 10 search queries every month, If you need to search for more than 10 queries in a month you can also upgrade for their Pro plan.
But you always have an access to free trial.
To sign up for the platform, go to the moz website and type in a URL or term you want to search for. You will then be redirected to create a moz account, which will provide you access to the keyword explorer and other free SEO tools.
After you sign up, you'll receive an email asking you to confirm your email address. Once you've done so, you'll receive a detailed keyword analysis report and more.
This tool provides you with a monthly volume, organic difficulty, organic click through rate and a priority score.
It also gives a long list of keyword suggestions for the keyword term you search for and search engine result page analysis for pages ranking for that keyword terms.
You will see result for the top10 sites for the keyword term you searched for, together with their domain authority and the number of root domains referring to them.
Moz is a fantastic keyword planner tool. The disadvantage is that the free account only allows you to run 10 queries per month.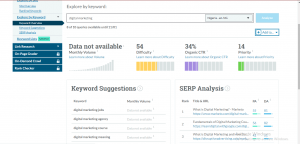 Ubersuggest is a tool developed by Neil Patel and you can use this tool to research for keywords related to your product and services that supports numerous languages and countries.
When you enter a keyword term, ubersuggest gives a variety of information, it displays the search volume , SEO difficulty, paid difficulty and CPC.
It also displays the number of backlinks needed to rank on Google's first page for the term you searched for, as well as a list of keywords and page content ideas, as well as the number of people that clicked on and shared an article relating to the keyword you searched for.
Ubersuggest is a premium service allows you to monitor the device users use to search for a specific keyword term, their age range, and the percentage of people who clicked on the SEO results, but you can try it out for free for seven days.
Although ubersuggest is an excellent keyword research tool, the free edition restricts you to one website and three keyword searches per day.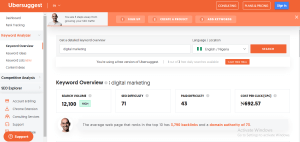 Keyword tool is a keyword word planner tool that you can use to research for keywords if you are interested with keyword data analysis.
It provides keyword analysis for multiple search engines such as Google, YouTube, Bing, Amazon, eBay, Playstore, Instagram, and Twitter.
When you enter a keyword on this platform, it gives you keyword suggestion, questions people are asking, and hashtags related to that keywords.
It provides the search volume, trend, CPC and competition for that keywords but you can only access this data if you upgrade to the pro service.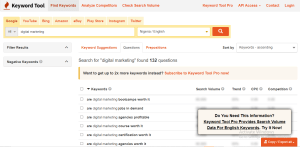 The Wordtracker keyword planner tool can help you find high-performing keywords by providing data on search volumes, competition, and in anchor and title of keywords you search for.
It also suggests terms that are similar to the keywords you're looking for.
When you use Wordtracker for keyword research, you'll be able to search for these terms across a variety of search engines which includes: Google, YouTube, eBay, and Amazon.
This tool will show you 38 search queries relating to the term you looked for, as well as a question that people are asking about the keyword you entered.
Wordtracker is a nice keyword planning tool, however you have to upgrade or sign up for the 7-day free trial to get the full metrics or details for the keyword phrase you input.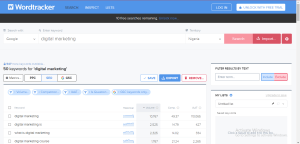 The KWFinder tool makes it simple to locate longtails keywords with minimal SEO difficulty.
But before you can use this tool you need to signup on the platform. 
Soolve is the perfect keyword research tool for e-commerce companies and multi-channels marketer.
It is a keyword generator and a keyword research tool. It autogenerates phrases to assist you broaden your ideas as you put in your goal terms.
It can help you find popular keywords on Amazon, Google, Microsoft Bing, Answer, Wikipedia, YouTube, eBay, and others.
Soolve gives you access to unlimited number of searches for free but one disadvantage is that it is confined to an idea generator and lacks analytics like keyword word difficulty, search volumes, cost-per-click of a particular keyword.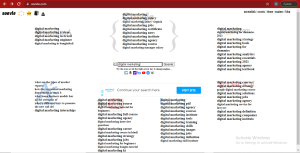 Answer the public is a great tool that can helps you come up with keywords idea and figure out what your potential buyers want to know.
It displays the question people are asking about that particular keyword when you enter keyword in the search box and it gives you all of the who, what, where, when, why, and other inquires that users ask are displayed in a graphical design.
The only disadvantage of using this tool is that you only get three free searches per day.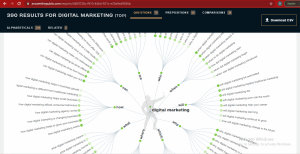 Latent semantic indexing (LSI) keywords are essentially keywords that are semantically related to your main keyword, used in search query.
This keyword research tool by far the simplest tool anyone can use, all you need to do is to enter your target keyword and it will generated associated LSI keywords.
An understanding of what users want is commonly referred to as user intent. To bring relevant people to your site, it has become a driving force in SEO and search engine marketing.
LSI graphs helps because everyone searches differently or has a different goal in mind.
Foe example when some search for "digital marketing" it will return a list of keywords.
These keywords reveals what other question people are thinking when they search "digital marketing"
Knowing your user's goal will help you conduct accurate keyword research.
It's our job as online marketers to figure out what our potential clients are looking for and give them the best solutions we can.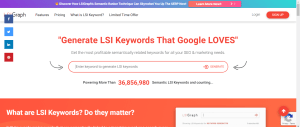 We have a lot of  keyword research tool out there that will be of great benefit in your search engine optimization strategy. You can Google search them to find more.
Definition of Keyword research terms
When doing keyword research there are some terminologies you might not be familiar with and right now am going to list and explain some of these terminologies:
1. Search Volume
Search volume is the average number of times people search for a specific term per month, or the number of searches that keyword receives in a month. It helps you determine the popularity of a particular keyword you want to use.
2. Competition
Competition displays the level of competition for a keyword based on the geography and search Network targeting settings you've chosen. It helps you understand
The amount of advertisers bidding on a particular keyword determines the level of competition.
The level of competition is measure as low, medium or high on some keyword planner tools while other keyword planner tools use a number to measure the competition and the higher the number the more organic competition for that keyword.
3. CPC
Cost-per-click (CPC) is the estimated sum of money that advertisers are bidding for a particular keywords in order for their ads to be seen when someone search for a keyword related to the keyword term they bid on.
If a keyword has a higher cost-per-click (CPC), it means the keyword is valuable.
4. SEO or Keyword difficulty
This is the estimated competition in organic search; the higher the number the more competitive it will be to rank for that analyzed keyword.
It shows you how hard it would be for a website or a particular page on your website to rank organically in Google or other search engines for the analyzed keyword.
5. Paid difficulty
It shows the estimated competition in paid search for a particular keyword.
The higher the number, the more difficult it is to bid for that keyword term during paid search.
6. SERP analysis
The SERP of a specific keyword you search for is provided by most keyword planner. SERP stands for search engine result page.
It displays a list of pages or URLs that are ranking for the keyword you searched for, and you can use this information to outrank your competitors.
7. Trends
This shows how the monthly search volume for a term has changed over the last 12 months, and most keyword planner include trends for the phrases you looked for.
8. In anchor and title (IAAT)
When using various keyword planner tools for keyword research, The metrics IAAT might come up, this metrics gives a count of webpages where the keyword term you're looking for appears in both the title page and the content of the backlink.
Conclusion
Keywords will always be important in SEO and paid search, and you can't escape knowing what terms your audience uses to search for your products and services so that you can help them find what you have to offer.
Although the algorithms of Google and other search engines may be adjusted to include more additional signals, keywords will always be utilized to determine how to match searchers and websites.
Therefore keyword planner are very important tools for you to research for keywords and this is because keywords are the foundation of your website.
Each page you create on your website takes time, work, and skill, either you're creating a blog or an e-commerce website you will need to do keywords research to look for what your target audience are searching for and how you can rank on Google and other search engine for those keywords.
That is why in this article i provided you with ten (12) keyword planner tools that you can use to research for keywords related to your industry.
For more practical approach on how to use keywords and get your website to rank on Google and other search engine register for our 90% digital marketing course and get all the strategies needed to rank your website and increase sales.