LOOKING FOR AN ENGAGING, INSPIRING AND INFORMATIVE SPEAKER THAT DELIVERS PROVEN STRATEGIES...?
Tobi Asehinde is one of the best in the digital marketing industry with both local and international experience and highly sought after Digital Marketing Consultant, Trainer and Speaker both locally and internationally. Tobi Asehinde delivers talks that engage and inspire audiences both locally and internationally. As a leading expert in digital marketing, online business and entrepreneurship Tobi provides audiences with the proven strategies and processes to start, grow and scale wildly profitable business and career using digital marketing.
I was tremendously impressed with Tobi's knowledge of the subject matter of Digital Marketing and Entrepreneurship. Tobi is the real deal and he lives his message. He was completely engaging from beginning to end and connected immediately to the audience. The solutions he proposed to us were specifically for the audience at hand - there were no generalizations. A solid professional speaker who is confident, competent and charismatic. I highly recommend working with Tobi!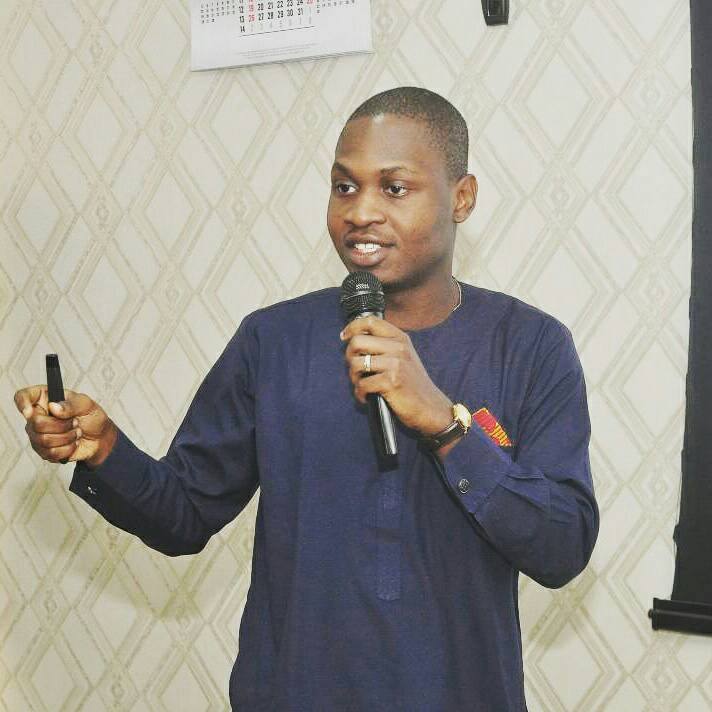 Tobi Asehinde isn't your typical 'speaker'. He's an in-the-trenches digital marketing consultant and internationally experienced expert trainer who has helped over 2,438 people to start, grow and scale wildly profitable business and career using digital marketing while creating more freedom in their life.
He has vast hands-on experience and knowledge in working with various clients in different industries and business niche in Nigeria, Kenya, Ghana, The Gambia, United Kingdom, United States and Many More.
He is a passionate entrepreneur with an obsession for digital marketing that started is first company in 2012 during his master's final year at the University of Portsmouth in the United Kingdom in his bedroom with just a laptop, a sofa, bed and internet connection.
He is the founder of finddigitaltools.com, an online company that provides digital tools such as hosting, domain name, email marketing software and many more to help businesses grow.
He is also the founder of Digital Marketing Skill Institute (a digital marketing institute) and Digital Marketing Giant Services Limited (a digital marketing agency).
He was the web consultant to Lagos Eko Project, a Joint initiative of the World Bank and Lagos State Government (The project ended).
He is a Council Member at the Nigeria-Britain Association and Digital Communication Adviser of both the Nigerian-British Chamber of Commerce and Nigerian-American Chamber of Commerce.
An alumnus of University of Portsmouth and Portsmouth School of Enterprise.
He regularly publishes articles and speaks on digital marketing strategy, web conversions, inbound marketing, and customer acquisition strategy as well as entrepreneurship in both Nigeria and international online media.
He has been recognized for entrepreneurship and job creation both in Africa and the United Kingdom by Inside Watch Africa endorsed as an Upwardly Mobile Young African Entrepreneur and by the University of Portsmouth Enterprise Department, endorsed as an Entrepreneur in Africa to watch.
Book Tobi Asehinde for Your Event
Contact Tobi Asehinde at
[email protected]
to discuss having him speak at your event or call 📞 +234 902 161 9466, +234 816 528 9018 (International Call +234 816 528 9018).
Watch and Listen to His Podcast Show
Subscribe to our channel
Understanding Instagram For Businesses - Digital Marketing Skill Institute Podcast
Content Marketing Discussion with Divine - Digital Marketing Skill Institute Podcast
Digital Marketing Skill Institute Podcast Discussion with Ugo Peters
Understanding Search And Paid Traffic Funnels - Digital Marketing Skill Institute Podcast
Understanding Facebook For Businesses - Digital Marketing Skill Institute Podcast
Content Marketing Checklist - Digital Marketing Skill Institute Podcast Series
Build Successful Sales Funnel - Digital Marketing Skill Institute Podcast Series
Identifying Your Target Audience - Digital Marketing Skill Institute Podcast
Importance of Social Media to Business Organizations - Digital Marketing Skill Institute Podcast
Digital Marketing Fundamentals - Digital Marketing Skill Institute Podcast Series