Knowing what to do and what you can use to achieve your email marketing goals is the reason why we put up this send pulse review for you.
As a business owner, email marketing is one strategy in digital marketing that you cannot afford to ignore because of the ROI. Do you know, that 72% of customers prefer email as their main channel for business communication?
This explains how the ROI can be as high as 4400%.
Email marketing is a highly effective channel that can be used to generate leads and maintain relationships with your existing customers because
It is 40% better at converting visitors to customers than social media.
Marketing emails influence the purchasing decisions of an average number of customers.
It amplifies the awareness of a brand.
It also gives you direct access to your subscriber's inbox.
But you see there are many email providers out there who can help you achieve your goals for using email marketing, they are quite affordable and simple to use.
Just like send pulse.
In this send pulse review, we would be sharing
How to get started with email marketing with send pulse
All the features of send pulse
The strategies we've been using since we started using send pulse.
In this send pulse review, we want you to see for yourself why and how you can use send pulse to grow your business.
We use send pulse for our email marketing and we've received unlimited leads that got converted to customers. In this article, we will be sharing the definition of send pulse, how much does it cost, why is email marketing important, what you stand to gain if you use send pulse for your email marketing, and the strategy we use to achieve fantastic results.
Before we go into the send pulse review, we want you to see what one of our students has to say after taking our 90% practical digital marketing course.
In this course, we will teach you how to use email marketing to grow your business, as well as other aspects of digital marketing. With this knowledge, you can decide to grow other business and get paid or do it yourself.
[embedyt] https://www.youtube.com/watch?v=JT4Ccc9LB9k[/embedyt]
What is send pulse?
Sendpulse was created in 2015, by Constantine Rozenshtraus-Makarov. It is an integrated messaging platform with an artificial intelligence system and personalization.
To make customer service agents superhuman, this enables users to communicate with all devices by email, SMS, and many more. This email marketing platform has more than 800,000 registered users and about 28,000 clients who pay for their service.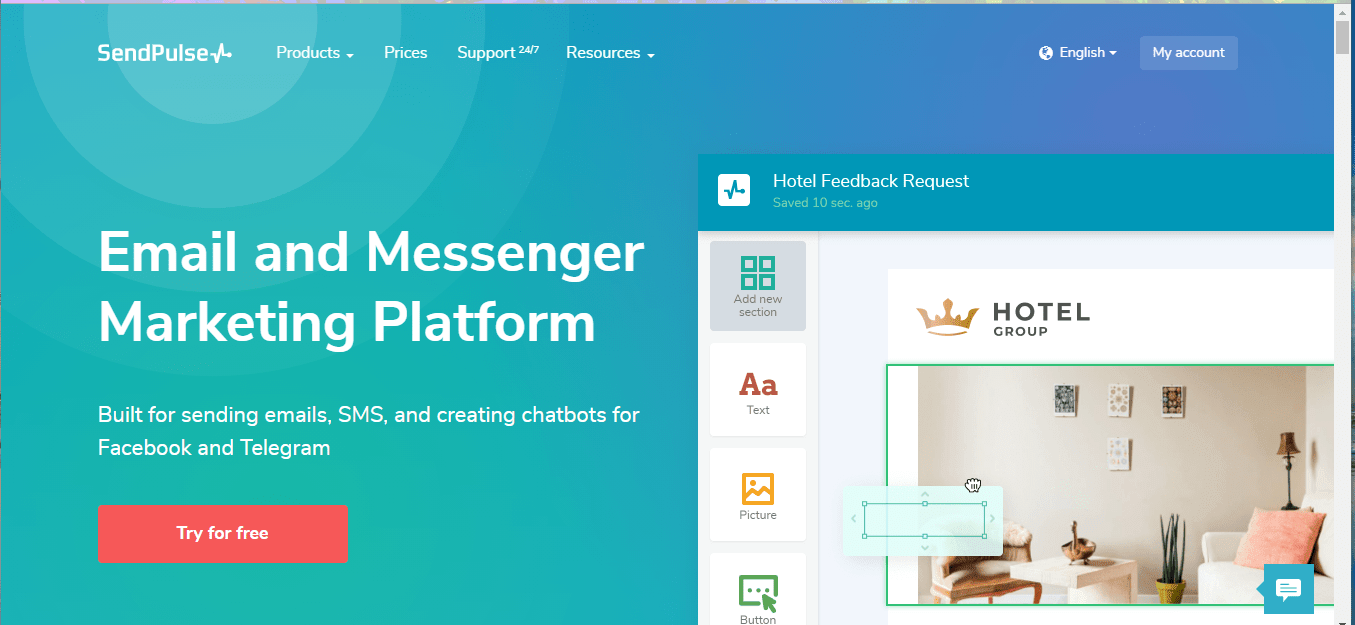 In the previous paragraphs of this article, we talked about how email marketing is a strategy in digital marketing right? Now I'm sure you might wonder or you have this question in your mind, what is email marketing?
What is email marketing?
Email marketing is a type of marketing that allows you to market your products and services to your audience through their email address.
It can also be called a digital marketing strategy that allows an individual to send promotional end commercial messages and resources to a group of people within the range of their target audience. To achieve this, you have to use an electronic mailing system like send pulse.
Send pulse affords you many opportunities with which to grow your business using email marketing through the different features on their platforms.
Before we get to share the features of Send pulse in this send pulse review, we want to show you the package pricing in Send pulse. This pricing is actually based on the number of subscribers you have and you can also decide to do a one-year subscription, six-month subscription, or Pay-As-You-Go.
For subscription:
Free-All of the core features you need to get started with email marketing.1-500 subscribers only,
Standard- you get an expanded suite of essential tools for growing businesses, the pricing starts from $7.59 and #2,890 for one month and $91.07 and ₦34,680 for one year. This price increase if your mailing list increases to more than 500 subscribers.
Pro- You have full access to every feature email marketing pros need, the pricing starts from ₦3,468 and $9.10 for one month, #41,616 and $109.23 for one year. 

Enterprise- You have access to maximum advanced features for large companies, the pricing starts from #4,855.2 and $12.74 for one month, #58,262.4 and $152.92 for one year.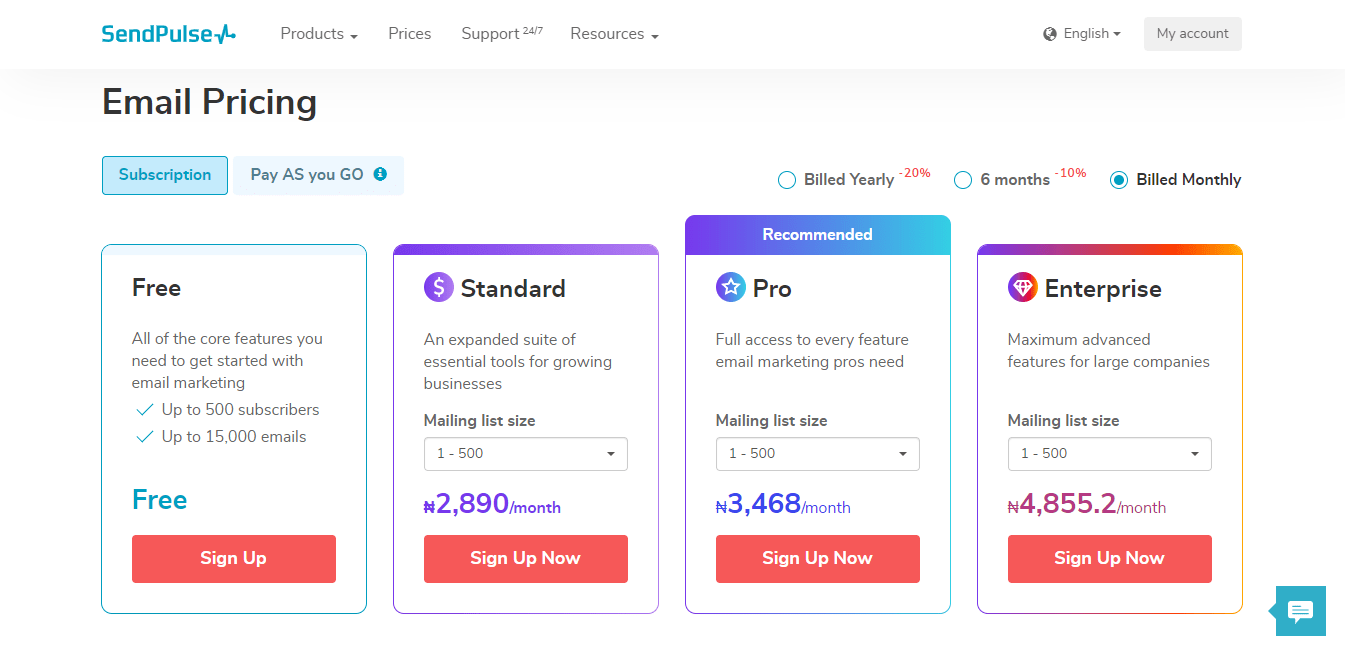 Source: Send pulse
With send pulse, you can subscribe monthly, six months, or even yearly. You can also use the pay-as-you-go option as you would see in the image below.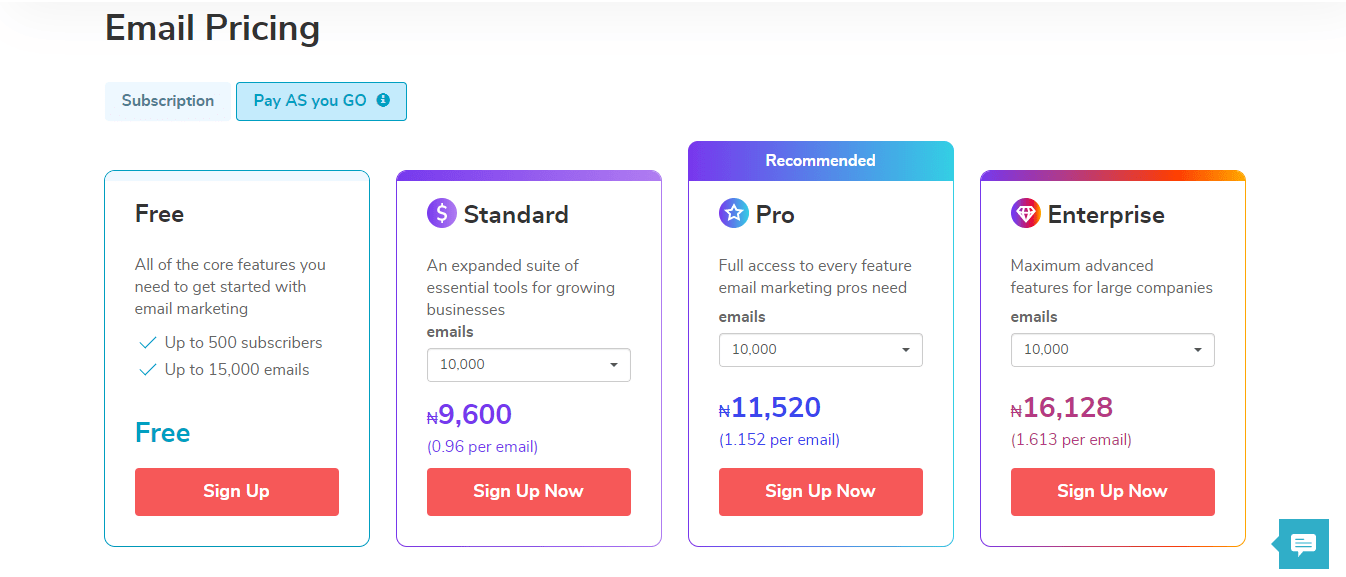 Kindly note that as your mailing list increases the pricing also increases as well, according to the package you want to work with. A good question to ask will be, what is the difference between the free and paid plan, right?
The difference between the paid and free plan is that the free plan allows you to test the features of the tool and see if it fits into what you need for your email marketing, while the paid plan is for experienced users who want to make the most of the tool to achieve a better result for their business.
Features of send pulse
With sendpulse, you get access to the following for your money.
1. Email campaign
Under the email campaign, you can use a drag and drop email builder for HTML email. You don't need any coding knowledge, all you need to do is to add images, text, or video to your email and also modify the size, color, and style of the elements.
You get to create an email design that matches the design on your website. You can add YouTube videos to your email, and also add links to your social media platforms to enhance communication with your subscribers.
And guess what? It will only take you minutes to create a design either for an event or for promotion.
2. SMS
With send pulse, you can send out bulk SMS for your business, to reach your customers anywhere on the globe. You can use send pulse's free subscription form to collect phone numbers.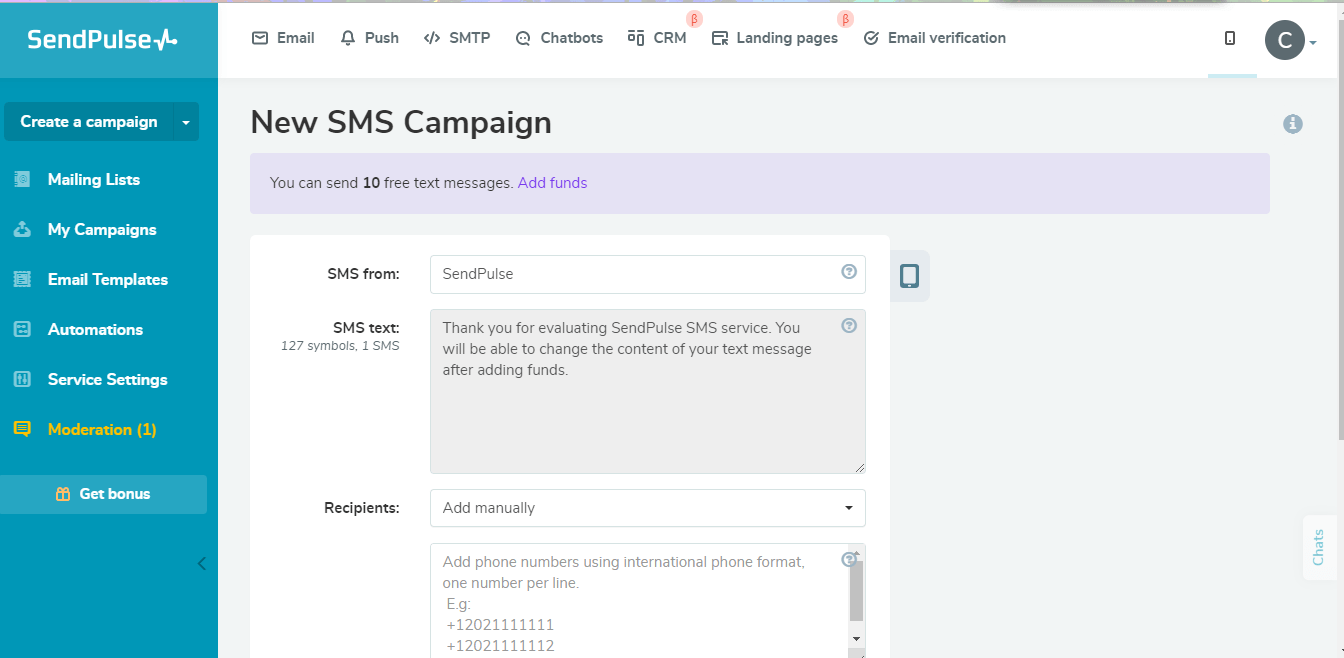 An example of how the SMS campaign looks like on send pulse.
It also has a feature that allows you to either schedule a message or sends it immediately.
You can create an SMS campaign following these steps:
Step 1: Login or signup to Sendpulse if you don't have an account yet.
Step 2: Create a mailing list by adding your subscribers' phone numbers manually, upload a file or import contacts from a third-party service.
Step 3: Add money to your account after you must have selected the plan you want to use for your campaign. You can do this using visa, MasterCard, PayPal, or WebMoney.
Step 4: Enter a sender's name. This could be your business name or your brand name in the case of a personal brand.
Step 5: Input the text of your message. Sendpulse service supports all Unicode characters, and also allows you to send SMS in any language. Each SMS can be up to 124 characters including spaces and punctuation.
Step 6: Your message is ready to be sent out and gets sent when you click the 'send button.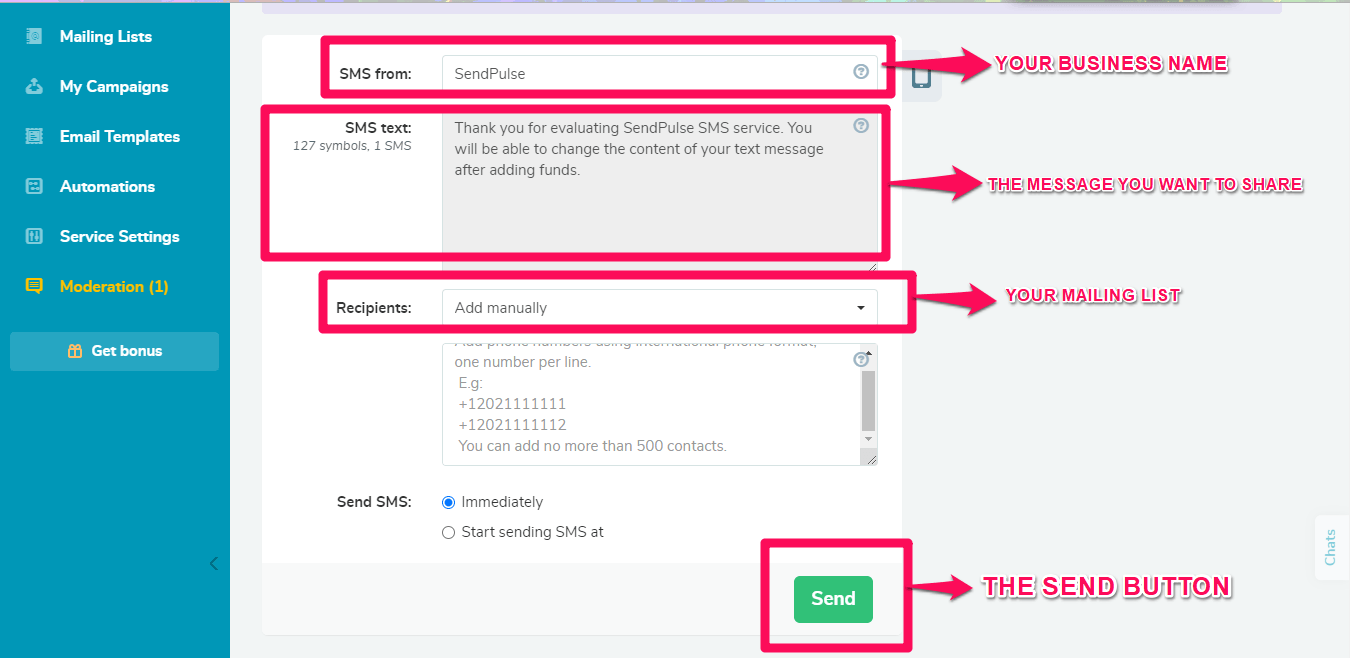 3. Messengers chatbot
With sendpulse, you can set up chatbots for your business, this chatbot doesn't automatically substitute your team, they instead help you streamline a number of tasks. They do the following:
Reduce your workload from everyday tasks.
24/7 Support for customers
close sales.
Every day, you get people from your target audience who are interested in knowing about your product, purchase your product, arrange consultations, make complaints, and all others.
It's most likely that you would miss some of this as there would be times when you want to sleep and your prospective customer whose country of residence operates in a different timezone from yours and wants to purchase a product.
Allow the chatbots to retain this prospective customer, close sales for you, reduce your workload from the everyday task,s and also provide a steady support system for your customers.
You can also make use of send pulses visual chatbot builder to create aut0-reply flows for your social media platforms. You can write a message flow script for each messenger and create a multi-channel subscription widget for your users to be able to subscribe to messages from your brand on your website.
It will also allow visitors to choose the most suitable communication channel for them.
4. Web push
Web push notifications are messages from a website that a user receives in their browser. They get notified about sales, important updates, or new content on the website.
This feature allows you to send instant browser notifications to your subscriber's phones and you can get in touch with your customers wherever they are. It is a flexible platform that allows you to automate this web push notification.
Benefits of using SendPulse
1. Pay as you go option. You can decide to either subscribe or pay-as-you-go, depending on your budget for email marketing.
2. The dashboard is user-friendly, as you must have noticed, the dashboard is user-friendly, you don't have to spend hours watching series of youtube videos before you are able to navigate through and carry out your task.
3. You can activate automation on both free and paid plans. Yes, automation is the new normal and it is available for both free and paid plans.
4. Featured templates. You can choose to create your own template from scratch or save yourself that stress and use the featured templates for your landing page.
5. You can schedule your emails or SMS. your unavailability does not mean that you won't be able to communicate with your customers. You can schedule your information flow and use your time for another important task.
At the beginning of this article, we promised to share the steps we practice to generate more leads since we started using send pulse and we are going to be discussing that.
Before we go into that, in our 90% practical digital marketing course, we teach our students how to practice these steps, they get access to one-year support from our coaches in case they have difficulties getting a result when they practice this strategy and also lifetime access to a support community of digital marketers.
You should register!
Strategies for email marketing
1. Create your customer avatar.
A customer avatar is an important part of a business because it helps to identify your target audience, picture their needs and interest and you can figure out how to tailor your email to meet their needs.
This doesn't only apply to email marketing, it applies to every marketing strategy you intend to use for your business. In fact, if you are setting up a business, you should create a customer avatar for your business.
[bctt tweet="A customer avatar is a fictional description of your prospective customers, who they are, the kind of job they do, their worries, their needs and how your product will meet their need." username="dmsinstitute"]
2. Ensure your emails are mobile responsive
Your emails should be mobile responsive. Your target audience may receive your email on their mobile phones and probably when you were creating your email, you made it for desktop users. You just lost a potential customer because your emails are not mobile responsive.
This is why it is important for you to create a customer avatar, this way you will be able to identify the kind of gadget your prospective customer will be using and you can tailor your strategies to meet their needs.
Return Path points out that 63% of US consumers delete emails immediately if they are not optimized for mobile. You won't want your customers to lose out on important information in your newsletter that would bring more sales for you.
3. Subject lines should be catchy
One thing about send pulse is that you can see the analytics of every email campaign you send to your mailing list. A catchy subject line is responsible for the high open rate of your email.
Your subject line should be relatable to your audience and should explain in clear terms what your email is about. It should spark the kind of curiosity that pushes your reader to open and read what you have for them in the newsletter.
It should catch their attention and that catching should lead them to open your email.
4.Send emails on the right days
Don't be surprised, there is a right and wrong day to send an email and there is also a right and wrong time to send emails. Depending on the intent of the email. A weekend email cannot come up in the middle of the week, the same promotional email cannot come in the middle of the night.
When you are able to identify your target audience and create a customer avatar, you can determine the day and time that you are sure your mailing list will open your emails.
5. Encourage email sharing
While you are drafting the copy for your email, don't forget to include that your subscribers should share your emails with their friends and loved ones.
Sharing content doesn't end on social media platforms, even away from social media platforms, your mailing list can still share your content with the people around them that need it at that particular time.
Encourage them to share your emails, by doing this you are increasing the rate of your reach and you are on the path to getting more impressions that would eventually convert to sales for your business.
To learn more about these strategies, you can read this article. Email Marketing Strategies
Frequently asked questions
What is SendPulse?
Send pulse is a cloud-based marketing solution and software that allows its users to manage email, text messages, and push notifications. It allows users to check the performance of their campaigns both email and SMS with A/B testing tools.
It can be said to be an integrated messaging platform for email marketing with an artificial intelligence system and personalization. It is also a tool for email marketing.
Is SendPulse free?
Send pulse has a free plan for you to test the waters and check out their services, after which you will be required to pay according to your plan of choice.
You can use the free plan to start your work and move on to the paid plans. So, No, send pulse is not free, it has both a free and paid plan for its users.
Conclusion
As discussed in this article, you can see that email marketing is one very important strategy in digital marketing that brings in leads, and of course, there is an increase in sales.
We discussed how to use sendpulse as a tool for your email marketing as well as the plans, features, and benefits of using this tool. There are many other tools that you can use for email marketing but send pulse is what we currently use at Digital Marketing Skill Institute.
Email marketing looks very simple to start and practice but in reality, it is quite technical, can take a handful of your time and in the end, you might not get your desired result if you don't know what to do.
This is why in our 90% practical digital marketing course, we teach our students how to start and grow their business with email marketing as a strategy in digital marketing alongside other aspects of digital marketing.
You should register!
More articles for you to read
How To Start Email Marketing | Free Email Marketing Guide For Beginners
Email Traffic Generation: 12 Hacks To Generate Website Traffic from Email
How to Write a Marketing Email to Maximise Opportunities (Like a PRO!)
How to Setup Email Newsletter (Creating Emails Like a PRO!) in 10 Minutes
8 Best Marketing Strategy To Grow Your Business (+ Examples)
Make Money Online in Nigeria – Top 25 Proven and Legit Ways to Do It [Updated]