Social Media Marketing tools are making it easier for professionals to share content and grow the reach of their users towards a positive ROI.
We've been having a little steamy discussion in the Digital Marketing Skill Institute office about the various kinds of social media tools that is best for driving profitability.
Click here to learn the exact proven formula to acquire customers on Facebook
After a little back and forth, we decided to do an article on the subject matter. We had to come up with the very best top five social media tools available out there for Nigerian brands to drive engagement, conversion and profitability.
After reading, maybe you can decide for us, which tool works out best for your business.
---
---
Here are my picks of the top five social media marketing tools:
Mention: Google Alerts for the social web
As far as social media is concerned, mention is one of the best tools out there to improve your presence online.
With Mention you can monitor what the web is saying about your company and products, also about your competition and finally Mention also takes notice of what the web is saying about your brand and keywords related to your industry.
Click here to learn the exact proven formula to acquire customers on Facebook
Mention allows you to monitor the activities surrounding this mentions on social media, forums, blogs and other social media platforms.
Mentions also has the feature of social features that allows you to share industry news that you find and also mentions about your brand.
Using the tool Mention
At the homepage of the Mention Website, sign up for a free trial first. Then choose how you want to use Mention. mention can be installed for Windows, Iphone, Android or Chrome extension.
Next create a Mention Alert, naming your alert, including and excluding expressions and choosing a language.
The next step is very important because you need to filter the right sources where you want to get mentions from. Except you want to exclude certain sources or block a website, just allow from the whole web.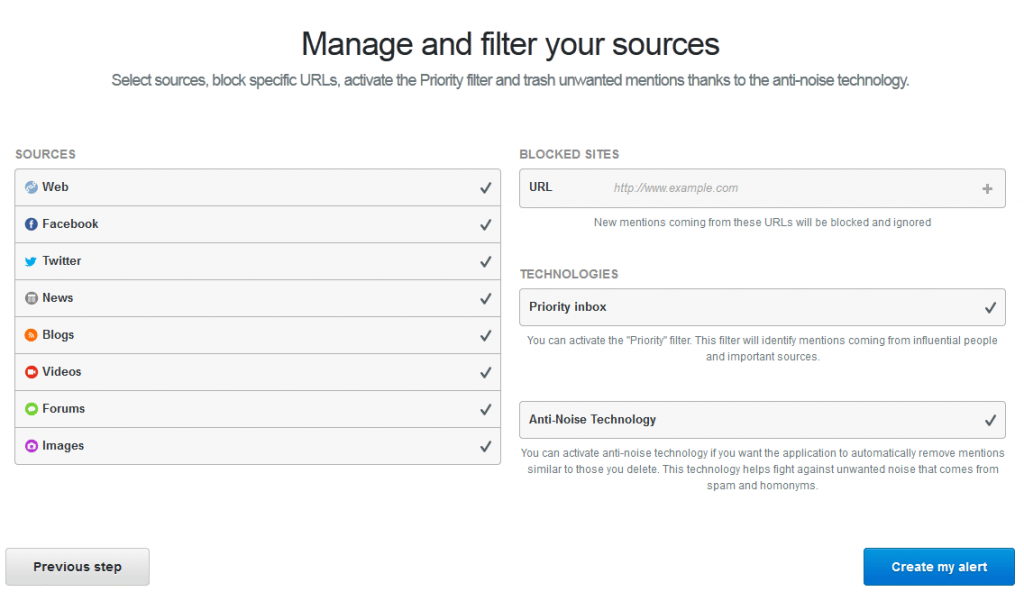 You can also choose if you want alerts coming in from influential people to be marked differently than others.
Once you're through click "Create my alert." At this point, you can choose to share your alert other users. Anyone can then see the alerts, but you'll be the owner with the ability to edit and manage settings, add or delete users as well as delete the alert.
Buffer: Analytics and Social media Publishing
There are lots of publishing tools out there that help to distribute content to your social media users, but buffer goes a step further with incredible analytics to cater for the key metrics on all the platforms where content is shared.
Buffer sends your updates to facebook, twitter, google+ and more
It also helps you understand the best periods for posting content, this way you understand how to build your social media presence on solid data.
Buffer for business is one of the most robust tools out there for managing social media for businesses.
---
Attend the complete step by step Digital Marketing Course for People that want to: (click here to learn more about the course)
---
You can see most clicks, retweets, likes, or whatever other metric you'd like to see, so you can sort your social media analytics by the metric you want to see.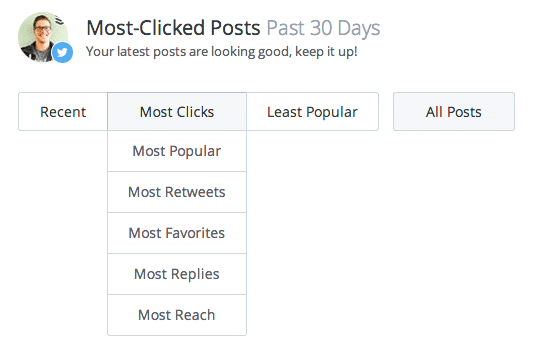 Order your posts on images, link posts and quotes, this way you can know whether posts with images are performing better than those that aren't. And there are so many more features buffer allows you to track on your social media activities apart from distributing content.
Remember most of these analytic services are available on their paid features.
Twitter Counter: Know your twitter counter
Losing progress on twitter can be done easily, growing mentions and building your account is done better when you understand how to track your progress and twitter counter allows you to do that effectively.
It's a free service that tracks changes in your follower count and predicts future growth over time.
Click here to learn the exact proven formula to acquire customers on Facebook
Twitter counter is very useful in knowing the progressive growth of your followers, this information can be very useful for sharing and growth.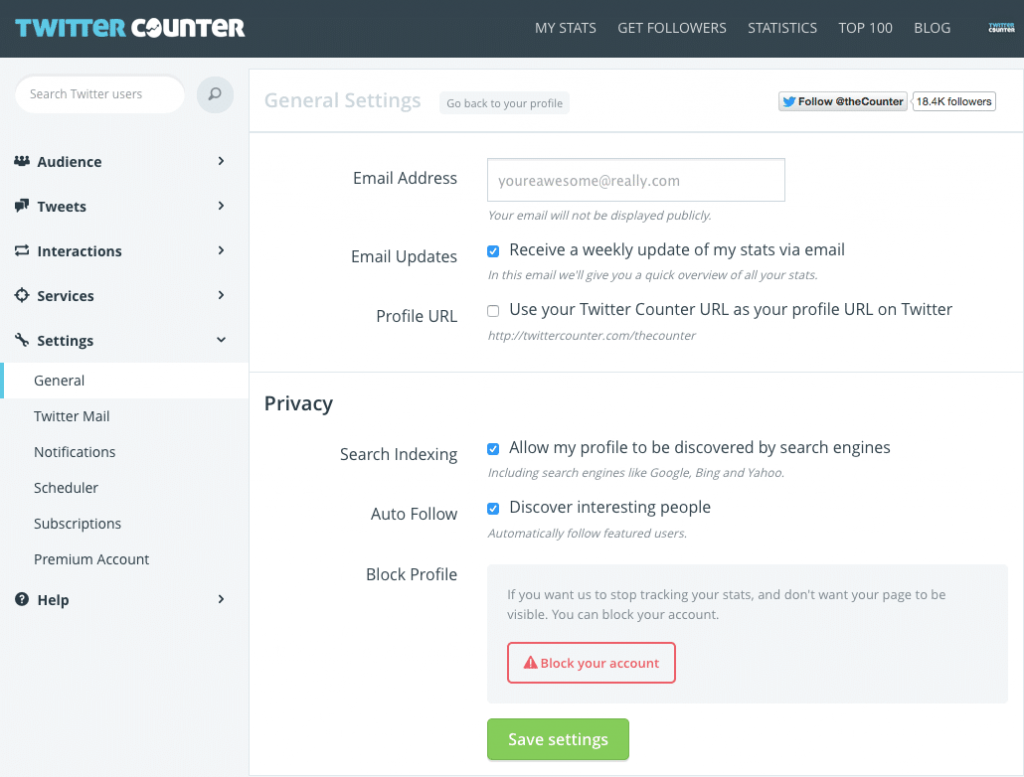 Twitter counter is great for the following areas:
Tracking your follower count: Checking up on your followers growth over different periods of time is a great way to figure out what type of content your twitter followers are most interested and the type of content that will help you increase your followers count. Keep viewing the statistics to find out the time you gained the most followers

Compare your follower growth rate to others: You can also compare growth with other people with similar accounts that also use TwitterCounter.

The reasoning behind comparing followers between certain accounts can be related to content sharing. If a competitor has more followers than your account, you need to take a look at what type of content he or she shares.

The most important thing is that your followers are growing.

Compare updates from various accounts: You can also use the Compare function in TwitterCounter to compare the number of updates among three different accounts.
Zapier: Link favorite social services
Zapier is a connector tools that helps you to integrate all your services and independently connecting those services to make your work simpler and easier.
You can also connect productivity apps like asana and evernote to social networks like twitter and even dropbox and Google drive.
Video by Bill Dotson
Imagine receiving a new lead on your wordpress blog and simultaneously creating a new lead form on salesforce, without creating a single line of code.
That's the power of zapier that you can create have these integrations that save you time, money and development.
Feedly: RSS Feeds
Finding great content to share with your audience is easy with Feedly. Not only can you subscribe to RSS feeds to keep on top of industry blogs or news sites, you can also use Feedly to discover new content related to your topics of interest.
Some tips on using feedly:
Get your best sources together and click on the add icon at the top right section of the dashboard to add them to your feedly.
Assign the right layout for layout for your source
Share and participate, every time you bump into an article you find interesting, recommend it. This helps improve the quality of feedly for all other users
Did you enjoy this article? We give away 98% of our digital marketing resources for FREE. Right now, I want to prove that to you, join our community right now for FREE access to our actionable digital marketing resources to help you increase your sales and customer base online faster. It is absolutely FREE.
---
What you should do next now
Attend the complete step by step Digital Marketing Course for People that want to: (click here to learn more about the course)
Watch what our student think about our course
Subscribe to our channel
Chinaza Ahamefula's Testimonial - Digital Marketing Skill Institute
Ebuka Ugochukwu's Testimonial - Digital Marketing Skill Institute
Digital Marketing Skill Institute Testimonial - Owoseni Kafayat's Testimonial
Adebayo Oluwaseun's Testimonial - Digital Marketing Skill Institute
Emmanuel Edward's Testimonial - Digital Marketing Skill Institute
Samson and Olumide's Testimonial - Digital Marketing Skill Institute
Oluwadare Ponle's Testimonial - Digital Marketing Skill Institute
Digital Marketing Skill Institute Testimonial - Adekore Ayodeji
Digital Marketing Skill Institute Testimonial - Charles Ozoemema
Digital Marketing Skill Institute Testimonials - Sulaiman Olokodana Testimonial
---
Related