When you talk about digital marketing, it is a very robust discipline with different courses in it. It is akin to a complex whole with various components.
Being a new phenomenon, the quest for digital marketing training in Nigeria is on the high side.
With the significance of digital marketing at the moment, lots of businesses need to develop core digital strategies and advance their use of digital marketing tools.
Apart from digital marketing thriving to get a solid niche in Nigeria; it is a phenomenon that requires continual knowledge and skill update.
However, there have been series of digital marketing training in Nigeria from different digital marketing agencies. These trainings come in different forms or format.

For instance we at Digital Marketing Skill Institute conduct trainings for different companies in Nigeria; it could be a 2-day digital marketing strategic workshop, digital marketing Pick "N" Mix, digital marketing graduate program, digital marketing conference etc.
Be it as it may, one of the digital marketing training in Nigeria that anybody that is poised to becoming digital marketing professional is the training from Digital Marketing Skill Institute.
Despite the fact that we have trained over 1, 735 over the last year from different companies; we have laid down objectives that want achieved at the end of every digital marketing training.
Getting better digital marketing results with our intense training
As part of our objectives in our digital marketing training, we have been helping clients and trainees transform their businesses by cross fertilizing them with update to date knowledge and experience in digital marketing.

At Digital Marketing Skill Institute we always lay emphasis on actionable advice; therefore our digital marketing training help persons learn the hub strategic model of digital marketing, as well as digital communications best practice
Below are typical experiences we have had with some of our trainees in the past, as well as factors that actually influences the way we have tailored our digital marketing training.
For instance, some clients come to us when, despite spending so much money on marketing & sales, they aren't getting the volume of sales leads, new and returning customers as well as referrals they need to hit their numbers.
They tell us that they can't afford to keep spending at this level without being able to directly connect their marketing activities to their sales and revenue.
With such horrible experience, we tend to offer them the best tactics to make sure that their advertising budget is properly and effectively used.
Another scenario is that we try to make our trainees understand that driving traffic that does not convert to sales is not effective. For this to happen, we offer them practical insights on how to convert quality leads to sales.
However, for r a variety of reasons, we have a dramatic positive impact on the return on investment (ROI) for companies that have hired us because all we care about is how much money we can make for our clients unlike other agencies that focus on traffic, search ranking and social followers.
We train them on how to drive the traffic and also how to convert them.
Furthermore, traffic, rankings and social followers are great, but if those visitors and social followers don't convert into actual customers or leads, it doesn't matter.
If increasing your sales leads, new and returning customers as well as referrals, is a priority for your company, we'd be happy to grow your business by impacting in you the necessary skills that you need.
Digital marketing training: Our strategic in-house workshop
Part of our training includes the digital marketing strategic in-house workshop we offer most of our clients or individuals.
Meanwhile, the overview of our digital marketing 2 day strategic in-house workshop includes areas like the plan for a new campaign, the conversation strategy for a social media presence or setting up the right KPIs to use in managing your agencies.
For these we work together to find a suitable date to have our head digital marketing strategist come to your office, and encourages all the related internal stakeholders to attend the workshop.
In the planning phase we use phone calls and emails to identify the key issues, and afterwards we put together and deliver a tailored workshop for you and your team.
Digital marketing training: Strategic workshop
Most teams lack the skills they need to make great decisions about their digital marketing. Digital marketing is essential for businesses in today's competitive market especially as all marketing innovation is through digital marketing – social media, search engine, content and email marketing as well as online advertising.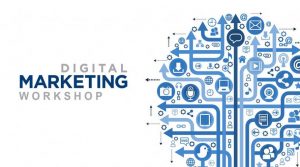 We provide corporate in-house strategic workshop sessions where the principles of digital marketing and optimized digital marketing strategy can be fully communicated, trained and implemented.
Typically, we offer a 2 day tailored corporate digital marketing strategic workshop, where we focus on reviewing your current digital marketing activities and then creating a digital marketing strategy and action plan for your organization.
Digital Marketing Training: Pick 'n' Mix
It's not enough to only know about one element of digital marketing anymore. The best marketers are well rounded, or are specialists who understand how their area of expertise fits within a wider marketing strategy.
Pick 'n' Mix your way to a complete digital marketing course by choosing up to five courses that address the areas you want to work on. You can take these courses on dates to suit you. -Our training is 100% Practical unlike other training you might have attended that is just theoretical
Because the field of Digital Marketing is so new and always changing, even experienced marketers need to learn a whole new set of skills.
[bctt tweet="Because the field of Digital Marketing is so new and always changing, even experienced marketers need to learn a whole new set of skills." username="vibewebsolution"]
Accordingly, the course is suitable for anyone who would like to a pursue a career in Digital Marketing, as well as those who develop or implement an organization's Digital Marketing strategy, including senior management, marketing managers, marketing executives, entrepreneurs, and IT managers.
Working professionals seeking to advance their career by gaining a deeper understanding of digital marketing. Marketers who want to fast-track their career or improve their position in the market-place. Business owners and entrepreneurs who need to maximize online channels for growing their business.
Did you enjoy this article? We give away 98% of our digital marketing resources for FREE. Right now, I want to prove that to you, join our community right now for FREE access to our actionable digital marketing resources to help you increase your sales and customer base online faster. It is absolutely FREE.