Have you ever wondered what a Facebook Pixel is and how to set up the Facebook pixel on your website?
Facebook pixel is a powerful business tool that can help you improve your advertising spend by measuring customer activities on your website and the data you collect from them.
If you are using Facebook as a platform to promote your business and reach people who are interested in your product and services, then, you must know how to set up a pixel.
But if you don't know how to, then, keep reading as I reveal to you how to set-up one your website and its importance.
What is a Facebook Pixel?
Facebook pixel is a piece of code that you add to monitor activities of people that visit your website. It also allows you to track and measure the effectiveness of your campaigns.
The information gathered by this pixel allows you to measure conversions from Facebook advertisements, improve campaigns, create targeted audiences for future ads, and re-market to those who have already visited your website.
An example is an online store where you sell bags to promote your products and use Facebook Ads Manager to create an advertising campaign.
While Ads Manager measures how many people take the desired action you want them to take when they see your ads, you might also want to determine how people are interacting with your business website after they view your ad. That's where the Facebook pixel comes in.
How does the Facebook pixel works?
The Facebook pixel tracks users' interactions with your business on and off Facebook and Instagram by setting and triggering cookies.
When someone visits your website, the pixel becomes activated when that person takes an action on your website such as click on a page, make a purchase or download an ebook.
With that, you can measure the direct impact your ads have through website conversion and you can use this audience information for retargeting.
For example, I recently visited Jumia website to buy a bag, clicked on the bag, and decided to add that bag to the cart.
But because the transaction failed when I was trying to make payment, I abandoned it and left the website.
The next time I got to open my Instagram page, this product popped up as an ad in my Facebook and Instagram News feeds. While this is referred to as retargeting, it's a convenient way for you to remind customers to return and complete an incomplete action on your website.
The Facebook pixel (Meta pixel) keeps track of different actions users perform on their website, such as purchasing something or adding something to their shopping cart. These actions are referred to as "events" on Facebook.
So, what are events? Events are the actions that people take when they visit your website, and they help you understand the intent of people when they visit.
Although there are two types of Facebook pixel events which includes the standard event and custom event but it is recommended to use standard events to effectively observe the action people take on your website.
Facebook pixel standard event
Standard events are the language that Facebook (Meta) machine learning model understands and uses to unlock powerful ad targeting, optimization, measurement, and insights.
There are seventeen (17) typical Facebook pixel standard events on Facebook that you can copy and paste on Facebook event code that will allow you to track and monitor certain action people take when they visit your website.
Add payment info: A person enters their payment information during the purchase process on your website.
Lead: This is when someone fills the lead capture on your website. For instance, filling out a form or joining up for a free trial.
Initiate checkout: The beginning of the checkout procedure. For example, clicking a Checkout button.
Add to wishlist: The act of adding items to a wishlist. For example, clicking the Add to Wishlist button on a website.
View content:  This is when a person lands on a specific page on your website.
Subscribe: A person that subscribes to a paid product or service on your website.
Submit application:  Submission of an application for a product, service, or program that you provide.
Start trial:  The beginning of a free trial period for a product or service. For example, a free trial subscription.
Purchase: The completion of a purchase, typically indicated by the receipt of an order, purchase confirmation, or transaction receipt. For example, you arrive at a thank you or confirmation page.
Search: Someone uses the search function to look for something on your site.
Find location: A person searches for your business location.
Donate: When someone makes a donation of funds to your organization or cause.
Contact: This is when someone contacts your business.
Customize product: This is when someone selects a specific version of a product, such as choosing a certain color.
Complete registration: This is when a person completes a registration form on your site, such as a subscription form.
Add to cart: this is when a person adds a product to their shopping cart on your website.
Schedule: This is when a person books an appointment with you for business. on your website.
How do I create a pixel?
Here are some effective steps to creating a facebook pixel (meta pixel):
Step 1: In the left-hand side of your Facebook Ads manager, navigate to All Tools. Click on event manager and select connect to a data source.

Step 2: Select web, then click on connect

Step 3: Select Pixel. Then click on Connect.

Step 4: Click on continue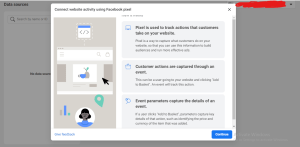 Step 5: Step 4: Enter a name for your Pixel. Businesses can also enter a website URL to check if the website was set up using one of Meta's integration partners. Then, select Continue.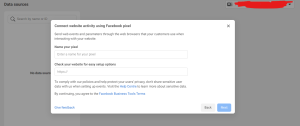 Step 6:  Choose an installation method. You can connect to a partner platform. Or manually install the Pixel code on your website or send instructions to a developer.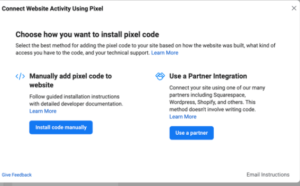 To get access on how to install the Facebook pixel code on your website, register for our 90% practical digital marketing course.
With the course, it becomes easy-peasy!
What are the benefits of using the Facebook pixel?
There are lots of benefits that comes with installing the Facebook pixel on your website and part is helping you reconnect with new and existing customers.
Facebook (Meta) use the information from the pixel to reconnect with people who have already expressed interest in your product and services and locate new and relevant audience.
With custom audience you can reach people who have visited your website and re-engage them with relevant. Likewise, you can use lookalike audience to find new customers that are similar to your highest value customers (people who have taken the desired action you want them to take when they visit your website).
Frequently Asked Questions
How much is a pixel on Facebook?
Pixel is free. Installing the Facebook pixel (Meta pixel) is totally free.
Can I create a Facebook pixel without a website?
You need a website to create and use a Facebook Pixel (Meta Pixel). The Facebook Pixel is a tracking code that is installed on your website to gather data on user interactions. It helps you track conversions, optimize ads, and build targeted audiences.
If you don't have a website, you won't be able to use the Facebook Pixel.
What is the difference between Facebook ads and pixel?
Facebook Ads and Facebook Pixel are two different tools offered by Facebook, and they serve different purposes:
Facebook Ads: Facebook Ads is an advertising platform that allows businesses and individuals to run paid advertisements. It provides a wide range of ad formats, including image ads, video ads, carousel ads, and more.
With Facebook Ads, you can create various types of ad campaigns, target specific audiences, set budgets, and measure the performance of your ads.
Facebook Pixel: The Facebook Pixel is a tracking code that you install on your website to collect data on user interactions.
It helps you track actions users take on your website after interacting with your Facebook ads.
This data includes page views, purchases, form submissions, and other events you define.
By using the Facebook Pixel, you can measure the effectiveness of your ads and optimize campaigns for specific objectives.
Conclusion
Targeted ads allow you to reach out to people who are most likely to be  interested in what you offer.
The Facebook pixel is a strong business tool that help you improve your advertising spend by measuring customers activities.
You can use this information to build a custom audience to target your ads. This could also be categorised into different segments based on the actions visitors take on your website.
As the pixel records more conversion on your website, Facebook gets better in delivering your Ads to people who are likely to take the desired action.