Google Adwords is becoming the main tool for Nigerian companies to expand their reach and audience online.
Google AdWords gives you opportunity to reach this massive market. And not just that, it allows reaching the people that are really looking for your product based on keywords and related web pages.
When people search online they are searching with two things, a pen or a wallet.
If people are searching with a pen they are searching for research and are looking to expand their knowledge on certain subjects.
The other group of people are searching with their wallet or ATM cards, because they are searching to buy a product and fulfill a need with a purchase.
With Google Adwords you are given the opportunity to reach out to both groups of people, it's now your responsibility to ensure your copy is focused more on the second group. Those that are willing and ready to buy your products.
There are companies that have spent countless efforts on SEO and most of these companies have experts that have spent countless amounts of time to optimise their pages to rank on google.
With google adwords you can compete with these companies and compete on the same level with them. You can get your products or services seen and grow your customer base.
With Google AdWords, you can create relevant ads using keywords that people who search the web using the Google search engine would use. The keyword, when searched for triggers your ad to be shown.
Web pages from Google and from partner websites are designed to allow Google to select and display this advertising copy.
The AdWords program enables you to set a budget for advertising and only pay when people click the ads. The ad service is largely focused on keywords.
Compared to other ad networks like yahoo and Bing, google has the largest network and partner sites. This means that you can reach more people with google AdWords. It's the most popular search engine site in the world.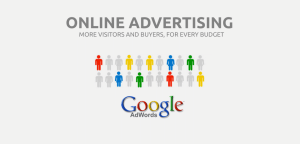 Google now processes over 40,000 search queries every second on average, which translates to over 3.5 billion searches per day and 1.2 trillion searches per year worldwide. Over 64% of people in the world use google every day.
Marketing is a numbers game. It's about how many people you can reach with your service or product.
Did you enjoy this article? We give away 98% of our digital marketing resources for FREE. Right now, I want to prove that to you, join our community right now for FREE access to our actionable digital marketing resources to help you increase your sales and customer base online faster. It is absolutely FREE.