Email marketing is one of the most effective converting channels of digital marketing out there for businesses. The ability to stay in touch with your target market 24/7 is priceless.
[bctt tweet="Email marketing is one of the most effective converting channels of digital marketing out there for businesses. The ability to stay in touch with your target market 24/7 is priceless" username="DMSInstitute"]
Today, we want to take it a step further by bringing to the table some tools that will help energize and bring life to your email marketing campaigns.
Here is our top pick of the five best email marketing tools out there:
Litmus: Email Testing and Analytics
Litmus gives you the opportunity to build the perfect email when emails are built in the litmus editor, one can check email compatibility with over 50+ email clients, also changes made are updated simultaneously which makes your work extremely faster.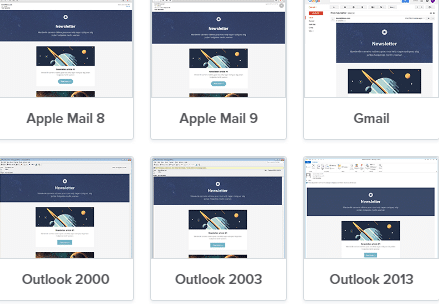 Litmus also gives the opportunity to have instant previews on all devices such as mobile and desktop, this is to ensure that compatibility is excellent on all dimensions.
They also have awesome templates that allow you to build your email from scratch, because of their in depth analytics you can also choose from their tested templates that have worked in other places.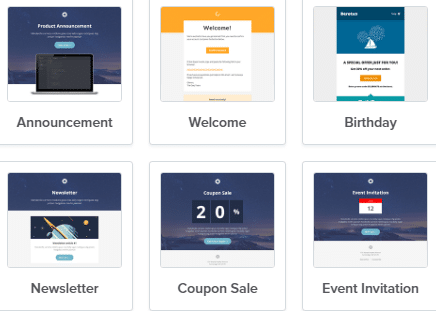 Email Acid: Email Testing and Analytics
Email acid is another testing and analytics tool that allows you to check the compatibility of your emails across over 50 email clients. Compatibility testing can also be done on mobile and desktop devices.
Email acid can be tested within any email service provider.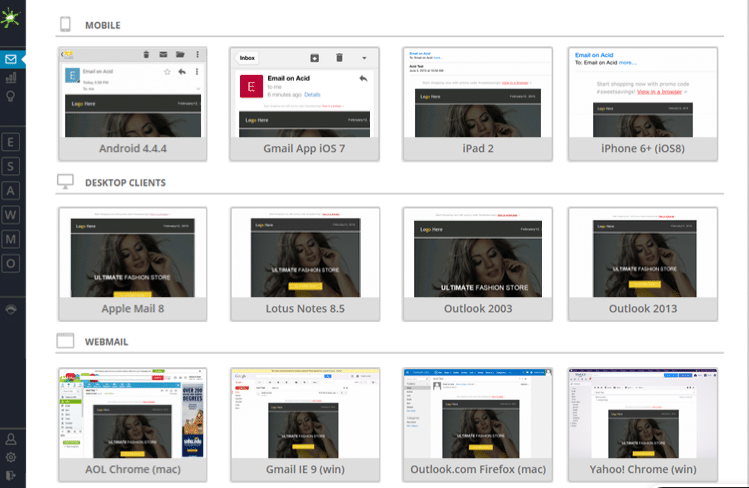 How it works
Send your email from your email service provider
The email is processed through their quality system provider
You can then run a test on the clients you choose
Results are viewed in aggregate or individually
You can easily share your email with your colleagues and clients to get feedback, critique and necessary comments to help make your email even better.
If there are issues in the code of your email, email acid does a through automatic check and pinpointing those areas within your code where errors persist.
Email Spam Test Tool
We've all faced this problem before, especially us marketers. You're trying to send out an email and your emails are legitimate, but for some unexplainable reason your email keeps ending up in spam.
Spam filters are everywhere, and every email service provider is implementing filtering systems to ensure emails that don't pass the filter are thrown into junk or spam mail.
That ends today, because with this tool you can easily detect if your email is going to end up in spam or not. The email spam test tool shows a full report and your spam score while using spam filter technology to assess email content.
Here are some reasons why emails end up in spam:
high spam score due to spam like email content or subject
improper configuration of your mail server
your email server has bad IP reputation
your email server IP has been blacklisted
Touchstone: Subject Lines Testing
This is a great tool for testing subject lines. As a business owner trying to send emails you are constantly at a difference as to the right words to use on your subject line.
Do you use "Free" or "Unlimited, why not "offer" or "Coupon". The truth is subject lines have a significant impact on your open rates for emails. According to Convince&Convert, 33% of email recipients open email based on subject line alone.
Touchstone is great because it brings out words that have higher rates with other users within their data. So a word will be seen as good within the context of touchstone data, but that also means that it might not necessarily work for your email subscribers especially if the location, demographics, age group are all different.
Its analysis of words in its subject line database doesn't ask "How well do subject lines using this word do?". Instead, it asks "How well do subject lines using this word do compared to other subject lines used by the same sender?" So, all things being equal, it's captures progressively the better using of the word on both scenarios.
Secondly you can also upload your campaign history on touchstone, and from your own history, with a new subject line, touchstone can predict your click rates, open rates, delivery rate and more.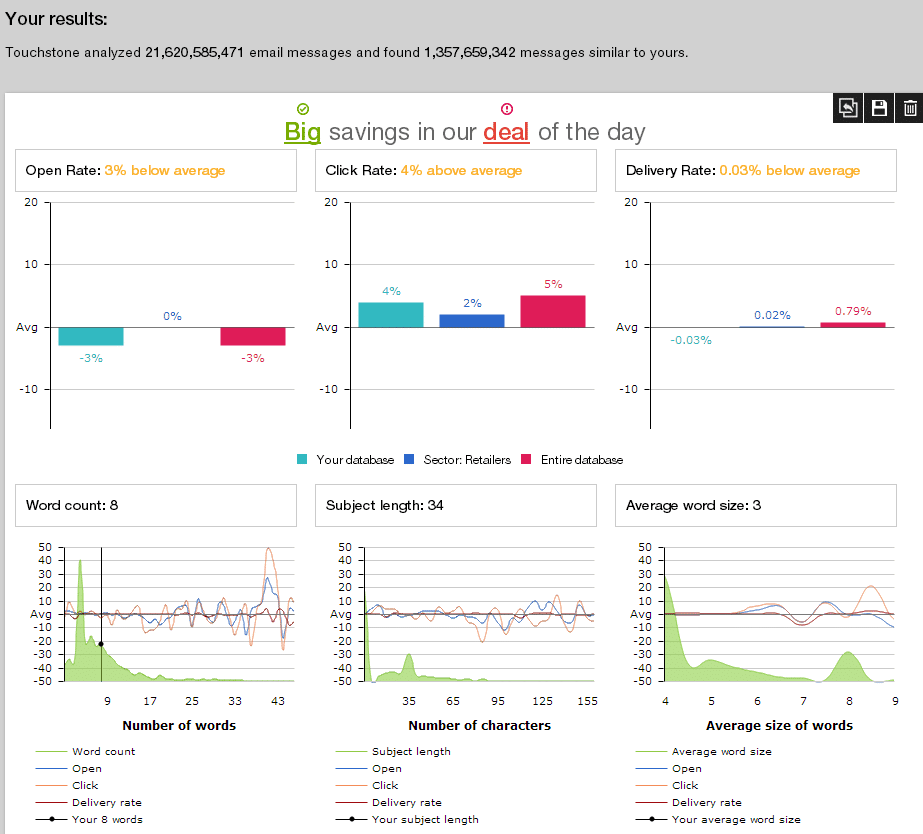 Touchstone will also predict which words sound better within your subject line. e.g. "awoof" is a better word than "deal"

Some few advantages of touchstone we and others within the digital marketing industry have noticed:
The tool's word change suggestions support creativity, which is great when your copywriting batteries are empty.
It helps automate the analysis of your own campaign subject lines by using your results as an independent set of data for predictions.
You can improve your chances of more opens and clicks in a matter of seconds and, as explained, save the hassle of A/B tests.
It helps take the subjectivity out of manual subject line comparisons. So, for example, it's easier to end in-house arguments about subject line approaches and word choice.
Nifty Images: Personalized Images
Video by NiftyImages
Personalized images is a new innovation that's taking over email marketing.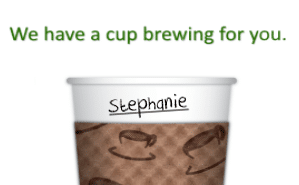 Nifty Images is a tool that allows you take some data of your subscribers and merge with your images for your email marketing campaign.
Nifty images works with all emails service providers and landing pages, The whole essence of it, is for your subscribers to get an image that is personalized specifically for them.
There are so many marketing options when it comes to design with nifty images, if you noticed on the image above the text of the name "stephanie" was tilted upwards to the right, this all can be customised using nifty images.
Your customers will wonder how you did it, but more importantly they will remember your email and your message more than a generic image for every subscriber.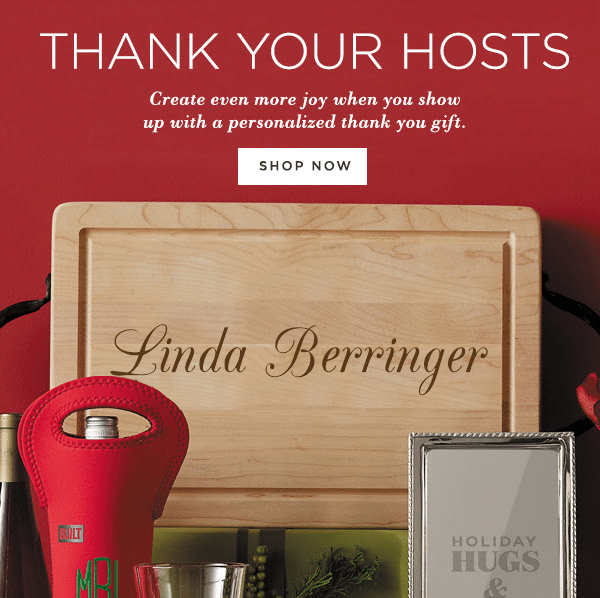 It all comes down to creativity, you're not limited to first names you can also use any bit of data that you have about your consumers to personalize your email for your subscribers. If you wish to test this technique in your next email campaign, there is a 30 day trial with up to 10,000 impressions available.
On that note, thanks for reading this article, please share a coke with us.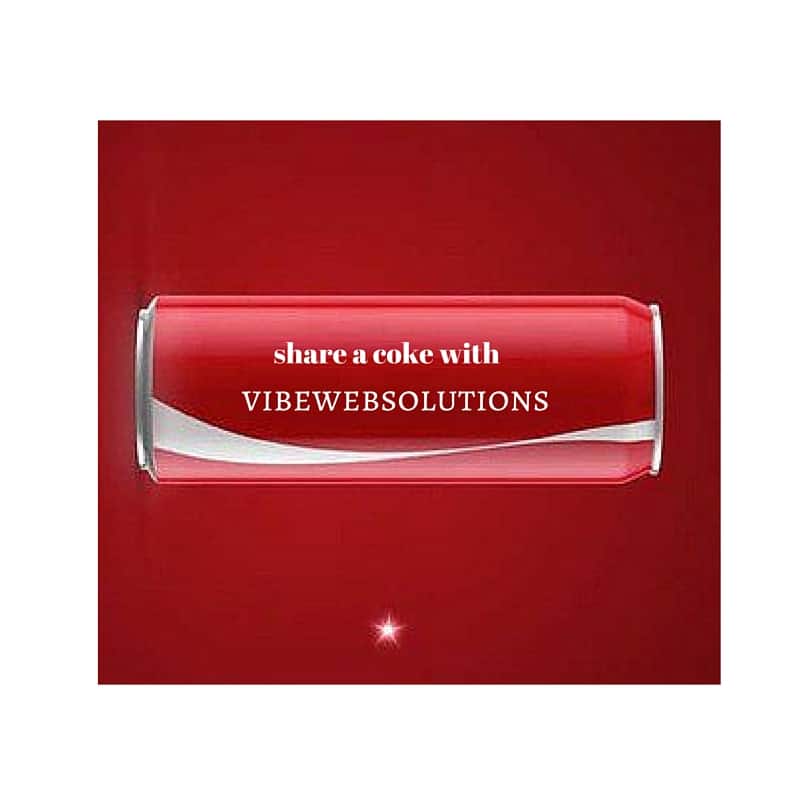 Did you enjoy this article? We give away 98% of our digital marketing resources for FREE. Right now, I want to prove that to you, join our community right now for FREE access to our actionable digital marketing resources to help you increase your sales and customer base online faster. It is absolutely FREE.