Are you struggling with your email marketing because your contacts are not carrying out the desired action (conversion)? It is most likely because you have not learnt how to increase your website traffic with email traffic generation strategies.
As you already know, email marketing is an inexpensive, yet effective way to reach your customers and prospects. After all, the primary reason most marketers send emails is to persuade their prospects to buy their products or services and convert them into customers.
What if you could do much more than just promoting your products and services? What if you could increase your website traffic using email traffic generation strategies?
Here' a fun fact…
Redicati revealed that there are over 3.6 billion email accounts worldwide and that more than 247 million emails are sent every day. Email experts also claim that, on average, for every naira or dollar you spend on email marketing, you're going to make hundreds of percentage back.
[bctt tweet="Doing it correctly can take your business to the next level and generate a healthy ROI. One simple email blast can help generate millions of naira and dollars in income." username="dmsinstitute"]
But I guess you can't do this, and that's why you are reading this article.
This is probably you instead…
You've written an amazing blog post. You've published it on your awesome blog, yet, nobody is reading it.
Worse, still, your emails are getting fewer and fewer open and click rates, while website traffic continues to drop.
If this sounds like you, it's because you are not currently promoting your website via your email marketing and doing it well.
In this post, you are going to learn 12 actionable tips on how to increase website traffic with email traffic generation.
Want a more practical platform to learn how to turn your email marketing into a constant website traffic building source. You can be among these lucky marketers if you take the email marketing class in our digital marketing course.
(Click here to learn how to get started)
Are you registered yet? Yes? Great Let's go on…
Why you Need A Clean Email List
How can you make your email list come alive?
Simple!
Build a specialized or 'elite' list and nurture your subscribers so that they always open and act on your emails.
Why do you want a list for a "privileged minority"? Because to succeed, you don't need everyone on your list.
In fact, do all that you can to weed out those who don't want or need what you have to offer – you ONLY need the right people.
Let's first talk about the benefits of building an elite email list:
You're collecting only targeted leads.
When you send newsletters, the open rates will be high.
The click-through rate will blow your mind.
You'll get huge word of mouth referrals.
You can build a profitable business with less than 1,000+ elite subscribers.
Your email subscribers will be your #1 source of qualified traffic for relevant offers.
Email Traffic Generation #1: Win Email Leads from Social Media
You probably already host social campaigns like contests and sweepstakes. Most socially savvy businesses do.
Social contests not only spread the reach of your brand, but they're also a very cool way to collect emails.
Host sweepstakes on your Facebook, Twitter, or even your blog. Ask for an email as a simple way to enter.
You can even generate more motivation to spread the word about your offer by running a referral campaign- giving people deals for getting their friends to give you their emails too!
Tips for email leads from social campaigns:
Email-gate your contest and sweepstakes on Facebook, Twitter, and even your blog
Use social sites to offer exclusive deals to newsletter subscribers
Offer deals to customers who refer friends to sign up to spread the reach of your targeted email lists
There are many more cool and effective ways to get emails through your social platforms, too.
[bctt tweet="You can include a link to your blog in all your social media profiles. You can post email-gated content like webinars, ebooks, and coupons." username="dmsinstitute"]
You can make a Facebook tab for email signups, and incentivize it with exclusive offers.
Tips for email-gating on your social sites:
Post email-gated content on your social sites like webinars and ebooks
Entice email signups by giving making it easy on Facebook and Twitter – and give exclusive offers in exchange
Include links to your blog in your about or bio sections of your social sites
Email Traffic Generation #3: Design RSS feeds for your Blog/Website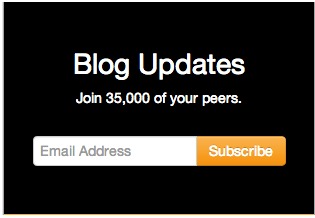 Make it easy to keep in touch for people who've visited your site, and want more from you.
Design and set up a cool RSS subscription button for your blog site.
(Most platforms, like WordPress, make this fairly simple to do – or get your tech people to do it for you!)
Make it with contrasting colours, and keep it highly visible near the top of your page.
Tips for RSS Feed signups:
Create an easy to see RSS feed on your blog by using contrasting colours and keep it at the top of your blog page
Motivate action by explaining what people are signing up for, and why they should
Keep the wording in your RSS signup form simple and friendly
Email Traffic Generation #4: Add opt-in pop-ups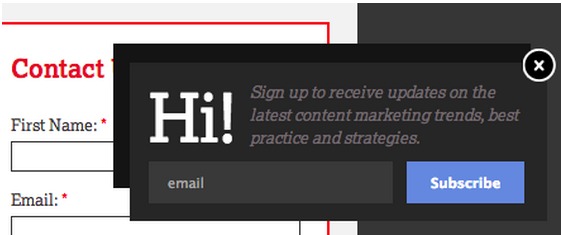 Yes, newsletter pop-ups can be annoying. But they can work to increase your email subscribers.  In fact, they work so well, that most blog sites – from big business sites to single blogger – use them.
Implement your pop-up effectively by choosing the right placement, and by using an optimized popup builder.
Give reasons for why your site visitors need your newsletters, and how your stuff will benefit their life or make their business more profitable.
[bctt tweet="Use words like "free" or "exclusive content" and you'll generate more sign up. Keep your tone friendly. It makes your invasion a welcome one." username="dmsinstitute"]
Tips for email popups:
Email popups can be annoying, but they work – and are commonly used by both big and small business.
Time your popups so only people who are interested in your site for a longer time get the offer.
Make your popups friendly, and informative to increase your signup results.
Email Traffic Generation #5: Use your email to get email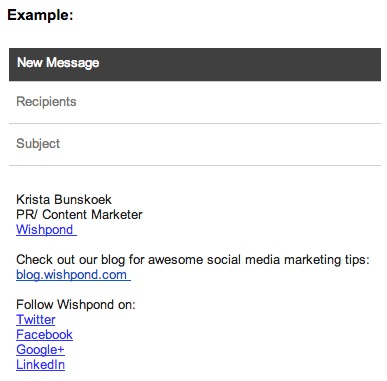 You can use your email to get in touch with lots of people.
Use your email signature to get lots of people clicking through to your blog.
Make a friendly call to action in your email signature, inviting contacts to visit your blog. Give a brief benefit to motivate action – such as what your blog's about. Include an easy to click link.
Tips for using your email signature:
Include a link to your blog in your email signature, and encourage your co-workers to do so too
Give a beneficial reason for people to click to your blog
Use the signature in all your emails, to generate more clicks
Email Traffic Generation #6: Hook 'em with the subject line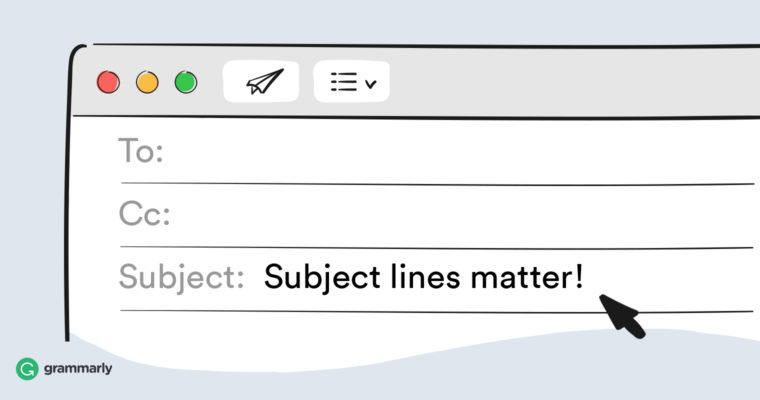 Your subject line is the make or break for people to even read your message.
[bctt tweet="Spend time crafting your line. Keep it short, to the point, and include a quick Call to Action (CTA)." username="dmsinstitute"]
Use marketing tips like asking a question, creating a sense of urgency, creating a fearful state of disbelief, or conveying a great benefit your email will provide.
A/B test your subjects, and use the one getting the most opens, reads and click-throughs with your potential readership.
Tips for creating a great subject line:
Create a sense of urgency to entice readers to open your email
Keep it short and to the point
Use marketing tactics like including "…" to create intrigue and motivate further interaction
Email Traffic Generation #7: Pimp your Email Body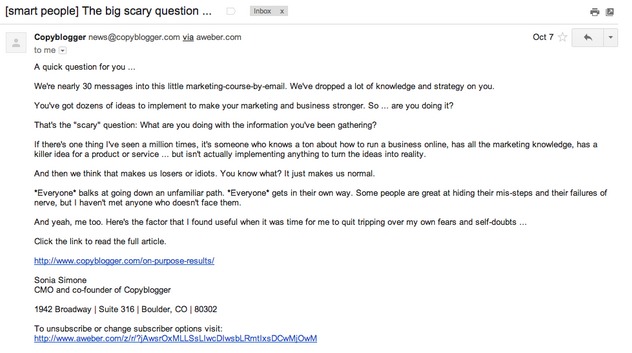 To get a click through to your blog or blog post, make your email content real. Stock, corporate, impersonal emails do not get results these days. Remember, you're competing with tons of other emails in that inbox.
[bctt tweet="Write emails as if you are sending your message to friends. Use the words "you" and "me" in your content. Strike a tone of dialogue that resonates with your demographics. Keep it professional, yet conversational." username="dmsinstitute"]
Deepen your relationship with your email subscribers by being real, and invite them to join you further – on your blog.
Tips for keeping your emails friendly:
Think about your readers to connect when you send emails
Treat your customer online like you would your customer offline, by speaking to them like a friend.
Use the words "you" and "me" to deepen your reader relationship
Email Traffic Generation #8: Personalize your emails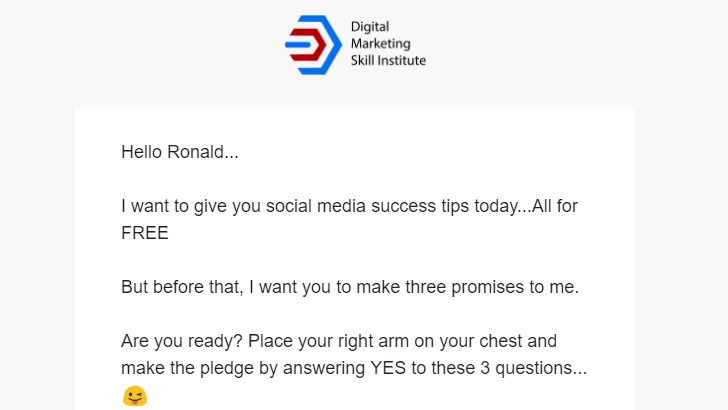 In a similar way of keeping your emails real, keep your emails personalized. Include people's names and other friendly personal details you know about your email subscribers.
(Ok, don't go all stalker-like and include too much information. But, you know what I mean.)
If your blog article is related to their business, mention their business name, and how the post will benefit them.
Click through rates of personalized emails increase by 14%, according to the Aberdeen Group.
Tips for personalizing your emails:
Personalized emails improve click-through rates by 14%.
Use a CRM like MailChimp or GetResposne to personalize emails with names (you can even do this through a simple excel spreadsheet)
When you're hosting a contest on your blog, endeavour to send personalized emails with a direct link (and image of your campaign)
Email Traffic Generation #9: Segment your emails
Segment your robust email list into targeted groups based on your business needs.
Strategically send out blog articles and newsletters to those who would most read it. You can even craft different emails and newsletters linking to the same blog article.
For example, if you're sending emails to your business suppliers, you'll likely want to make them different than emails you are sending to your active customers.
Tips for segmenting your email:
Use a CRM like MailChimp or Constant Contact to segment your email lists
Segment email lists by contest participation, Facebook likes, and geographic location
Send different emails targeting your different email lists
Email Traffic Generation #10: Create clear Call to Actions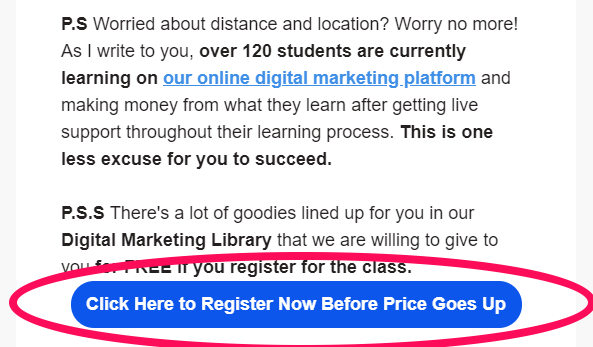 Make it clear what your ask is in your emails. When you want people to click through to your blog article – ask them. Doing so increases your response rate results.
Make it easy to act on your CTA too.
[bctt tweet="Ensure your blog post link is easy to click, and easy to see. You can even make coloured CTA buttons embedded into your email." username="dmsinstitute"]
There are many newsletter formatting sites (such as GetResposne)  that make CTA buttons easy to create.
Tips for clear Call to Actions:
Make your call to actions clear, single and prominent – this will result in a higher response rate
Design clickable, colour contrasting buttons with the action you want.
Email Traffic Generation #11: Schedule to build trust
Make a consistent scheduling calendar for your blog article publications. This not only makes it easier for you to keep track of when you need more content, but the real benefit is also for your readership.
Send regular articles to people who've signed up for your RSS feeds by posting regularly. This can form a habit in your readership, develop familiarity, and deepen trust with your business as people get to know when to expect your next blog articles.
Tips for scheduling your blog articles:
Write your articles when you want, but publish them at consistent times and days of the week
Make a calendar to keep track of when you're publishing which article
Schedule your blog articles on WordPress, or your preferred blogging platform
Email Traffic Generation #12: Visual Newsletter Trick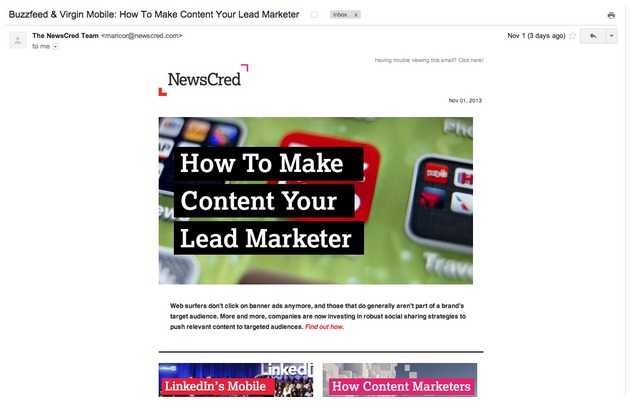 You like visual information, right? So do your readers. Entice them to click through to your blog with image-rich newsletters.
Include summaries of articles, that get your main point across – but end the summary with a teaser and a clickable "read more" link or button.
Note: You don't want to oversaturate your readers with newsletters from you. Your customers are busy too. Monitor your open and click-through rates from your emailed newsletters to determine the best frequency and times to send out your newsletters.
[bctt tweet="Note: You don't want to oversaturate your readers with newsletters from you. Your customers are busy too. Monitor your open and click-through rates from your emailed newsletters to determine the best frequency and times to send out your newsletters." username="dmsinstitute"]
Tips for sending visual newsletters:
Include visuals in your newsletter, to make it more user-friendly and appealing
Give summaries of your articles, with clickable "read more" buttons to drive traffic to your site
Schedule your newsletters weekly, monthly or quarterly to keep in touch with your customers
Conclusion
A well-designed and thought-out email campaign can encourage your subscribers to stop by your site, click on the offerings, and convince them to make a purchase.
Execute it correctly and reach your website traffic goals.
By encouraging your email subscribers to visit your website, you will be really helping your business to show up in rankings.
Use these tips to grow your email list, and to create powerful emails that will outperform, and get you those clicks to your blog.
What next?
You should now go a step further to learn how to become a pro email marketer from our digital marketing course.
It's comprehensive, practical, actionable and awesomely valuable for your email and digital marketing career.