Instagram is quickly becoming one of the most powerful social networks out there for building brands and businesses in Nigeria. In this post, you will get Instagram marketing guidelines for Nigerian brands and businesses.
This photo-sharing application is not only relevant to product businesses or operations with physical products, but it has grown to be an inescapable force of internet marketing to every business out there.
Instagram has become the centre for identifying and judging the visual identity and brand of any organisation. In fact, an organisation without a strong Instagram presence risks the chances of being totally ignored by the generation of teenagers approaching.
Among the Nigerian youths, Instagram is considered to be the foremost visual social network in Nigeria.
A business thinking of scaling its operation to the next generation and not taking advantage of the opportunities that Instagram provides isn't a forward thinking company.
This is why in this article, I will be showing you guidelines your business or brand should follow so you can record a high success rate in your Instagram marketing.
But before we delve deeper,  you should register for our 90% practical digital marketing course  where we teach our students practical knowledge on how develop successful Instagram marketing strategies and also get to learn other digital marketing strategies that can be used to grow their business.
What is Instagram Marketing?
Instagram marketing simply means selling on Instagram.
It is a form of social media marketing that has to do with promoting a brand or business on Instagram. You are sharing videos or pictures with captions to sell your brand.
The unique features Instagram possesses has makes a lot of business owner in Nigeria and all over  pitch their tent on the platform.
From Instagram stories to Instagram live, Reels, highlights, hashtags, feed post, sponsored post, Instagram shop e.t.c, Instagram is a encourages the growth and expansion of business when the right guidelines are followed.
Instagram Statistics
Here are a few statistics that buttress the point of having an Instagram presence.
Instagram is a highly leveraged community with over 400 million active users
Advertising on Instagram has the potency to move people and make them visualise your brand in a different manner.
Till date there have been over 40 billion photos shared on Instagram, 3.5 billion likes and 80 million photos on a daily basis, those are numbers you cannot ignore.

Alright so let's get into the methodology of building an amazing Instagram presence. Every business out there, including yours, is trying to increase the reach of their target market. Here are a few tips to help you achieve this goal strategically:
Instagram Marketing Guidelines for Nigerian Brands and Businesses
Have an exceptional Instagram strategy
As a business, your goal is not to get on Instagram and start posting products of your products or services and then hope "something sticks". Succeeding on Instagram is a process and like every process, it involves a purposeful strategy.
The first thing you must understand is that you do not have to reinvent the wheel; there are already similar brands to yours on Instagram, who offer the same or similar services to what you are doing.
Before you create your own strategy, the first thing you have to do is check out those accounts.
First, create an account for personal use (not a business account) and then search for your direct and indirect competitors. Learn their strategies, mode of postings, frequency, filters and more. Gain inspiration and competitive intelligence to use for your strategy.
The second thing you need to do is establish your Instagram goals. These must relate to your business goals, which might include:
Increasing sales
Promoting products and services
Increasing website traffic
Building brand awareness
Encouraging engagement with users
Your goals must be realistic to what is achievable on Instagram. Trying to increase sales by posting pictures of financial account statements, may not be the best strategy for an accounting firm on Instagram.
Building a content marketing strategy on Instagram
Having a content strategy involves touching the four pillars of Instagram marketing which are:
Frequency: Deciding how often to post
Timing: Deciding the best time(s) of the day to post
Calendar: Building an Instagram calendar, that relates to your social media calendar
Themes: Building your content themes
Your posts on Instagram should follow a regular schedule, it is important that while you want to be seen as entertaining, regular and reliable, you don't want to bombard and irritate your target audience.
As a brand, it is important that a certain level of social charm and dignity is maintained, between you and your followers.
Timing is incredibly important, the best times to post depends largely on the target audience, there is no right answer to what time is best, the only way to know is to test out various reasonable time slots in the day and analyse which time periods people are more responsive.
Also check out your competitors post scheduling and notice the time they push out their posts, most of them especially the bigger brands, have already tested and figured out the best periods to drive engagement, remember you don't have to reinvent the wheel, just do as they do and innovate from there.
Once you have determined both frequency and timing of posts, you can create your Instagram calendar. The calendar should be a mirror of your social media calendar and should state clearly, who is in charge of posts, what time they will post and what the content will consist of.
Building a theme for your business involves a lot of detail that we would get into below:
Creating an Instagram Brand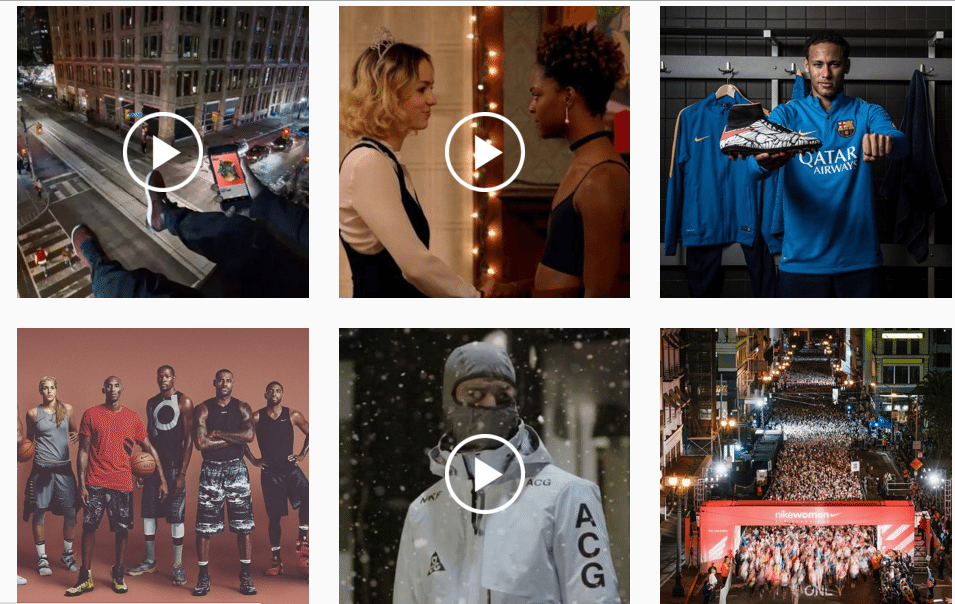 Instagram is a very visual network; approaching Instagram is highly dependent on the social media marketing strategy you have chosen to implement.
[bctt tweet="Instagram is a very visual network; approaching Instagram is highly dependent on the social media marketing strategy you have chosen to implement." username="DMSInstitute"]
On Instagram filters are very important, as a brand you have to be seen as consistent with the set of filters you have chosen to implement in your posts.
By using the same filters over and over, you establish a style that will become recognisable to your followers. The more recognisable your photos are by your target audience the easier it is to increase engagement.
For generating content, you don not necessarily have to be a product or lifestyle company to operate on Instagram. Now it's obvious that a fashion company will produce content on its fashion line and a food restaurant will also put out content on its food products.
But what about a social media marketing company or an accounting firm?
For companies like such, a workable strategy is to check out their followers feed and see what they are interested in and post content based on that using either their own staff or the customers themselves
For example, if an accounting firm sees that their customers are very interested and passionate about bikes and bike racing they could share content from their employees that fit into this content theme.
Or they could share pictures of some of their followers on bikes and create a mini celebrity rush for their followers; to this the company has to give them full credit. This technique is less salesy and encourages deep connections and engagement with followers.
Use a customised link to track results
Google Analytics isn't very efficient in tracking the amount of visitors that come to your website from your Instagram mobile account. And we cannot emphasise how important it is to internet marketers to know exactly how Instagram is driving traffic to their website.
To monitor accurate clicks I suggest you use sniply (or another link shortener) for the link in your bio.
Then you can check your customized sniply account and the data coming forth and you can tell just how much Instagram is driving to your website.
Creating a different sniply link anytime you have a different landing page or website, helps you successfully track traffic leads coming from Instagram.
Using your Bio more strategically
Use the link in your bio to connect to a landing page that holds the same posts you put on Instagram, and allows you to collect leads, promote your eCommerce site, gain subscribers to your blog, collect entries for a giveaway, etc.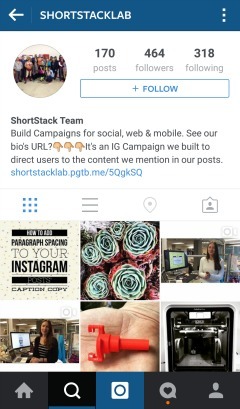 Create a sales funnel and drive Instagram followers there
A follow is just the first step in the marketing funnel. Now you need to maximise on that follow by collecting leads that will lead to growth. A great way to do this is by collecting emails.
On Instagram you can have a link in your bio to download a free e-book, or sign up for a newsletter.
You can share a picture on Instagram with a call to action, telling your followers to click on the link in your bio to learn more.
Capturing emails will enable you to take your interaction to the next level and engage your users on a one on one level basis.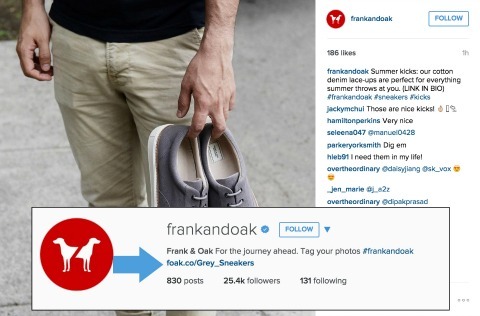 Executing this will require, you to create a targeted landing page tailored directly to your Instagram following, for landing pages you can use Instapage to create them. (I personally use Instapage Landing Page tool to do this).
Use messages and copy on your landing page that references your Instagram account and shares a similar look and feel as your brand on this channel.
From there, engage with your email subscribers by delivering them valuable and relevant information that will help move them down the funnel. Drive them to your blog posts and other social channels and keep them up to date with your product or service.
Take Advantage of Sponsored Ads
I can't tell you how excited I was when I first saw sponsored ads for Instagram on my timeline. I was ecstatic at the opportunity that this new paid feature presented to users of the platform.
Prior to sponsored ads, the only hope brands and businesses had to reach their target audience within Instagram was to build on their followers, whereas now, brands can promote to anyone within their target audience.
It's important that as a Digital Marketer, you have various pieces of engaging content that are targeting a specific demographic. And in any case you can have multiple contents targeting different demographics as well. The possibilities are just beginning to uncover themselves.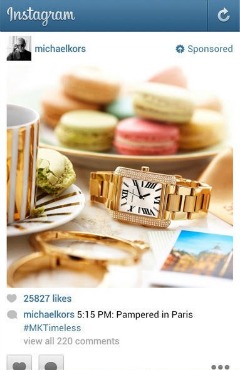 Explore Sponsored Posts
One of the greatest tips for growing your brand or business on Instagram is to find Instagram accounts with a massive significant following, who cater to your demographic and pay for sponsored posts on them.
It's the cheapest CPM (cost per thousand impressions) of any ad platform right now.
The fact is there are tens of thousands (if not hundreds of thousands) of Instagram accounts being built solely for the purpose of selling featured shout-outs to companies and brands.
After finding this Instagram accounts, you can message or email them, their contacts are usually in their bio with solicitations for business partnerships e.g. for business enquiries contact etc.
Make sure before you strike a deal, you review their past posts, the likes they have received and any other information that is relevant to your campaign.
Since Instagram doesn't allow you to link in the comment section, your strategy will be to link back to your Instagram account and grow your followers list.
Using this tactic makes it easy to gain thousands or tens of thousands of new followers in your target demographic overnight. The key now is cultivating these new followers with great content that appeals to them and slowly introducing them to your brand.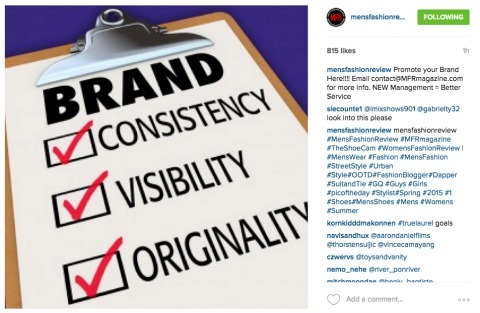 Signing Off
If you really want to step up your game in the Digital marketing world, you really need to become a lot more active on Instagram.
The future depends on it, the platform keeps coming up with new innovative ways to help businesses gain more reach with their audience.
Don't be left behind, join the Instagram train today, use the tools and tips to grow your following and excel at your digital marketing efforts.
Did you enjoy this article? We give away 98% of our digital marketing resources for FREE. Right now, I want to prove that to you, join our community right now for FREE access to our actionable digital marketing resources to help you increase your sales and customer base online faster. It is absolutely FREE.