Do you live or work in Ghana and are looking to augment your daily/monthly allowance? Then, here is an opportunity for you to actualize your dreams of living the life of luxury that you have long desired. And you can have it by simply learning ways to make money online in Ghana with your phone.
Does this sound like what you have been persistently looking for? Then let's get into it.
How can I make real money online?
Here are a few ways you can make money online fast, easily, almost everyday, and from the comfort of your home:
1. Affiliate Marketing.

An affiliate marketer promotes and advertises someone else's product, and receives a certain percentage of the sales' purchase. This is achieved when the affiliate is able to successfully convince prospective buyers to make a purchase: convert leads, or redirect customers to a merchant's website.
In affiliate marketing, there are varieties of products—physical or digital—you can link up with; your choice is solely dependent on your area of interest. Based on research, it has been discovered that digital products such as e-book, online course or any online service, are profitable than physical ones.
Therefore to become an affiliate marketer, you need to strictly follow the procedures listed below:
a. Create a Niche Market
This requires that you discover your strengths and interests, and identify your target audience as well as their popular demands in terms of products or services. Having an area of specialisation in affiliate marketing spurs you to make thorough industry research, such as a competitor's analysis about your preferred marketplace. Your research result will give you guidelines on the necessary marketing methodologies that you can incorporate in order to achieve your set goals.
b. Create a Blog
First thing is to identify your target audience as well as their needs. The next line of action is to create a blog where you can post cogent as well as high quality contents that market the uniqueness of your product to potential customers. Your content is most likely to drive traffic to your page—and convert visitors to customers—if it satisfies searchers' curiosity; giving them explicit information about the desired product.  Also, giving a honest appraisal of the product on display builds your customers' trust and loyalty.
Do not miss the fact that your blog must contain outbound links that redirect customers to your affiliate market like Amazon, Flipkart, and lots more.
2. Dropshipping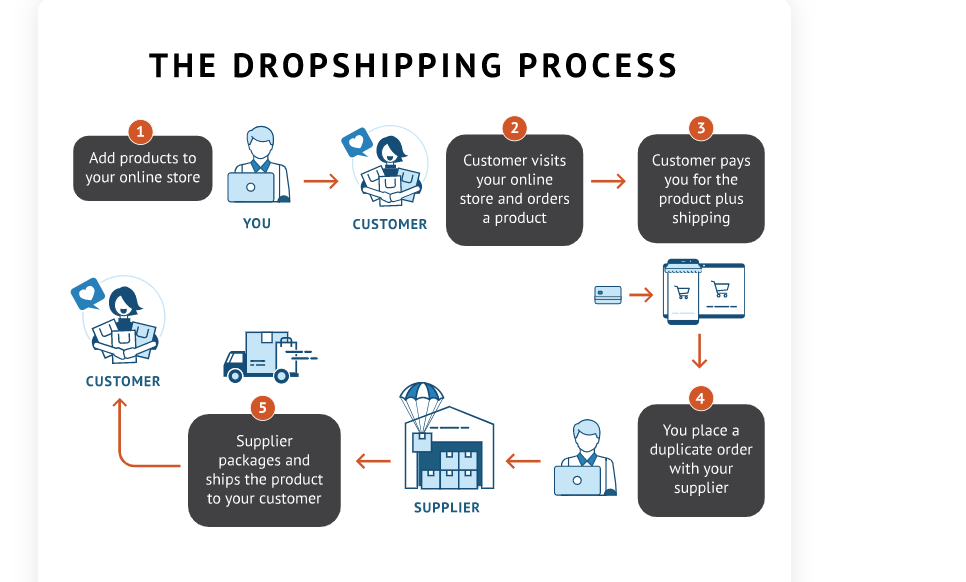 Dropshipping is a virtual business that offers you the opportunity to own your online retail store. A place where you take your customer's orders and shipment details as well as transfer pieces of information. The information could be either to the manufacturer, another retailer, or a wholesaler, who then ships the goods directly to your customer.
As a Dropshipper, you can have either a brick-and-mortar shop where you display sample products or catalogues for customers to choose from. You can also build a personal eCommerce website from where your customers can view, select and order their desired products. And then the customer then makes payment for the product to you.
3. Freelance Writer

Do you have a penchant for writing? Then, you can moonlight as a freelance writer by offering your writing services to customers who want to pay for your skills.
As a freelance writer—depending on your passion and the purpose of an article—you can write a variety of contents, such as:
Business writing: HR documents, company memos, training manuals, stories for trade publications, etc.
Technical writing: Detailed instructions, operations manuals, user manuals, assembly instructions, etc.
Academic writing: Articles, essays, or reports for academic journals, textbooks, or class materials
Marketing and sales copywriting: Email campaigns, social media posts, product pages, sales sheets, ad scripts, etc.
News writing: Articles for print or online, scripts for news broadcasts, feature stories for magazines, etc.
Social commentary or op-ed writing: Essays, opinion pieces, analysis of social issues and trends
Public relations writing: Press releases, speeches, public statements, etc.
Writing for the websites: Blog articles, product pages, company about pages, etc.
Ghostwriting: Writing for another person without you—the original writer—taking the credit for what you have written.
 As a budding talented writer, one of the prominent ways to sharpen your writing skills as well as build a career as a freelance writer is volunteering. You can write for corporate organisations at no cost and under the close supervision of a seasoned editor or writer.
In the process of volunteering, you get to acquire firsthand experience and transit into an accomplished writer in your area of interest. Hence, you can create your curriculum vitae and your career portfolio and land yourself juicy writing contracts from prestigious and reputable organisations. Watch the video to see what a career portfolio is.
4. Virtual Assistant
Have you got laudable administrative or managerial skills? Then, this role might be the platform you need to earn an extra income. The truth is that many business owners and corporate organisations are in dire need of professionals. Professionals who can work remotely, to whom they can contract the execution of their various routine tasks. Examples of such tasks are:
Calendar and schedule management,
Fixing of appointments,
Online research,
Bookkeeping, s
Social media accounts management,
Content transcription,
Call and email correspondences,
Event planning, ETC.
Further, a virtual assistant is expected to be a versatile multi-tasker. He or she should be someone who is able to juggle different tasks effectively. An efficient virtual assistant relieves a business owner of his or her cumbersome workload, therefore allowing the business owner to concentrate on more pressing tasks.
5. Become an Online Coach

Have you honed valuable core skills in any field of human activity? Do you know your onions in your area of expertise? With the evolution of technology and digitization, you can now monetise your skills globally at a fixed price.
As an online coach, you can have a contactless classroom via video conferencing such as zoom, skype, free conference, etc. This allows your students to receive seamless tutorials as well as enjoy a worthwhile learning experience.
Your audience is largely determined by your area of specialisation. And which could be career, marriage, parenting, health, finance, academics, or any other area of human endeavour.
Examples of globally recognised online coaches include Deji-Debola Kurunmi,  Nike Folagbade, Akua Nyame-Mensah and a host of others. Also, there are institutes with online coaches who train learners on several courses e.g digital marketing courses.
It is important to know that there are no hard-and-fast rules to making money online with your phone. The above legitimate ways to make money online with your phone require meticulous research, preparation, tenacity, and remarkable consistency. Adding an extra stream of income to your regular allowance does not happen overnight. However, it is possible to make money online using your phone.