Do you run a business online? Do you want to grow your online business?
Are you looking for strategies that you can apply to increase sales for your business but you don't know where to start from?
Are you finding it difficult to acquire and retain customers online?
In this digital era, having a business online is a great opportunity for you to reach millions of people because there are over 3.97 billion people using the internet worldwide.
The internet being a global village; makes it possible for people from different part of the world see what you offer.
But having a business online is not a guarantee that there will be an increase in sale.
Therefore, it is important to develop the right strategies to engage your audience and grow your business online.
If your business doesn't have a strategic plan you will lose out to competitors who have develop strong strategies to grow their business online.
I know running a business online can be very difficult because there millions of businesses online today, and running a business requires a lot of hard work and dedication.
When running an online business you need to set-up strategies that will help you gain new customers and build relationship with your existing customers because they can serve as a source of referral.
If you are new in the online world, it will be difficult for you to scale your business online without the right strategies.
So, what are the strategies you need to set-up to run a highly successful business online?
In this article i will walk you through 7 strategies to grow a highly successful business online.
7 strategies to grow your business online
1. Identify your niche
Anyone with even basic  digital marketing understanding will tell you that identifying your niche is vital for the success of any business online.
When running a business online it is very important for you to narrowly define your niche.
Because Knowing your market will assist you in creating structured and specific plans and strategies to grow your business and this will help you tap into your target market easily and grow your business by giving your potential customers what they want.
However, if you are not marketing to a specific niche, your business may suffer after sometimes.
For you to run a successful business online, you must have a clear purpose, value proposition, and come up with innovative solutions.
Only when these criteria are met that your business have a strong online presence and thrive.
2. Identify your customers
For you to run a successful business online you must first understand who your target audience are.
The more you know about your target audience, the better you will be able to cater for them, and the more likely they will choose your product or services.
Knowing who your customers are, will help you developed a detailed structure to manage and grow your business online.
The more you know your target audience the easier you can reach out to them.
This is because understanding who your product and services appeals to can help you strengthen your business and it gives you ideas to find ways to improve your business.
After identifying who your ideal customers are, you can start developing strategies to reach out to them, understand them and nurture them until they becoming paying customers.
If you fail to define who your ideal customers are, you will be reaching out to the wrong set of audience who aren't interested in what you have to offer and this will result in decrease in sales.
3. Develop a sales funnel
Developing a sales funnel is very important because it helps you understand your customers journey.
A sales funnel is an essential marketing strategy that is designed to help you understand each step that a potential customers has to take in order to become a paying customers.
The type of sales funnel you develop can either shorten or make longer your conversion window.
What is conversion window? Conversion window is period time it takes for you to convert a potential customer into a paying customer.
For example; A group of people pass by your physical store, out of those people, a few of them enter your physical store to check out what you sell, then one of them noticed a product and decided to check it out, this person picks up the product and decided to make payment.
Unlike an online store a physical store does not have a way to retarget those people who have visited the store and bought nothing.
But by running an online store you can retarget those people who have visited your store and did not buy your product.
How does a sales funnel works?
From website visitor to prospect to lead then to paying customers.
A person visits your website or landing page when searching for products similar to yours on search engines such as Google, through referrals or after clicking on your ads then they become prospect.
If they sign up for your course or add your product to cart then they become leads.
If they pay for your course or for the product they added to cart they become paying customers.
But if people who visited your website do not take any action, how do you bring them back to take action?
That's where a sales funnel comes in, with a sales funnel you can reach customers based on the different stages of the customer journey which include:
Awareness stage
This is the stage where you capture the attention of your prospective customers for the first time in order to learn about your products and services
Consideration stage
This is the stage where you turn your prospective customers into leads and get them interested in your product and services.
Conversion stage
This is the stage where you convert your leads into paying customers therefore at this stage you need to convince them to buy your products and services.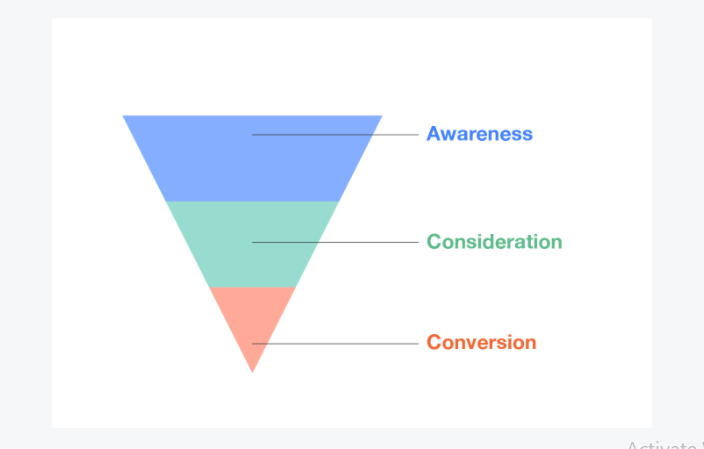 When a customer visit your online store and did not make any purchase, you can use the sales funnel to determine what stage of customer journey they are and how to influence their buying decision.
Also, the sales funnel helps you analyze your business and identify areas for improvement.
Are you ready develop a sales funnel for your business; then you should register for our 90% digital marketing course and discover how to develop an effective sales funnel for your business.
4. Use paid media to increase your reach
Using paid media is another type of strategy you can develop to grow your online business.
You can use paid media such as social media platforms such as Facebook, Instagram, Twitter, TikTok, Pin-interest and Search engine platforms such as Google, Microsoft Bing, to promote and create awareness for business online.
This platforms have millions of daily active users, making it a great avenue for your to increase your business reach online and improve your sales.
The more people know about your product and services, the more you will increase sales online.
When using paid media ensure you target the right set of people who would be interested in buying your products or using your services.
5. Optimize website for conversion
Your website is your business home address, it is the first place potential customers will go when they discover your business when surfing the internet.
Optimizing your website for conversion will help your website visitors easily complete one or more actions you want them to take when they visit your site such as making a purchase, filling out a contact form, clicking to call, or subscribing to your e-mail list.
In order to optimize your website for conversion, you must set a main action you want people to take when they visit your site. If you don't have a goal, there is no way you can improve the conversion rate of your website.
But when your website is optimized for conversion, you focus on guiding your visitors towards a specific goal you want to achieve.
For example; You own a physical store where you sell electronics, 100 people visit your stores and out of a 100, you were able to convince 30 of them to make a purchase; then the following day 50 people visit your store and you were able to convince 10 of them to buy your products or use your services.
A total of 150 people visited your store in two days and you were able to convince 60 people to buy your product or use your services.
The same thing applies to your website, your website should be built in such a way that it will be able to convince your visitor to buy your product or use your service. Same with the content on it.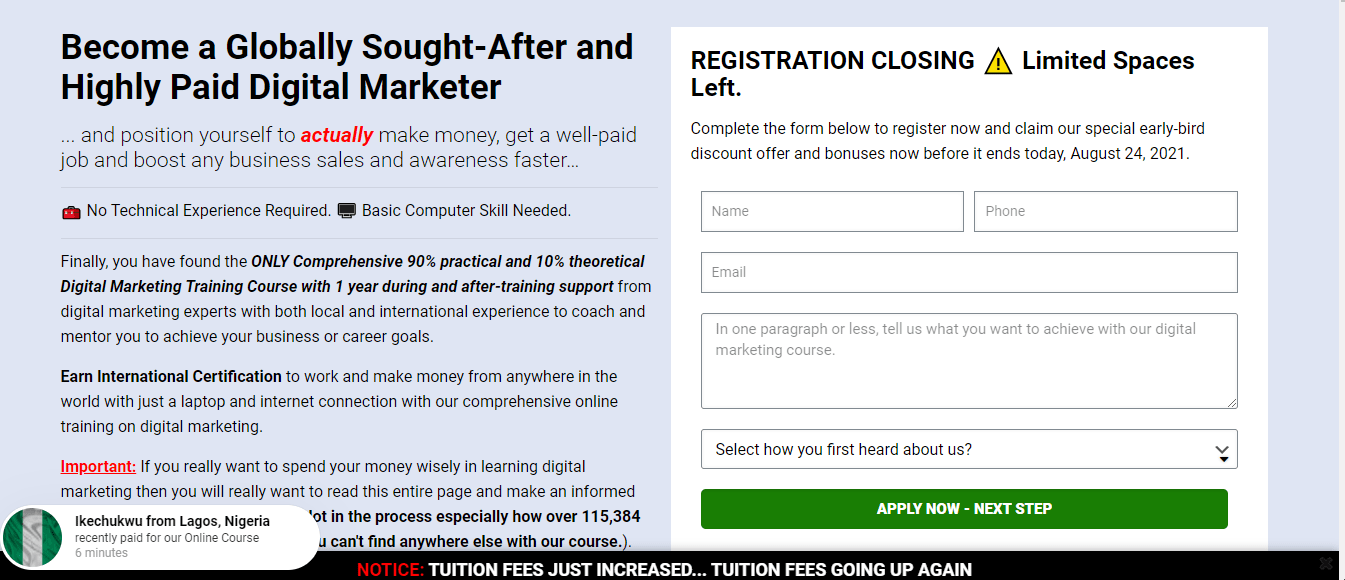 6. Use Email Marketing
Email marketing is a type of direct marketing that involves the use of an electronic mailing system which you can use to establish communication with your current and potential customers.
It is one of the oldest methods of digital communication, but it continues to be the most effective.
It is the most direct way of connecting with your potential customers, nurturing them, and turning them into customers and also build customer loyalty.
Effective email marketing can turn your prospects into a paying customers, and turn a one-time buyers into repeat customers into a fan.
Also, when writing emails, you should ensure that your emails are tailored  to the needs of your potential customers that way you will get them to covert.
7. Optimize your website for SEO
Optimizing your website for SEO (Search Engine Optimization) is an effective strategy that is important for any business to achieve success online.
It is what makes your website rank on search engine because your website gets to appear on the first page of Google search results.
A strong SEO strategy can help people find your business easily online when they search for products or services similar to yours.
This is because people usually go online to conduct their research before making a buying decision and when your website appears on the First page of Google search results, it will be easily for you to drive traffic to you site thus, increasing sales.
For example if you go on Google and search for "digital marketing skill" our company's website is ranking for that keyword because we've optimized our website organically to rank for what we do.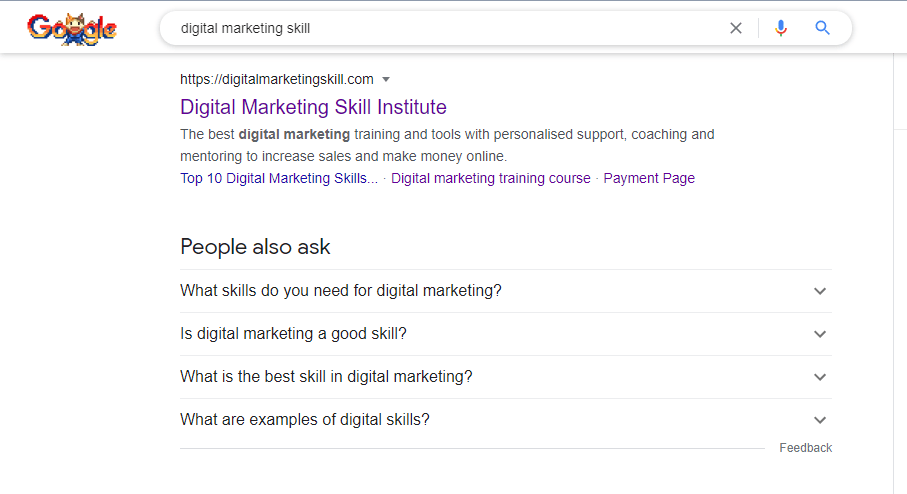 When optimizing your website for SEO ensure you use the right keywords, so that you don't attract people looking for services you don't provide because this will lead to driving the wrong traffic (people who are not interested in what you offer) to your website.
Conclusion
Developing strategies to grow your business online is very important because it will help you manage and optimize your business for success.
Therefore in this article, i provided and explained six (5) strategies that you can use to grow a successful business online.
Knowing these strategies is not just enough because you need to learn how to practicality apply this strategies and there are other strategies which you can also apply to grow your business.
To learn how to practically apply this strategies register for our 90% digital marketing courses and get all the strategies needed to grow and manage a highly successful business online.
You can also check out our review page and discover how people have achieve success in their business or career using digital marketing.
Business Online FAQs
What are the top three online businesses?
Following China and the US, the United Kingdom ranks as the third-largest ecommerce market, comprising 4.8% of retail ecommerce sales globally. After the UK, Japan (3%) and South Korea (2.5%) hold subsequent positions. Projections indicate that the UK is expected to achieve over $143.8 billion in ecommerce sales in 2023, according to Statista.
What's the easiest online business to start?
Here are a list of potentially profitable online businesses that have minimal startup costs and are easy to start quickly.
Small business consulting
SEO consulting
Social media consulting
Affiliate Marketing
Web design or web development business
Online blogging
Virtual assisting
More articles to read
What Is A Sales Funnel |How To Create A Sales Funnel For Your Business
The Most Ultimate Lead Generation Tips To Increase Your ROI
13 Best Email Marketing Tools (Software) to Boost Conversion and Sales
What Is A Customer Avatar | How To Create A Customer Avatar
Conversion Optimization | 10 Amazing Ways To Increase Conversion Rate
Search Engine Optimization (SEO) | A Complete Beginner's Guide To Website Ranking