There are a handful of email marketing tools that have helped both small and large scale business owners get customers online.
Email marketing strategies have in fact been the bedrock of all marketing automation.
In fact, email is the third most influential source of information for B2B audiences, behind only colleague recommendations and industry-specific thought leaders.
And 86% of business professionals prefer to use email when communicating for business purposes.
So you see the stats says it all!
If you ask me, email marketing is unquestionably the grandparent to all other online marketing strategies.
Are you new to email marketing? Click here to register for our digital marketing training course to start promoting your business using email marketing strategies.
A lot of marketers today don't put the trust in email marketing, they are the more social media frenzy marketers.
See let me tell you the truth:
Don't be deceived or fooled, email marketing works.
It's one of the most reliable when it comes to boosting brand awareness, sending personalized messages, marketing automation, reach a wider audience, converting leads and turning them into paying customers (as well as recurring customers) and more.
In fact, I took my time to explain all the benefits of email marketing in my last article.
These tools I am about to share with you are some of the best email marketing tools out there.
I have particularly tried some of them for my business and for clients.
Before we begin, what are email marketing tools?
What is Email Marketing Tools?
Email marketing tools are tools that marketers use to create, send, test, optimize and report on their email campaigns.
An email marketing tool could be a specific tool related to email marketing like an email subject line generator, or an inbox placement testing tool or a suite of tools that enables a marketer to do all their email marketing end-to-end.
So as long as you're using these tools right, email is still one of the most valuable and targeted channels for reaching your audience. It's also a great 
way to make money
.
Here are the 10 email marketing tools I admire though I am only taking liberties with Mailerlite and a few others as of now.
Email Marketing Software (Email Marketing Tools)
Before you start email marketing you have to select from a list of email marketing providers.
These companies offer email marketing solutions that enable small and large scale business to carry out email marketing successfully.
In the past, I have been opportune to have tested several email providers, and have come to the conclusion that these are some of the finest and cheapest ones you should try out.
1. MailerLite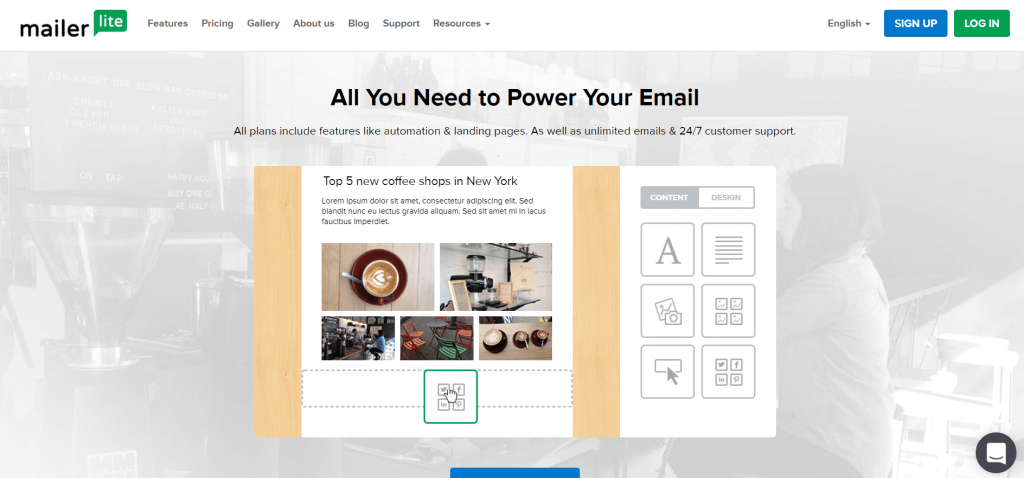 Don't let the word "Lite" in their company name confuse you, I felt confused at first though.
There are literally hundreds of email service providers out there, but after spending some time on research and on testing of different alternatives, we found the hidden gem in the email marketing world – MailerLite, a service that has become the email marketing platform for Barn Images.
MailerLite is an email marketing directed towards small businesses, giving them a robust and powerful platform that is easy to use and easily complements existing content marketing platforms and strategies. This simple and straightforward application comes with all features professional email marketers look for in an email marketing software.
Some people see it as the best MailChimp alternative.
A quick glance at MailerLite's pricing and features will be enough to see that it is one of the best email marketing software programs out there. It has everything you need to excel when it comes to email marketing.
MailerLite Features:
A free plan to get started – limited to 1,000 subscribers, not features
Super-easy and powerful editor
Beautiful email templates
Powerful automation, autoresponders, and auto resend features
RSS-feature to send out your posts automatically
A/B testing
Fully customizable web forms, popup forms, and landing pages (!)
Number of integrations
Customer support speed is amazing
Pricing is ridiculously cheap
MailerLite Pricing
They offer a flexible enterprise pricing scheme based on the number of your subscribers. You also get to enjoy unlimited emails. Price starts at $10 per month or $84 per year for 1,001 to 2,500 subscribers.
2. MailChimp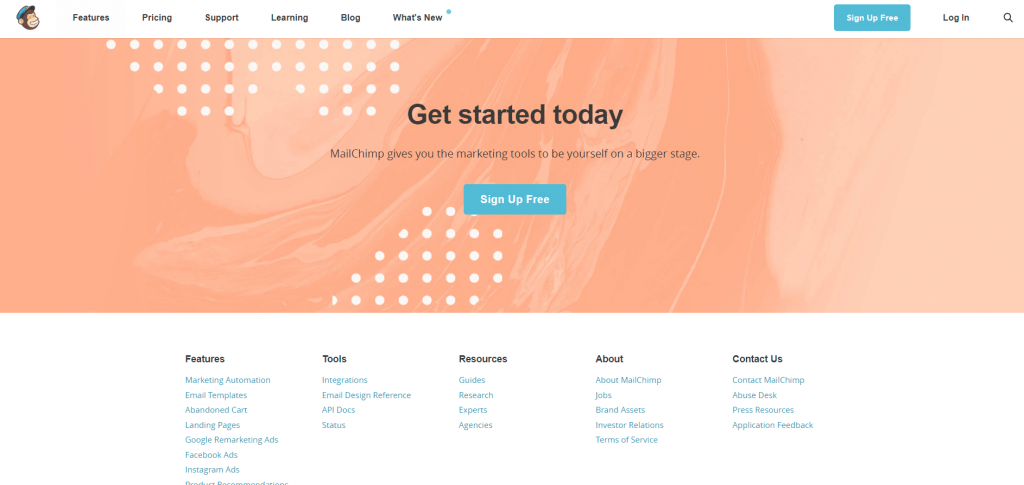 MailChimp is a popular email marketing service that offers generous plans for small and developing enterprises, and can also handle large volumes of emails for big businesses and organizations.
Known for their low-cost plans ideal for startups, MailChimp also offers business-enhancing analytical features and strong technology tools that allow users to effectively use email to get in touch with their clients and prospective customers, market their products and services with ease and accuracy, and turn leads into actual sales.
Easy to use and extremely affordable, MailChimp is a powerhouse in the email marketing solutions market.
With MailChimp, you can easily create, execute, and analyze ad and email campaigns.
The platform enables you to manage subscribers, generate custom reports, view click-through and success rates, track your emails, and ensure full transparency of campaigns. You can select from a range of pre-designed templates or create your own custom templates.
MailChimp Features:
Email Beamer
Email Designer
Email Templates
Integrations
Merge Tags
Multi-User Accounts
Custom Forms
Segmentation and Groups
Subscriber Profiles
Automation
Spam Filter Diagnostics
Email Delivery
Geolocation
Email Client Testing
RSS-to-Email
Delivery by Time Zone
A/B Testing
MailChimp Coupon Scanner
MailChimp Editor
MailChimp Mobile
MailChimp Snap
MailChimp VIPs
Mobile Signup Forms
SMS for Events
Campaign Archives
Social Profiles
Social Sharing
Reports
MailChimp Pricing
Startups and companies that have a small budget can utilize the freemium plan that allows you to send up to 12,000 emails per month to up to 2,000 subscribers.
The free package includes most of the key features including the ability to create ad campaigns and access to marketing automation workflows.
Normal plans start from $10 per month for 500 subscribers and move to $2,550 for 600,000 of them. Contact company if you have contacts for special high volume plans.
3. AWeber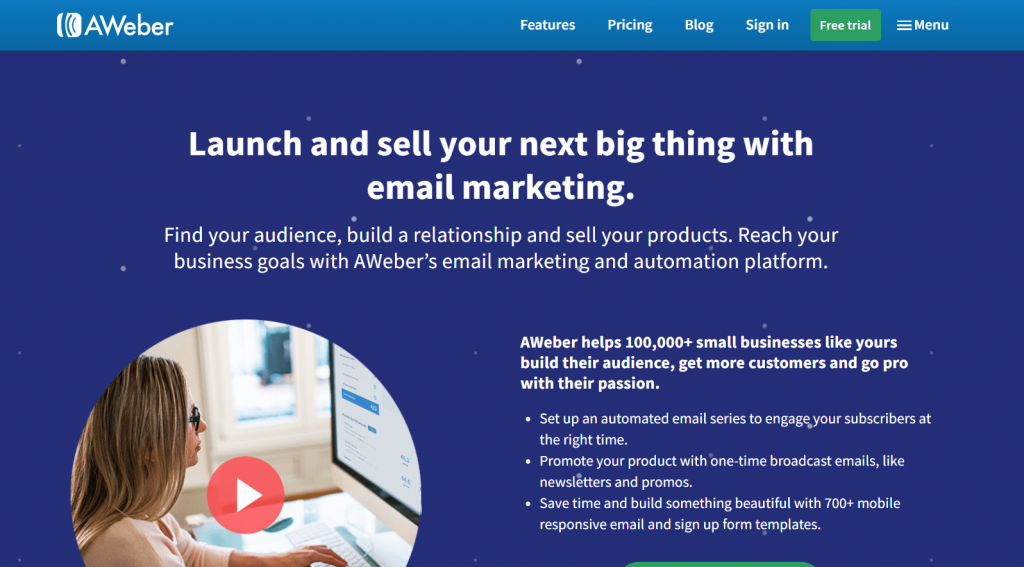 AWeber is a very popular marketing solution even for the most hardcore of email marketers.
The platform comes with superior autoresponders that make customer engagement and interaction easier than before.
The system also boasts with advanced options for integration, including leading business tools and systems such as Zendesk, Salesforce, WordPress, PayPal, LeadPages, and WordPress, to name a few.
For those who are new to email marketing, AWeber offers regular live webinars for added instruction and training. Access to data and reports also give you the insight you need to make better decisions, devise and implement better strategies, and achieve success.
When it comes to creating campaigns, AWeber offers a slightly different mechanism than similar marketing systems. You can use it to create follow-up series and autoresponders, and build your own, personalized messages with a handy drag-and-drop tool. Premade templates are available, but users are encouraged to design their own, more business-specific ones.
AWeber Features:
Autoresponders
Email Deliverability
Sign Up Forms
Email Newsletters
AWeber Mobile App
Drag and Drop Editor
HTML Email Templates
App Showcase
Subscriber Management
Subscriber Segmenting and more.
AWeber Pricing
Plans start from $19 per month for 500 subscribers and move to $149 for 10,000 of them. Teams with more than 25,000 subscribers should contact the company to obtain a special quote.
Email Lead Signup Form (Email Marketing Tools)
In marketing, lead generation is the initiation of consumer interest or enquiry into products or services of a business. Leads can be created for purposes such as list building, e-newsletter list acquisition or for sales leads.
Capturing leads are one of the reasons we do email marketing.
To do this, here are some of the lead generation forms I have tried for my business and for clients as well.
4. MailMunch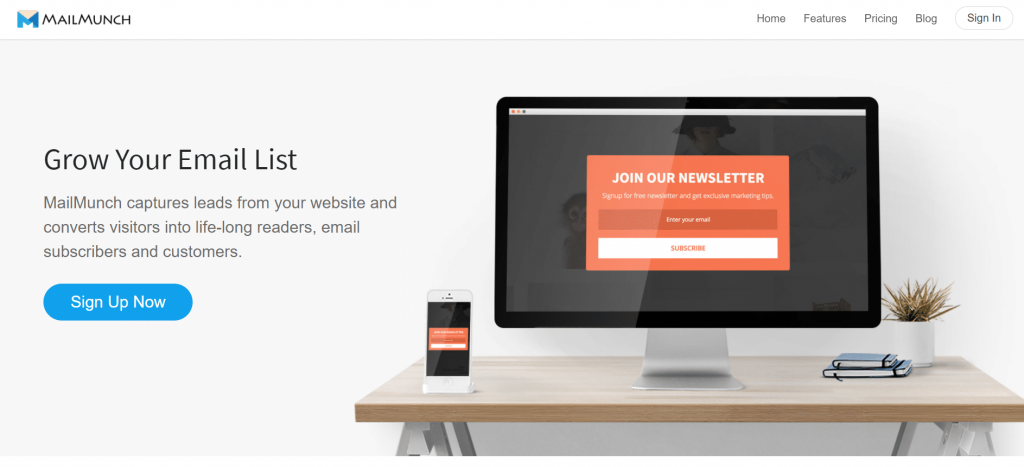 Are you looking for a really cool yet free email list builder?
No more searching… MailMunch got you covered.
MailMunch is a free website email list builder with lots of beautiful popups and forms that will help you grow your email list. Trigger campaigns based on exit, scroll and more behaviours.
I particularly love this app because it is very easy to set up!
Used the free app for a couple of months and upgraded to the paid version. Has helped us grow our email list very quickly. Here at Digital Marketing Skill Institute, we use both an arrival, sidebar and exit pop-up!
MailMunch Features:
Customizable, mobile-friendly forms include popups, banners, bars, and embedded forms for email collection
Display campaigns based on exit, scroll, timer, device type, page, number of visits, and more
Run giveaway campaigns and sales and offer your subscribers with discount coupon codes
Connect with all major email marketing providers including MailChimp, AWeber, Constant Contact, and more
Get analytics to find out which email popups are bringing in the most conversions
MailMunch Pricing
They offer a free to use form but to unlock more beautiful signup forms, their pricing starts from $6.30/mo (Silver plan) and $13.30/month for (Gold plan).
5. OptinMonster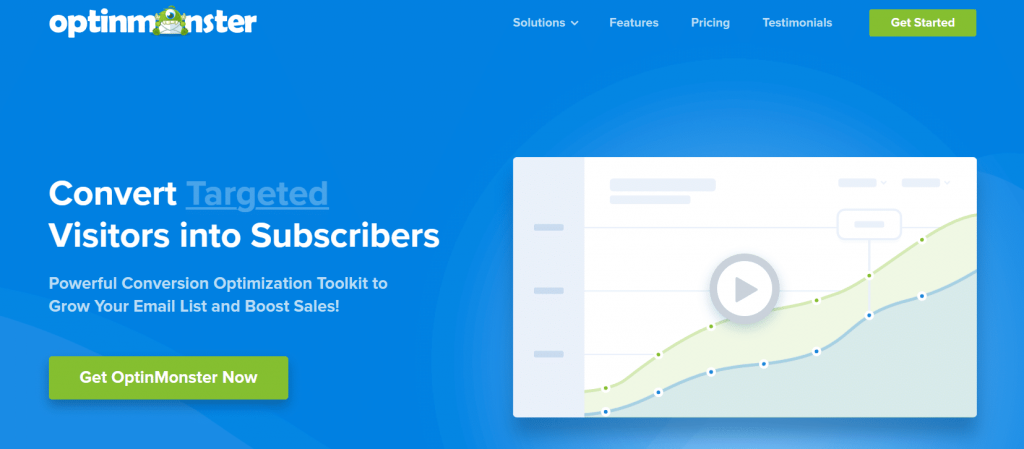 OptinMonster is a synonym of powerful customer acquisition and conversion rate optimization technology suitable for small businesses and non-developers.
This one is one of the best SUMO alternatives if you ask me.
The system's functionality revolves foremost around active and code-free lead generation, made possible with custom capture forms and creative, well-timed popups.
Another thing that makes Optin a unique provider in the industry is its ability to retain control of any complex conversion strategy, as it offers split A/B testing for your campaigns, and detailed analytics that measures the engagement of your customers.
As an open API product, OptinMonster is easy to connect with any third-party software solution, including popular providers such as Zapier, HubSpot, MailChimp, and G Suite products.
Due to its primary focus on attracting mobile traffic and converters, OptinMonster functions impeccably on mobile devices as well.
OptinMonster Features:
Converting forms
Exit-Intent technology
Form builder
Lightbox popups
Behavior personalization
Page-level targeting
Well-timed and custom popups
Mobile specific popups
A/B tests
MonsterLinks 2 step-optin technology
Full-screen welcome gate
Floating subscription bars
Sidebar conversion forms
Location specific in-line forms
Animated MonsterEffects technology
After post Optin forms
Conversion analytics
OptinMonster Pricing
Pricing is made flexible to meet the needs of different users and covers both per-month plans and custom packages for larger teams and enterprises.
Basic plan goes or $9/mo, Plus plan is $19/mo and the Pro plan goes for $29/mo (All billed yearly).
6. Sumo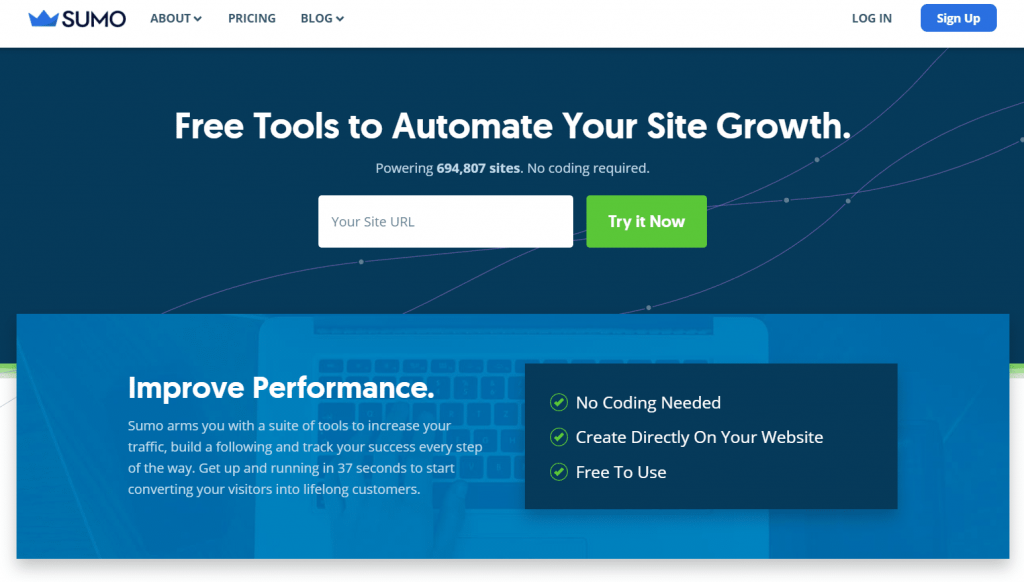 Sumo is a throng of solutions that are tried and tested to grow the traffic of your websites, create a huge base of online followers, and help you monitor and steer your websites to huge growth and success.
With Sumo solutions, you can improve the number of your signups, attract more subscribers, encourage visitors to share your content, and more. And this features is what I'm more concerned about since we are discussing email marketing tools.
With Sumo everything seems so simple and straightforward.
You don't have to be a coding expert to make Sumo work.
You can craft beautiful pop-ups for effective email captures and attract more visitors and get them to stay and explore your websites with displays that are optimized for desktop and mobile devices.
Sumo also allows you to see what makes your websites tick.
What content do they love going back to?
Which material do they tend to skip?
Everything is clearly visible, allowing you to monitor your success and make the changes you need for more growth.
Sumo Features:
Welcome Mat
List Builder
Share Pro
Heat Maps
Smart Bar
Scroll Box
Content Analytics
Contact Form Pro
Image Sharer
Highlighter Pro
Dashboards
Sumo Pricing
You can start using Sumo for free but also have some paid plans — their premium plans start from $24/monthly up to $199/monthly. They also provide room for contacting them to discuss for unlimited sites and networks.
Email Testing and Analytics (Email Marketing Tools)
Email marketing is the digital equivalent of direct marketing.
Direct marketing becomes successful by testing and measuring results. Email marketing allows us to test multiple parts of the campaign in order to get better results.
'Testing' in this context simply refers to releasing two or more versions of the same message, with different characteristics and understanding what works and didn't work.
Here are some testing and analytics tools:
7. Litmus
Litmus gives you the opportunity to build the perfect email when emails are built in the litmus editor, one can check email compatibility with over 50+ email clients, also changes made are updated simultaneously which makes your work extremely faster.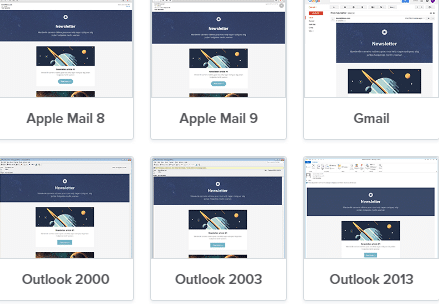 It also gives the opportunity to have instant previews on all devices such as mobile and desktop, this is to ensure that compatibility is excellent in all dimensions.
They also have awesome templates that allow you to build your email from scratch, because of their in-depth analytics you can also choose from their tested templates that have worked in other places.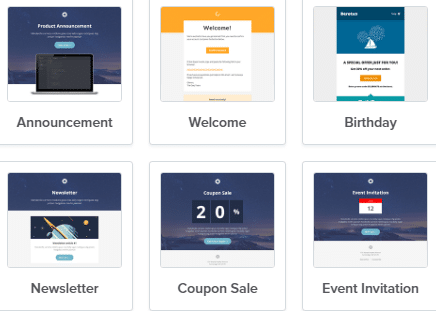 Litmus Pricing:
It offers a 7-day free trial. After expiry, you can select from the following plans below:
Basic: $79/month. Email previews, builder, page testing, interactive testing, 2 users free.
Plus: $149/month. Spam filter tests, 500,000 tracking opens, 2 users free.
Premium: $399/month. 2 million tracking opens, 10 users free.
Unlimited: Please contact Litmus for pricing information.
8. Email on Acid
Email on acid is another testing and analytics tool that allows you to check the compatibility of your emails across over 50 email clients. Compatibility testing can also be done on mobile and desktop devices.
Email on Acid can be tested within any email service provider.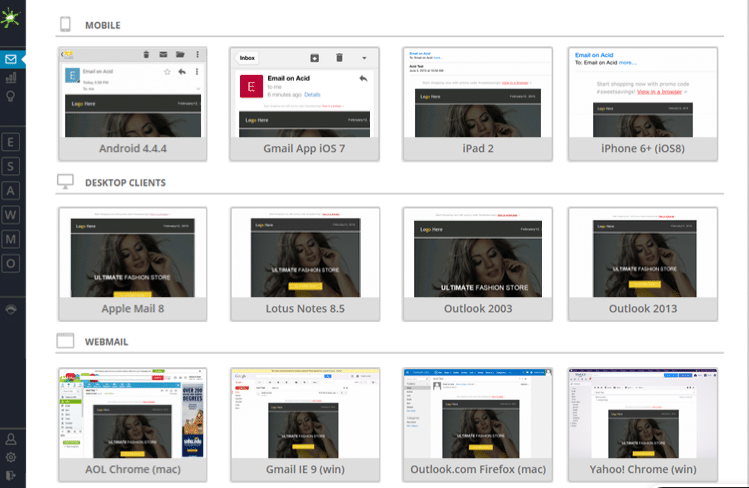 Email on Acid is great for use during the QA process prior to launching new email marketing campaigns to identify inboxing issues, spam red flags, and inconsistent design across ESPs prior to sending.
It's helped improve our email deliverability, inboxing, user experience and response rates.
How it works
Send your email from your email service provider
The email is processed using their quality system provider
You can then run a test on the clients you choose
Results are viewed in aggregate or individually
You can easily share your email with your colleagues and clients to get feedback, critique and necessary comments to help make your email even better.
If there are issues in the code of your email, email acid does a through automatic check and pinpointing those areas within your code where errors persist.
Email on Acid Pricing
Premium pricing plans start from $45/monthly to $80 monthly. Perhaps, you can start with their free trial to test this email marketing tool.
Email List Validation and Cleaning (Email Marketing Tools)
Did you know that 30% of subscribers change email addresses annually?
Looking at that, you will understand why you need to clean and validate your email subscribers often. According to Convince and Convert, email lists with 10% or more unknown users get only 44% of their email delivered by ISPs.
So why is email list cleaning important?
Obviously, the most important thing when sending emails is to make sure the emails don't bounce.
A properly managed email marketing campaign can help maintain relationships with existing customers to inculcate brand consciousness.
It also has the potential to convert a prospect into a paying customer. Both of which will boost the company's reputation and revenue.
Therefore, a key factor to a successful email marketing campaign is the cleaning of the email address list used for the campaign.
Here are some of the best and cheapest email list cleaning and validation tools out there.
9. Hubuco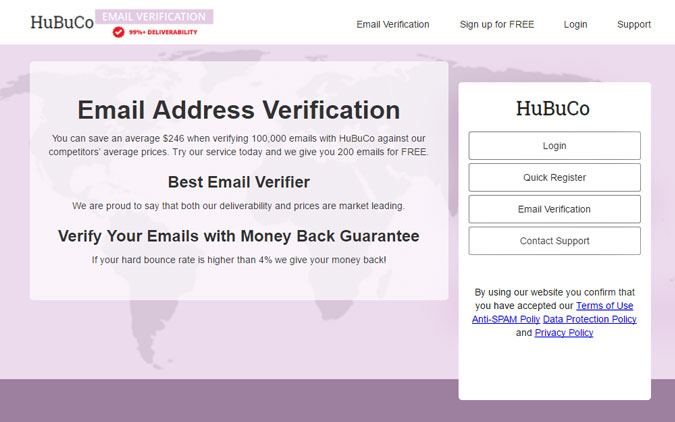 Hubuco is one of the best-known email list validation in an industry of email marketing.
This email marketing tool provides a platform to carry easily out bulk email verification and validation on any opt-in list.
Hubuco ensures you only send the email to real users and helps you separate the low-quality addresses from high-value contacts.
Hubuco finds out email addresses as deliverable, undeliverable, risky or unknown and a 'Hubuco Sendex score' feature to check out the quality of each email addresses.
It verifies all the email addresses by going through the SMTP verification, email address syntax checker, MX record checker, and DEA detection process.
Hubuco Pricing
If your hard bounce rate is higher than 4% we give your money back! They are much powerful in terms of list cleaning and price.
Here are the plans:
Turbo Plan: 100,000 emails / month only 

59.4 USD / month 

for the 1st 3 months, then 

99 USD / month

Rocket Plan: 100,000 emails / month only 

77.4 USD / month  

for the 1st 3 months, then 

129 USD / month

100,000 Bulk Credits: only 

176.16 USD. 

Includes 40% OFF starting offer. B

ulk credits never expire!
10. MailGet List Cleaning
This is another great email list validator and cleaner with very competitive pricing.
MailGet email list cleaning service provider suits up all types of business firms and marketers. They have provided an easy to use list validating functionality in which you simply upload bulk email list, click on clean list button and get your list cleaned.
MailGet email list cleaning tool has multiple added features that are used for list cleansing purpose, which are offered by only a few email marketing software provides.
Also, there is three type of clean segments on which software works and those are spam list, suspended list, and bounce list.
It provides very efficient, secure and robust inbuilt cleanup mechanism which helps to maintain email list hygiene and cleans your contact list from bad and syntax error emails.
It automatically verifies and validates your contact list by checking through MX validator, domain validator, DEA checker etc. Also removes all the duplicate email addresses from the list and saves cost.
MailGet List Cleaning Pricing
In order to fulfil needs of various customers, MailGet List Cleaning Service has designed 12 different plans that start from $4/1000 emails to $159/100,000 emails.
Email Subject Line Tester (Email Marketing Tools)

Your email's subject line is, simply, the most important thing you'll write in the entire message.
Why?
More people will read your subject line than any of the inside text – and they use that 3-second first impression to determine whether they'll even click on your mail. You only get one chance, and it could decide the fate of your entire marketing campaign.
Here are some FREE email subject line testers:
11. SubjectLine
This free service "SubjectLine" will evaluate any subject line according to email marketing best practices and give you an instant score. You'll get immediate, actionable advice so you can continue tweaking your subject until you get the results you want.
12. Headline Analyzer
The free Headline Analyzer from CoSchedule digs deeper to focus on scoring your headline's word choices. It helps you tweak the reading level as well as the "word balance" – helping you tap more evocative words. Plus, you can easily compare past headlines.
13. The Hemingway App
Concerned that your message might be going over your readers' heads? Inspired by the man most celebrated for his short sentences, the Hemingway App focuses in on the readability of your subject line. You can even use it to analyze entire blog posts if you choose.
That's it!
Conclusion
Selecting a platform is first step you take for finding a prospect. And lead is one of the hardest thing for any business growth because they end up paying the bills.
I have personally used Mailerlite, Mailmunch, Sumo and other email marketing tools listed above. And they have really helped me a lot in my business growth. So check them out to know which of them you should try out!
Also, check them out and let us know which of them you will be testing!
By the way, we have a digital marketing training course if you ever want to improve your email marketing skill.
Click here to learn more about our digital marketing course guide and benefits or use the link => https://digitalmarketingskill.com/digital-marketing-training-course/. Limited space available, act fast!
Related articles