Do you want more customers for your business?
Do you want more customers for your business? Knowing how to use Facebook to get more customers is very important for every business in Nigeria.
The lifeline of any business is getting and retaining customers. Whether you are selling a product or service, using Facebook is a no-brainer. If you learn how to use Facebook to get more customers, you would spend and have a greater return on investment.
Basics of getting a customer successfully
Basically, this is how to get more customers:
1.Clearly define your target customers:
For example, our target customers are high end businesses looking for ways to grow their revenues using the online medium.
So, i discovered that most businesses are now seeing the value of going digital to grow their earnings. Ours is to give them services that would help them save energy, time and cost based on our expertise, years of knowledge, reputation and recommendation.
2.Location:
Usually the first place you'll think of if you want to start selling electronics in lagos is the computer village at Ikeja. This positions you for huge targeted traffic. Here, people are really looking for your product.
Facebook is great location. As we go on, you see how to use it to get more customers in Nigeria.
3.Identify businesses in the same market segments:
I discovered that health plus is usually beside sweet sensation. Most private hospitals have a private pharmacy close to them. Most shoe stores are close to where Shirt boutiques.
4.Clearly define your irresistible offer:
What differentiates you from others? What would you give them to win them as customers?
5.Present the offer successfully:
Your dressing matters. Emotions matter. What will you say and how would you say it. People have to like and trust you to do business with you.
6.Get their contact details or give them your card:
Most customers would not do business with you the first time they are meeting you. Find a way to get their details or give them your card.
I think getting detail is a better approach. Some businesses collect phone numbers so as to keep sending bulk sms to prospective customers to build trust.
7.Customer service:
Make sure you keep serving your customers. It's very easy to get a new customer via referral so, make sure you keep your word and promise.
Note that customer is always right and customer is king. As you do this, make sure you are learning more about your customers.
How Nigerians are getting their customers
Some few years back Nigerians use fliers and referrals to get more customers. Other media businesses in Nigeria are using include TV advert, radio adverts and billboards. These are traditional methods of advertising. They truly worked in the past and they still do. While they do work, they are quite expensive and you can't measure easily.
Well, the story has changed. Businesses in Nigeria can now target their exact prospective customers, grow their revenue and directly measure their result. A large percentage of Nigerians are now online. Most of them are on Facebook.
This is why you need to learn how you can use Facebook to get more customers in Nigeria.
What Businesses are missing
Here are few statistics to think of:
Worldwide, there are over 1.55 billion monthly active Facebook users (MAUs) which is a 14 percent increase year over year
5 billion likes generated daily as of May 2013 which is a 67 percent increase from August 2012
There are 1.39 billion mobile active users (MAU) (Source: Facebook as of 9/30/15) an increase of 23 percent year-over-year.
On average, the Like and Share Buttons are viewed across almost 10 million websites daily.
In Europe, over 307 million people are on Facebook.
Age 25 to 34, at 29.7% of users, is the most common age demographic.
Five new profiles are created every second.
Facebook users are 80% female and 73% male.
Highest traffic occurs mid-week between 1 to 3 pm. (Also consider that Facebook has a global audience, so you may want to plan around the time zone of your key market.)
On Thursdays and Fridays, engagement is 18% higher.
50% of 18-24 year-olds go on Facebook when they wake up.
42% of marketers report that Facebook is critical or important to their business.
16 Million Local business pages have been created as of May 2013 which is a 100 percent increase from 8 million in June 2012
You can start with this
Promote your Posts:
So, you write amazing content for your facebook. You engage people organically with your post. But, you have to understand that not all your fans or friends would see your post.
Facebook actually controls and filters what everyone sees in their News Feed. What if you actually discover that a particular post was very engaging? Note that no matter how engaging and valuable your post is, a lot of people would still not see.
Here is the most recent viral post by top 50 brands on Facebook. Note that they have huge fan base. They promoted the page to have that following and yet still sponsored the post. I have discovered that most viral content online are actually promoted.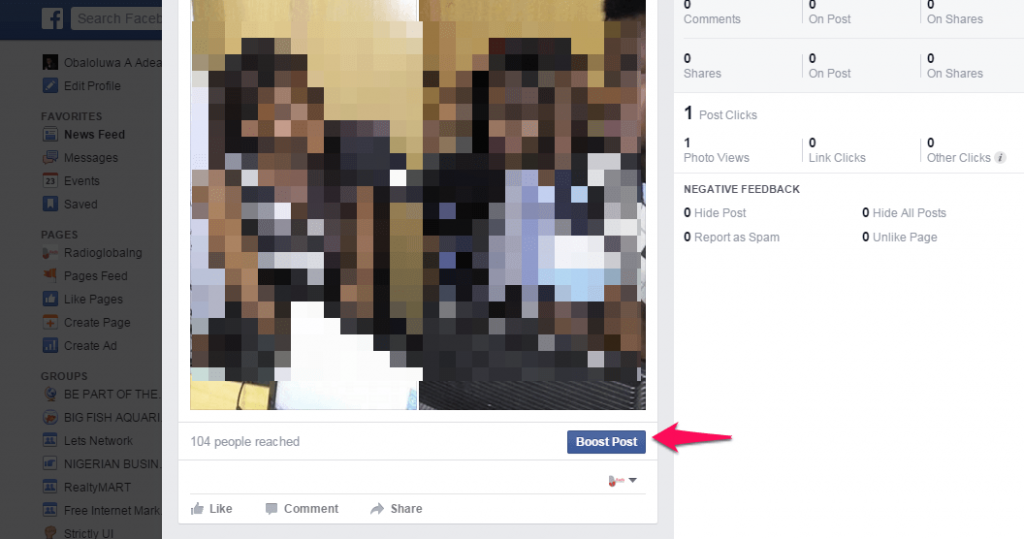 Set aside a budget to promote your most engaging post. Not only can it result in an increase in interaction, it can also result in an increase of traffic to your site.
This is how to use Facebook to get more customers in Nigeria- Promote your engaging post.
Post multiple photos:
Generally speaking, I've discovered that photos reach and engage more people than plain text.
Jon Loomer shows you how to implement simple trick of using multiple photo post to reach more people.
'The rumor goes that if you create a post with multiple images in it, you will reach far more users than if you do a typical image share. Note that this isn't sharing a photo album, but doing a standard text share while adding images.
The key is for the images to look presentable when uploaded together. If you post two or three images, all will be presented side-by-side within the News Feed, on your Timeline and within the permalink'.
Go here to go learn how to do the trick
You can check here and here to see how you can even further boost your multiple photo post
Photo Tagging:
I have used this feature to reach more people for a particular offer . Facebook might not allow all your friends or fans to see your post.
But, the tagging feature allows you to reach much more people. If there is a call to action such as please share, then your post further reaches more people. This is one great way to use Facebook to get more customers in Nigeria.
[bctt tweet="The tagging feature allows you to reach much more people. If there is a call to action such as please share, then your post further reaches more people. This is one great way to use Facebook to get more customers " username="vibewebsolution"]
When you tag someone, the person receives notification that he or she has been tagged. Just imagine that the post is engaging, relates and connects emotionally with those people.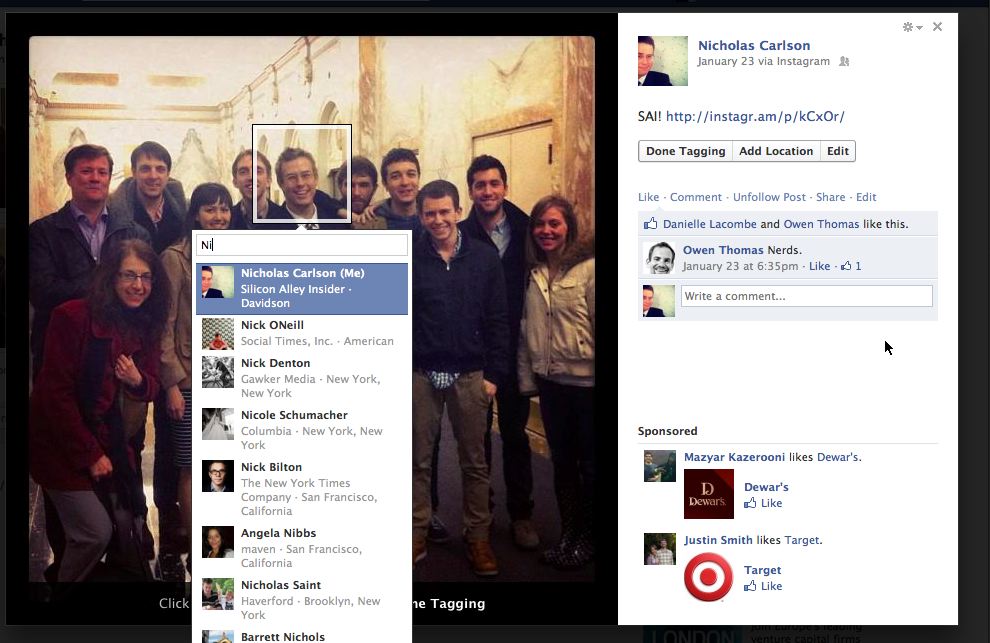 Boom! There you have it. You just reached more people without paying a dime.
See the video below to see how to tag people.
https://www.youtube.com/watch?v=XiNMCUYzsuc
Let me emphasize this. Tag people very intelligently. When you tag people, it has to be relevant to them in some certain ways. Don't just tag for tagging sake. Doing this might make people unfriend or unfollow you.
Get creative with your call to action:
Gone are the days you bother people to like your post. Facebook has way of burying such posts with their algorithm.
The latest Facebook algorithm update buries "like-bait" posts, which is basically any post that directly asks users to "like", "share" or "comment" on it – formerly standard calls to action for Facebook business page updates.
Now, you have to get a bit more creative with your calls to action.
Based on this and this, it is obvious that Facebook wants you to spend money on their call to actions. But there are creative ways to give a call to action without paying Facebook. But, truth be told, you'll reach more people paying Facebook.
If you are promoting, here is how to get the most out of your call to action button.
Listen:
Yes, you heard me right! There are two types of listening I'm referring to.
Studying what your competitors are doing:
A lot of business owners in Nigeria don't spend enough time studying how their competitors do things online.
Actually, this is because it could be time consuming and you probably have other important things to do. Using tools like Hootsuite can help monitor and measure certain topics within your niche and save your time on social media.
Here are some ways to save time analyzing your competitors.
You can use Graph Search to find lots of people or competitors in your niche. When you this, you get to see what they are doing better than you and even surpass it.
You can even find out what make artists are loved by people within a certain age range.
You can do that by typing:
Make-up artist in [Location-Lagos] liked by people above 24 years old and below 30 years old.
Wow! Isn't that amazing?
Study their past campaigns and offers.
Listening to your followers or audience:
Join a group and create your group. Groups are more intimate than pages at least from my own experience. You get to study people's persona and psychology as it relates to your brand. Tell the person handling your Facebook to look for groups related to your niche and join.
Here is how to create a Facebook group
Also, study the comments of your post and ask questions. Ask questions? That's how to create engaging posts with feedback.
Facebook Offers:
Again, this is another amazing way to use Facebook to get more customers in Nigeria. I found out that most businesses in Nigeria don't use this feature in their Ads.
A Facebook Offer is a special post that lets users claim an offer online then redeem the special at your business.
Most offers are not redeemed digitally. This means you'll have to design the offer in such that would encourage people to redeem their offer physically.
Try hosting a giveaway or contest, where those who visit your makeup studio have a chance to win free coupon for a make-up session. Only those who visit the studio are eligible to win!
Follow this steps in creating your offer:
First, go to your Ads Create tool.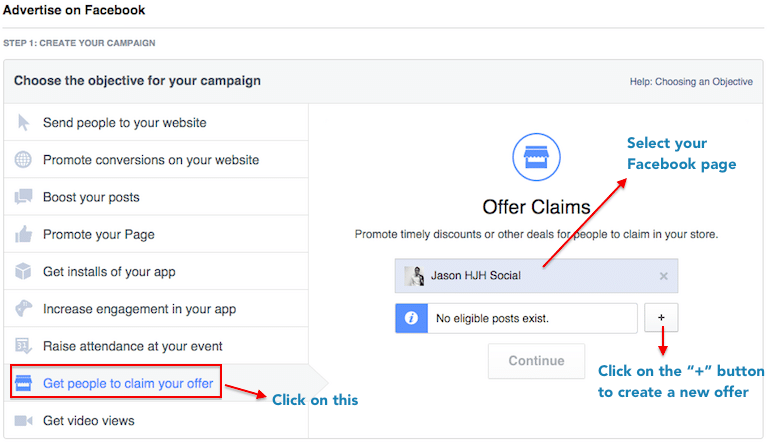 Once you're on that page, click "Get people to claim your offer", select your Facebook page & click the "+" button to create a new offer.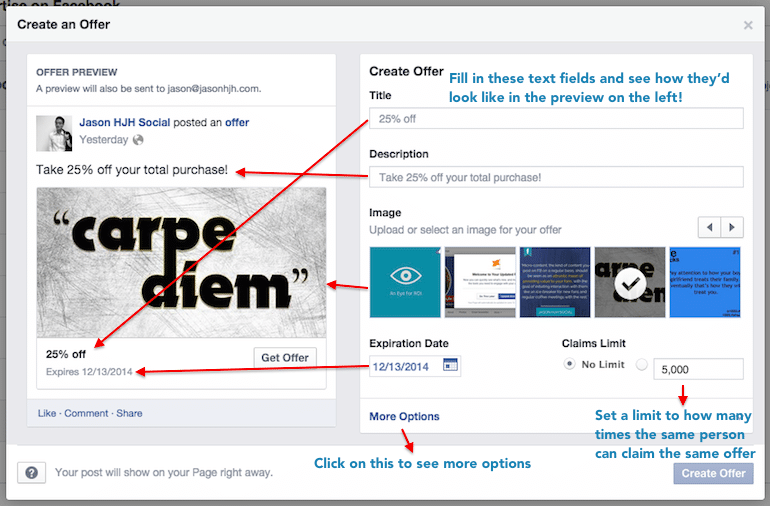 A pop-up should appear similar to the example above. Fill in the title & description text with your promotional copy, then preview the offer on the left.
Next, click "More Options".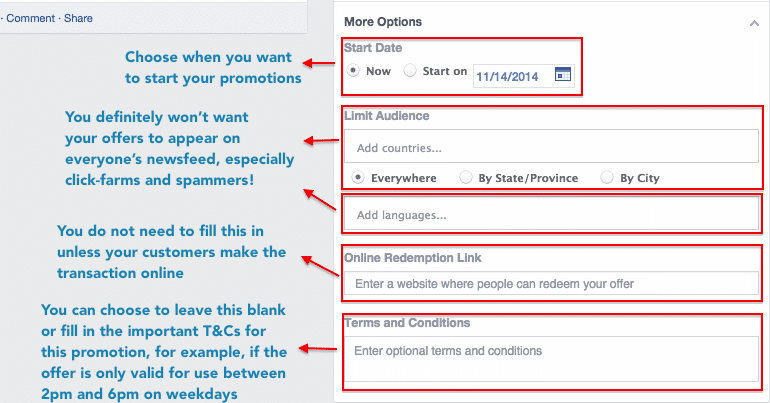 Local Awareness Ads:
You can also use Local Awareness Ads to promote campaigns on Facebook.
Local Awareness Ads are one of Facebook's newest ad offerings for small businesses. If your business is highly physical (that is, you have to be contacted physically to deliver your service), then, this can be an innovative way to use Facebook to get more customers in Nigeria.
Use this to show people who live near your business & those who recently visited a place nearby.
There are probably people looking for a classic barber as they pass through Victoria Island.
This kind of Ads usually have a call-to-action button labeled "Get Directions" (see the screenshot below). This is a simple, intuitive way to show customers in your area exactly where your business is located.
Here is how to Create Local Awareness Ads
Creating a Local Awareness Ad is easy.

Start by selecting "Local Awareness" as your ad objective. Then select your page — as Jasper's Market did in the example above.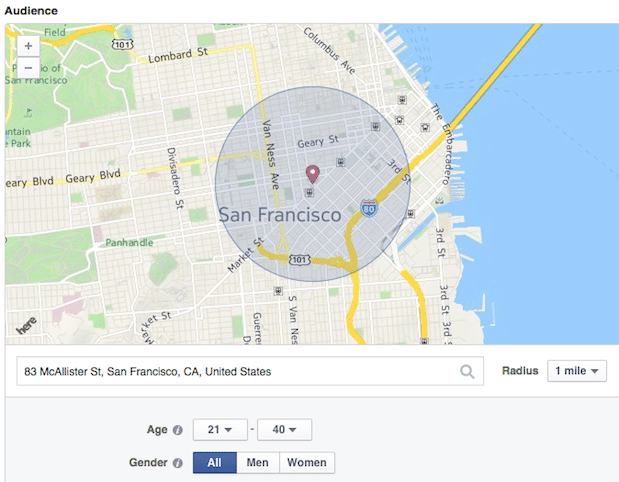 Next, enter your business address (if you haven't already done so) on your Facebook page.
The map above should zoom into your business location & show you the option for choosing how far you want your ad to reach.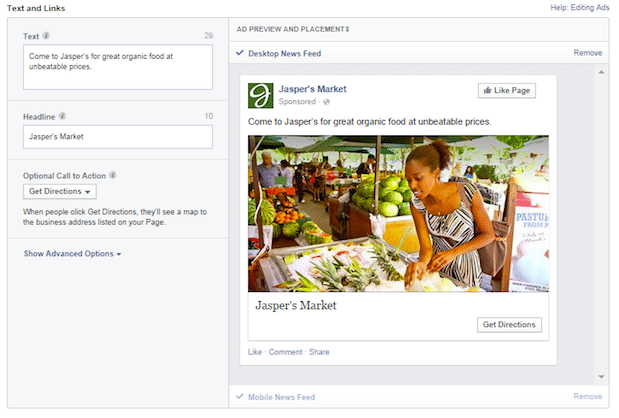 So, what now?
If you are not yet active on Facebook for the sake of business, you are really missing out. Now is the time take advantage of these Facebook tricks to getting new customers into your business.
Did you enjoy this article? We give away 98% of our digital marketing resources for FREE. Right now, I want to prove that to you, join our community right now for FREE access to our actionable digital marketing resources to help you increase your sales and customer base online faster. It is absolutely FREE.