Welcome to Instagram Stories 101: How to use Instagram Stories to grow your business.
Did you know that out of all of the different facets of digital marketing, social media tends to change with the most immediate and drastic results?
There is always a new platform emerging for marketers to look into and master to stay ahead of the trends.
And with algorithms on big platforms like Facebook always evolving, you have to stay on your toes as you figure out how to engage on them.
However, through all the change, there is one thing that remains consistent:
Users want to engage with brands in a personal way.
For this purpose, Instagram stands apart from all other platforms. It's one of the best places for you to promote brand engagement with your users.
It's grown by 1,400% in just the last five years. With growth like that, it's a no-brainer for marketers to implement Instagram into their social strategies.
Every day, over 300 million people use Instagram Stories, the Snapchat-like feature that creates photo and video sequences that disappear 24 hours after being posted.
That's good news for the millions of business profiles on the platform because, on average, one in five Stories gets a direct message. And when a potential customer reaches out to your business on Instagram, that's a lead.
In particular, Instagram Stories makes it easy for marketers to engage with users, humanize their brands, create leads, and generate customers on the platform.
They're a great tool for showing potential customers (and existing ones) why your brand is relatable or interesting.
So, how do you get the most out of Instagram Stories? How do you go from novice to pro using Instagram stories to grow your business online?
Well, you're in luck.
You can either just read this article and get some tips on how to get started on your Instagram Stories, or register for our digital marketing training where you will not only learn how to set up your stories, but also optimise the stories for increased results.
Click here to learn more and register for the training
However, this guide is here to help you get started. It will give you ways to use Instagram Stories to build your brand and convert leads and sales.
But first, let's start with answering the obvious question for those of you who don't know what Instagram Stories is.
What is Instagram Stories?
Instagram Stories is not an easy feature to define. The tool is just as flexible as the imagination of the user. For that reason, it's easier to explain how the tool works rather than what it can be defined as.
And that is quite simple.
Essentially, Instagram Stories, much like Snapchat Stories, allows you to add pictures, videos, or gifs to a special kind of dashboard. And then, users can edit their photos and videos on Instagram with words, emojis, filters, icons, stickers or drawings.
And like Snapchat, the photos and videos shared in your Instagram Story are ephemeral and can't be viewed once 24 hours have elapsed. Content shared to stories also won't appear on your profile grid or in the main Instagram feed.
Finally, users arrange the photos and videos in an order that they want people to see them.
Once they publish it, other users can then view the story.
Here's what that looks like on Instagram.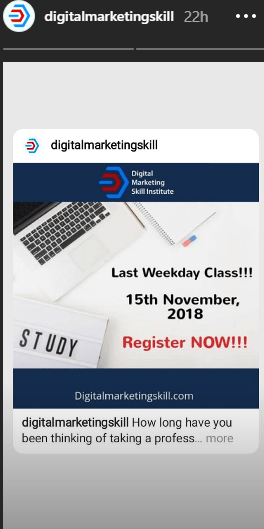 Some people think Instagram copied Snapchat with this concept, which to an extent is true.
But regardless, I think it's an efficient and professional way to market your business.
Here are some statistics on what can help you increase engagement:
What can you take away from this?
Use these tips when you're adding something to your Instagram story.
Use images with faces
Include relevant hashtags
Tag your location
Use images with people's faces (yours, your brand's or someone else's)
Be mindful of the time of day you're posting
Keep this information in mind as we continue to go through different ways to promote your business with Instagram stories.
Before we get into the meat of the matter, you need to, first of all, know why you should start using Instagram stories.
Why Instagram Stories should be part of your business strategy
Instagram Stories are ridiculously fun and user-friendly, and by now you've probably had a good chance to play with the Snapchat filters that can turn you into puppies, cute-widdle-bunnies or even a cool ice queen.
Although the filters and effects might look too new, there are great benefits to using them strategically. So, to help you get your mind around why you need them, we're explaining some reasons why Instagram Stories need to be a part of your Instagram Strategy.
Instagram Stories Reason #1: 200m Daily Active Users
Everyday, over 200 million people use Instagram Stories. That's now more than Snapchat, making it one of the fastest growing platforms, ever!
Because Snapchat's user experience was complex and hard to learn, this led to a downfall that forced many users to completely abandon the app in favour of using a platform they were already comfortable using.
What does this mean for you? There are a humongous amount of eyeballs already on the platform waiting to hear form you.
Instagram Stories Reason #2: Instagram Stories are Discoverable.
Here, 'discoverable' means that people who don't follow you can see your posts too!
Your stories last for 24hrs, however, it's not only those who follow you who will see them, in fact, they're also discoverable by those who do not.
So in the same way you might see accounts you're not used to in your stories feed, other users will see yours!
A great opportunity to create new raving fans, if you ask me!
If you haven't noticed it yet, you can now add hashtags to your IG stories!
When someone is searching through a hashtag, your Instagram stories with that hashtag appear at the top of the feed, making you even more discoverable!
Haven't seen it yet? Here's what it looks like!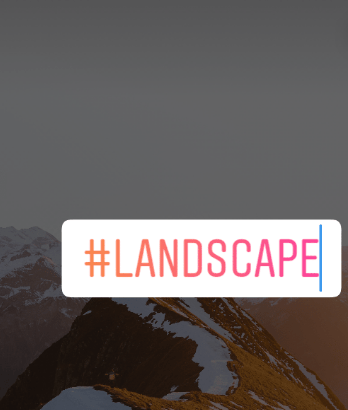 Instagram Stories Reason #4: Adds a personalized approach to engagement
Showing your beautiful face, your business backend, daily personal and business lifestyle helps people relate to you much faster.
People love buying from people and knowing they're part of something bigger, here's where your Instagram Stories helps everyone understand more about you.
Explaining the passion behind your brand and why you love it so much can help create raving fans for your business!
Equally important, the Instagram Stories feature lets viewers of your stories react to your posts directly. Unlike the usual style where viewers react by commenting or leaving a reply, with this, they can send direct messages to you about their reactions.
Knowing how people are increasingly appreciating their privacy, this can work well in helping you connect more personally with your fans.
Instagram Stories Reason #5: Keeps Your Brand Top of Mind 
With Instagram's algorithm regularly changing, and regular tweaks to who appears in your newsfeed, some users have noticed their engagement rates have dropped.
The best part of Instagram Stories is that if you're continually engaging with your audience, you now have the opportunity to be seen more often – keeping you top of mind with your fans and followers.
Instagram Stories Reason #6: Fun Factor
Yes, I was always going to go here. Instagram Stories are fun!
In a world where Social Media can sometimes feel like a chore, this is your chance to rock out your personality and show the world what makes your brand unique.
Enough ado. Let's dive into posting your Instagram story.
How to post a story on Instagram
If you haven't done this before, I'll give you a step-by-step guide to adding stories to your profile.
Step #1: Click on the photo icon in the top left corner: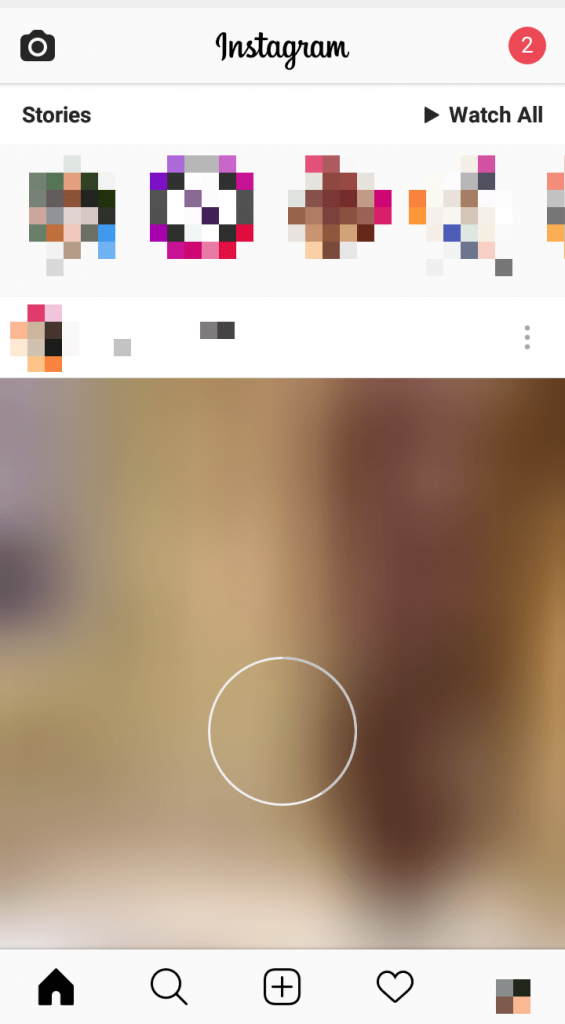 From your homepage, you'll see this small camera.
Tap it to proceed.
Step #2: Take a picture, or select one from your camera roll:
Once the story camera is open you can take a photo or record a video, just as you would normally on Instagram.
From this screen, you'll have some options.
Take a photo
Record a video
Upload an image from your camera roll
Select a video from your camera roll
After you tap on the icon from the previous step, Instagram will access your phone's gallery.
To take a picture, tap on the circle located on the bottom of the screen.
If you want to take a video, tap and hold the button down to record.
You can only add a video up to 15 seconds in length.
Furthermore, you can upload previously recorded videos or pictures from your phone's camera roll by tapping on the small square in the bottom left corner of this screen.
After you've recorded your video or taken a photo, you can use a range of filters and also add text and drawings to your content.
Step #3: Select a format:
Instagram Stories are about much more than sharing simple snapshots, and it starts with the format.
When you open the Stories camera, you can select a different recording format by swiping through the options near the bottom of the screen, beneath the shutter button. You've got some options here as well.
Normal
Boomerang
Rewind
Hands-free
Normal is a regular photo or video, like the kind you shoot with your phone's default camera app. Tap the button to snap a picture, or hold it to record a video of up to 15-seconds long.
Boomerang is a looping GIF-style video that plays forward and backward repeatedly. You have just a few seconds with this one, but if you time it right, it's a creative way to capture fun moments.
Rewind is just like a normal video, only it plays back in reverse.
Hands-free is another way to take a 15-second video, only you don't need to hold down the button to do it. Just tap it once, and the camera keeps rolling until time runs out (or you choose to stop it).
Step #4: Add a location: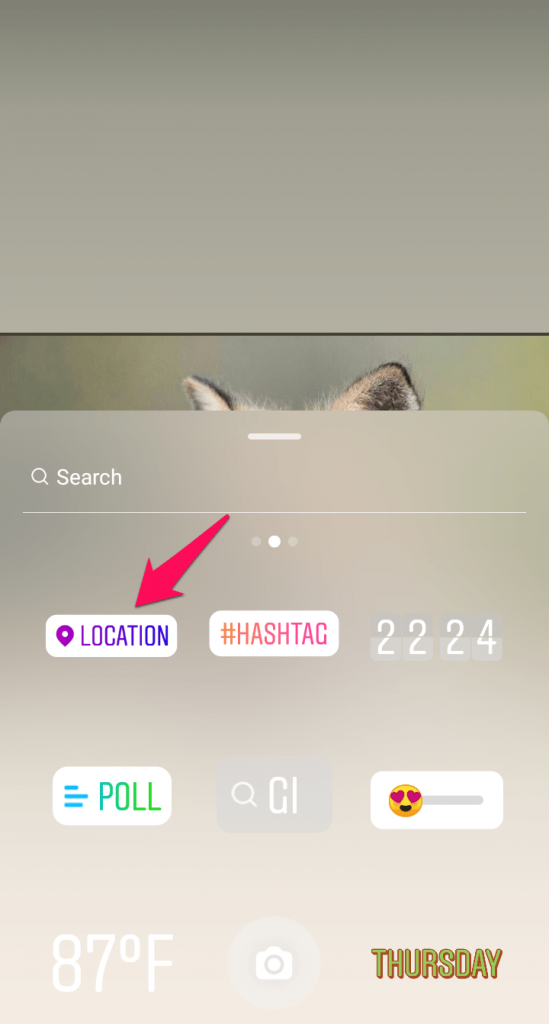 Swipe up from the bottom of the screen to access these features.
You can tag a location or add other cool effects like the time, temperature, or other stickers.
You can add a hashtag to your Instagram story by tapping the hashtag sticker. Once selected, you'll be prompted to write your hashtag.
Using the right hashtags helps put your content in front of people searching for keywords and phrases associated with your brand or business. You can take advantage of hashtags to increase your post reach as long as you choose popular hashtags relevant to your niche and don't overuse them.
Step #6: Include some text: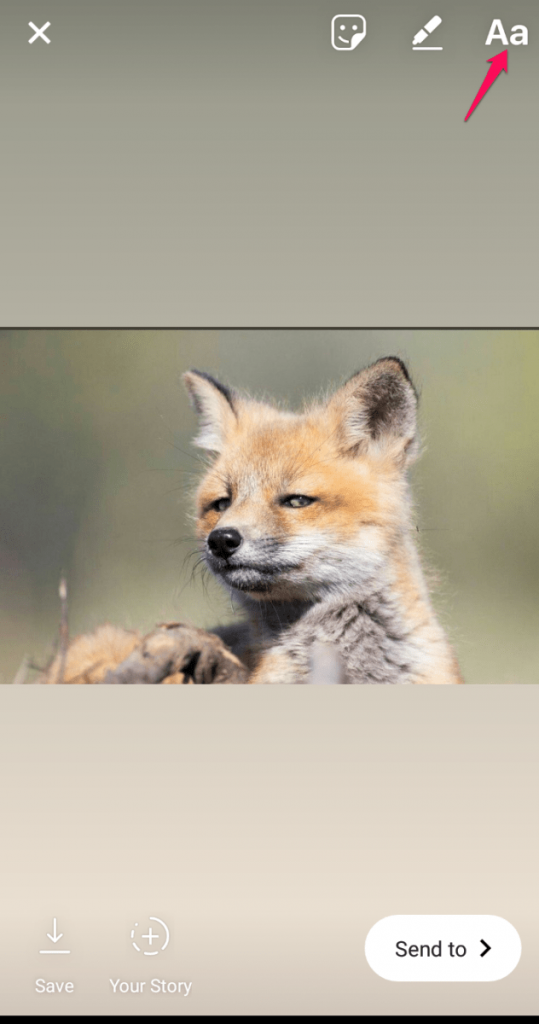 If you want to write on your picture or video, simply tap anywhere on the screen to access the keyboard or click the icon as shown in the picture.
From here, you can change the color of your text as well as the size, angle, and location of it on the screen.
Step #7: Choose a filter, and add it to your story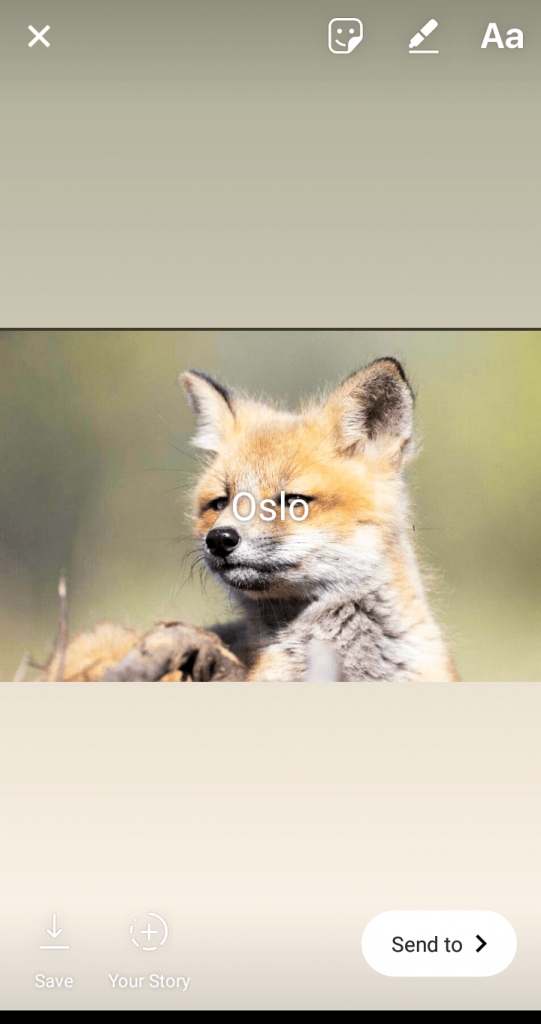 The filter is optional.
If you want to add certain effects to your photo, swipe left or right on the screen.
Once you're happy with the way everything looks, simply tap the "Your Story" button at the bottom left corner.
You can continue adding multiple pictures and videos to your story by repeating the process.
Each part of the story will play in the order it's uploaded.
See how easy that was?
Now, I'll give you some tips on how to get the best out of your stories.
Essential Instagram Stories Tips and Tricks
Modern marketers are, by and large, in the engagement business, tasked with creating content that captures attention and drives action, content that works.
Unfortunately, Instagram doesn't provide much data around the performance of Stories. When it comes to measuring performance, marketers who are used to deep insights on other platforms are relegated to tracking the unique views, completion rates, and direct messages of their Instagram Stories—and that's about it.
This data scarcity makes it harder to scientifically test content, meaning marketers must nail their Story approach from the onset to stay competitive on the platform.
Not sure how to do that? These best practices will help:
1. Tell a story
Clear, simple stories activate the brain, making it easier to recall information. A good narrative also causes our brains to synthesize oxytocin, the same hormone that helps people bond.
Therefore, the best Instagram Stories are just that—stories. Use the feature's slideshow format to piece together an experience with a beginning, middle, and end. This will increase your content's completion rate. It'll also help people remember your message.
2. Be authentic
Remember Kendall Jenner's Pepsi commercial? It was a marketing and PR disaster because people saw it for what it was: a thinly veiled attempt at capitalizing on a profound and truly consequential movement.
More than that, the ad was polished and tight, fake—and the world immediately realized it.
Authentic content is honest, both in message and execution. It's imperfect, real.
People trust real.
3. Provide value
Social media audiences want the brands they follow to provide them with information and/or entertainment.
Value is telling your followers how to do something that makes life easier or better (i.e., information). Value is making your followers feel something (i.e., entertainment).
If you can do these things, consistently, your audience will come back, spread your content, and grow.
4. Get creative
Edward de Bono, the father of Lateral Thinking, once said, "Creativity involves breaking out of established patterns in order to look at things in a different way."
Instagram Stories offer plenty of features that enable its users to look at things differently, to think differently, to be creative. Use these features fearlessly—and your audience will take notice, rewarding you with attention, engagement, and action.
5. Plan ahead
Instagram Stories allows users to post existing photos and videos from your camera roll as long as that content was created within the last 24 hours. (You can also hack this 24-hour rule by opening your content in an editing app and then re-saving it, which will make it appear new to Instagram and, therefore, uploadable).
This functionality gives you a chance to plan your Stories ahead of time—instead of producing them on the fly—which makes it easier to create content that's more engaging, compelling, and meaningful.
6. Promote your Story
Promoting, or boosting, your Story will help it get more exposure.
This strategy is especially viable if you have "must-see" content designed around a special offer, event, or branding initiative. After all, if you put more time, energy, and resources into creating a Story, it only makes sense to invest more in its dissemination.
7. Use CTAs
A CTA, or call-to-action, is one of the most important elements of your Story because it tells people what to do next.
As a brand, the last thing you want your viewers to do is nothing. You want people to engage with your content, to like it, share it, and comment. Or, perhaps, you want people to take a more committed action, like making a purchase.
Whatever it is, it probably won't happen unless you ask for it, explicitly, either in the caption or the post itself.
Click here to read about some content ideas for your social media.
Conclusion
Understanding how Instagram Stories works and the benefits marketers can gain from it is half the battle. Now, what you do with the information is what matters.
With its unique visual storytelling ability and strong conversion methods, marketers in any industry and any consumer base can use Instagram Stories.
It's a weapon you need to have in your social media arsenal.
Take advantage of the ease of engaging with fans by using Instagram Stories to build your brand.
Show what makes your brand fun and relatable. Implement the features within Stories to easily engage with your audience and help people find your brand on the platform.
Build relationships with Instagram influencers to expand your brand and gain the stamp of approval from a trusted source on the platform.
Then, grow your leads and sales using the link feature.
Put your web content and products at the fingertips of your prospects and buyers on Instagram Stories.
Utilize relationships with brand ambassadors and Instagram influencers to have them promote your products and services and encourage fans to shop.
Test the waters within Instagram Ads to also discover the ROI of putting some of your marketing budget toward Stories.
To learn how to set up an Instagram ad, you can register to join our social media marketing class in our digital marketing training, where you will learn how to setup and run effective and highly converting Facebook, Instagram, Twitter and LinkedIn adverts to make your business and brand more visible and increase sales.
(Psst – Want to skip the hard work and gain access to tools that can auto-magically create Instagram stories for your brand? Then check out our Digital Marketing Tool Library. Click here to get started.)