Understanding Instagram SEO can help you increase your reach, visibility, and engagement on Instagram as a business owner or as an individual.
Instagram has about  1 billion monthly active users, making it a great platform for you to reach your target audience but majority of its users are business-savvy and are there for the purpose of connecting to their audience.
There are millions of businesses who uses this platform to reach out to target audience, so how do you standout?
You can standout with Instagram SEO.
By having your content show up on Instagram search results is one way. You can reach a wider audience who would be interested in your product or services organically through this.
As a business owner, Instagram SEO is very vital for your business if you want to get more engagement on your Instagram post which will eventually lead to an increase in sales.
What is Instagram SEO?
Hashtags and user accounts used to be the only option you can use to search for businesses or users on Instagram.
But now, Instagram has added another Feature to enable its user to search base on interest rather than just hashtags and user account.
Instagram SEO is the process of optimizing your account and content on Instagram for positive search term results.
If your account and content is well optimized for a relevant keyword similar to what you offer in the Instagram search box, then your name will appear in the top section of the search result.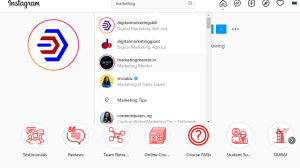 As many Instagram users get to search by interests, your options are expanded, allowing you to explore keywords that are relevant to what you offer. Because users can search for specific topics or by interest on Instagram just as Google.
How can you create content on Instagram that is optimized for users who are searching by interest?
5 Instagram SEO tactics to increase your reach
Regarding how to improve your Instagram SEO, it all comes down to what you post, what your content is all about, and taking into account Instagram's algorithms.
1. Optimize your Instagram profile for search
It is very important to optimize your Instagram profile for search. Whenever people search for a particular keyword on Instagram just like Google, Instagram go through millions of accounts to find the keywords that are relevant to the search terms.
Any account on Instagram that contains the relevant keywords gets to be displayed in the search result.
Which makes your Instagram profile and bio the best place to include relevant keywords and search terms.
Also, Instagram SEO begins with your Instagram handle, hence your Instagram handle and profile name should be relevant to what you offer.
For example, when I searched for the keyword "marketing", if you noticed, in the image below, all of the accounts that appeared in the top search results for marketing have marketing keywords either in their Instagram profile name, handle or bio.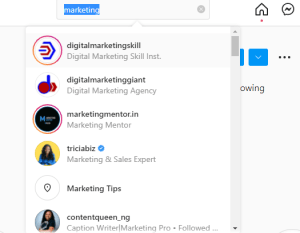 Therefore, ensure that your Instagram handle and bio contain the keywords that are relevant to what you offer. This will help improve the chances of your business being discovered in the long run.

2. Use relevant keywords on your Caption
Writing relevant and descriptive caption can increase your content visibility on Instagram especially on Instagram explore page.
Instagram explore page algorithm learns from the action people take on the app. Such as the account people follow and the post they like or comment on to help identify what content interest them.
This is why your explore page as an Instagram user is completely different from one another.
Instagram uses machine learning to determine what content to display on its explore page. So, it focuses on the most relevant accounts based on individual interests rather than the individual posts.
For example, if you show interest in "Marketing", this will serve as a trigger for Instagram and they will deliver content from accounts that often post on marketing.
How does Instagram determine account that post on Marketing?
They use a machine learning to identify accounts that are similar in content.
Hence, it implies that Instagram evaluates keywords on accounts to determine how relevant they are to one another. They are derived from an account name, username and bio while others are derived from your post caption.
When you write captions that are descriptive of your business, Instagram will identify this and group you with accounts that are similar to yours.
Therefore, using relevant, descriptive keywords in your Instagram captions can increase your chances of appearing on the Explore page of users who have previously expressed an interest in topics related to those keywords.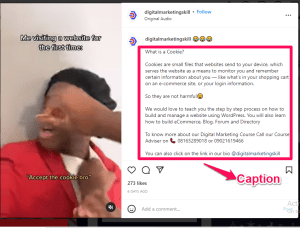 Use hashtags that are relevant to what you offer on Instagram. This is one of the best ways to reach new audience.
This can lead to an increase in engagement, followers, and eventually customers for business.
When using hashtags, do not use hashtags that are not relevant to your content or what you offer.
Use hashtags that are well-known in your niche. You can also research for hashtags that your target audience are using to conduct their search.
This will broaden your discoverability and make it easy for people to discover what your business does easily.
In addition, you should never use too many hashtags, your hashtags should be between 3-5.
Remember, hashtag is a tool that provides context about your post and deliver your content to people who are interested, so, use it wisely.
Your content and the way people interact with it affects its distribution more than the hashtags.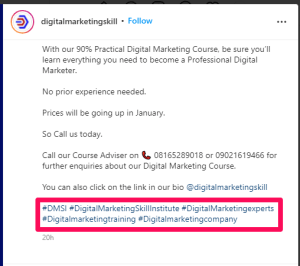 4. Use alt text to your images
Alt text is a feature similar to the alt text on the web used on Instagram to help users describe an image or video. The purpose of creating this is to assist visually impaired Instagram users.
Alt text allows you to write custom alternative text for a detailed description of your photos or videos.
Instagram creates an automatic alternative so they can hear description of photos through screen reader.
The alt text uses an object recognition technology to generate an automatic description of each photo.
Alt text provides information to Instagram algorithm and search results about the content of your photo. This helps Instagram to better understand what is in your content and if relevant to a specific search.
So, it is important to create an alt text whenever you upload a photo or a video on Instagram. Without that, Instagram automatically generates one for you and which sometimes might not be relevant to your photo or video.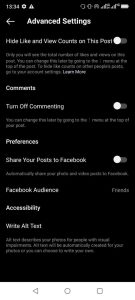 5. Keep a high-quality account
Community guidelines are a crucial factor to determining search results on Instagram.
If your account violates these guidelines, it will appear lower in search results or it will not appear at all.
Always ensure that your content follows the Instagram community guideline.
Conclusion
Always ensure that keywords are in your bio and description, and likewise in your captions. You can also use them in your sentences, but make sure the most important are the top of your captions.
Also, don't neglect hashtags.
Instagram is open to more keyword usage but hashtags are still a player in Instagram SEO if you ask Instagram. So, use relevant keywords that your customer base is interacting with, and use them often.