TikTok is currently the fastest growing social media platform in the world and using TikTok for business is a great way for you to promote your product or services.
This social media platform was originally launched in the Chinese market in 2016, and then was launched in 2017 for iOS and Android in most markets outside of China. But it became available worldwide in 2018 after merging with another social media service called musical.ly.
Available in 150 countries and 75 languages and has been downloaded over 2.6 billion times worldwide. Currently with 1 billion monthly active users and was named to be the 5th favorite social media platform in the world for 2021.
It is the world's leading destination for short-form video entertainment.
The platform allows users to create, watch and share videos that have a duration of 15 seconds to 60 seconds.
Users can add song snippets, filters, and special effects to their video and share with a large number of global networks.
With the majority of Tiktok users being Gen Z and Millennials that are based in major cities around the world, businesses can use this avenue to showcase their products or services and connect with them.
If you have been pondering on how to use TikTok for business or looking for strategies to expand your presence on Tiktok, then you you need to keep reading this article to learn more.
Ready? Let's dive in!
TikTok for Business
TikTok is a social media platform that is relatively new and highly popular; which makes it a great place for small businesses or brands to advertise their products and services in order to create visibility and brand awareness which can lead to an increase in sales.
This platform can also be a source of driving traffic to your website or landing pages or to get more people to subscribe to your YouTube channel.
When it comes to businesses there is relatively no competition on this platform.
This is because Tiktok is built on a content graph rather than a social graph, it gives businesses the opportunity to be seen beyond their follower or fan base.
Good content on TikTok will always get the reach it deserves no matter the amount of followers.
 It's content discovery process allows users to discover fresh content based on their viewing preferences and habit which can help businesses achieve visibility and fast growth.
Therefore you can utilized this platform to create excellent video content to showcase your products and services, and it will be seen by people regardless of how many followers you have.
Thus, making TikTok an ideal place for you to grow your business because the platform allows you to showcase your products or services to millions of users.
Using Tiktok for business helps you build a community of potential customers who would be interested in your products and services.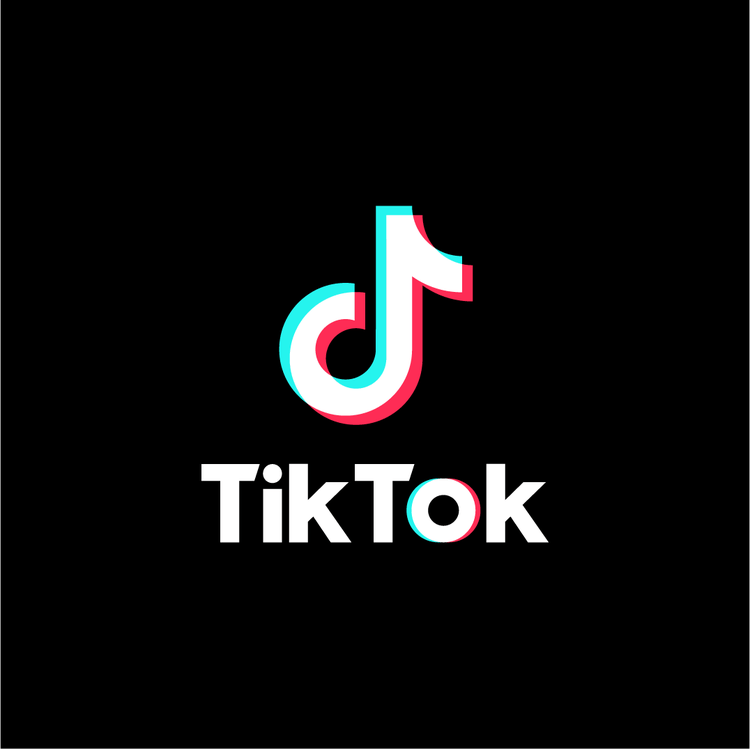 Why Use TikTok for Business?
When it comes to promoting your brand or business on social media, the last thing you want to do is set out to start without fully understanding how it works.
Before you decide to use this platform for business, ensure you do your research properly to find out if your target audiences are available on TikTok.
According to research, this social media platform is most popular with teenagers – with about 39% of its audience aged between 16 and 24 years old and about 56% of it being female.
If your target demographic is young — teenagers and young adults — now is the time to launch your brand or business on TikTok.
For you to use the platform effectively, you need to employ short videos because that's what work best there. Originally, all you can only create 15 seconds long, but the platform recently increased the limit to 60 seconds. 
However, you should also research what type of content works well on TikTok, how to reach out to users, and how to naturally fit your business into the platform.
How to Use TikTok for Business
Before you start using TikTok for business, you must keep in mind that having the right followers is preferable than gathering thousands of wrong followers who aren't interested in what you offer.
With the right followers, you can build a community for your brand and business and you can turn this followers into paying customers.
Here are the following strategies to grow your business on Tiktok:
1. Create a presence on Tiktok
When creating a business presence on TikTok to promote your products or services, you will need to develop a strong strategy to develop your Tiktok and make it standout.
This is because your TikTok profile serves as a digital store front for your business, therefore it is vital to optimize Your profile.
To make your TikTok profile stand out, you should describe your brand or business in the bio section because your bio is the first thing people get to see when they visit your profile.
The information you provide in the bio section should give a strong impression about your product and service; this will help users on Tiktok to know what you are offering.
When creating a bio on Tiktok for your business, ensure you give a brief and detailed information about your brand or business and what you do.
You can also include a link to your website or landing page, blog post, or You-tube channel.
TikTok, like any other social media platform is centered on quality content.
Creating content related to your product and services once you've carried out research is the best way to harness Tiktok.
By doing this, you will know what kind of content your competitors are creating to engage their audience and you can determine strategies you can use to create content that are relevant and will attract TikTok users.
Creating content is one of the easiest ways to promote your products or services on Tiktok.
You can create fun and creative videos using catchy or trending music on TikTok in the background to tell people about your product and services.
For you to grow a successful business on the platform, you should ensure to create exciting and interesting video content relevant to your product or services and that will keep people wanting to come back to visit your TikTok account.
The TikTok algorithm plays a crucial role in ensuring that users who are genuinely interested in your content and likely to engage with it get to view your content.
While TikTok optimizes its user interface to prioritize high-quality content, the hashtags you select for your video content can significantly influence how easily users can discover your videos.
Furthermore, the cover you choose might have a big impact on whether people would watch your video or not. Choose a cover image that portrays one of your video's most visually striking moments.
Launching a hashtag challenge is a simple way to promote your business on TikTok and reach a larger audience; thus creating visibility and awareness for your product and services.
You can choose a concept or topic, then encourage viewers to produce or recreate videos using a custom hashtag you've created. It's a great method to get more people talking about your brand and drive participation.
You can either create a hashtag or participate in a hashtag challenge.
Whenever you post or create or upload a video on Tiktok, ensure you use hashtags that is relevant to your products and services.
You can use more than one hashtags on your caption.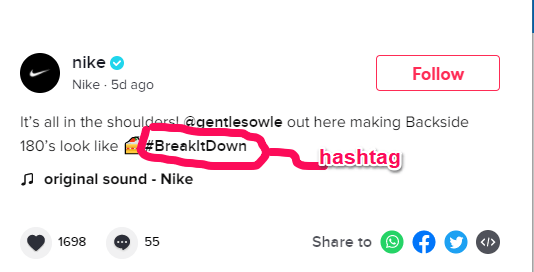 Hashtags will help people discover your content, and before you use any hashtag, you will need to carry out hashtag research to discover which hashtag is trending on TikTok and how you can create content based on that hashtag with relevance to your product.
You should also know that, you can't just use any hashtag because it is popular, your hashtag must always align with the video you are creating.
Today, a lot of brands and small businesses are employing this strategy, using the hashtag challenge to create visibility for their product and services on TikTok.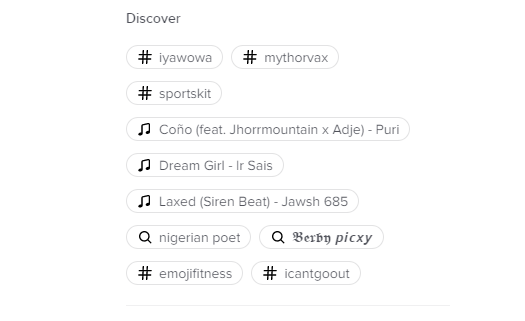 To prevent disappointing viewers and dissuading them from revisiting your TikTok account, make sure the hashtag you employ aligns with the content of your video.
You can create a hashtag for your business and ask your customers to use the hashtag whenever they post a video about your products and services on Tiktok.
4. Follow the latest trends and make them work for your business
Trends are one way to grow your business or brand on TikTok.
You must identify the most recent trends and determine how these trends can benefit your business.
To expand your business, you must be familiar with the platform's Trends, which TikTok is brimming with and these trends include popular songs, video effects, challenges, and hashtags.
If you want to grow your brand or business by increasing your following and engaging your followers on TikTok, you should post videos about your products or services on a regular basis.
You should try to post at least 4-5 times per week in order to gain traction over time.
Also, when people follow you, they expect content, and if you do not post on a regular basis, you are at the risk of losing followers.
To stay on top of this, you'll need to create a content calendar for your business or brand.
Conclusion
TikTok for Business is an excellent way to get your brand or business noticed by new customers.
 As one of the most downloaded and used social media platforms, it is an excellent place to increase visibility and awareness for your product or services.
With the platform becoming increasingly popular among content creators, brands, and businesses looking to expand their audience, increase engagement, and reach millions of people; you sure can grow your business with an account there.
TikTok users engage the platform a lot and love sharing content.
Getting engaged and taking full advantage of the platform would be a wise decision for your business, as it continues to grow and expand.
Small businesses can show off their creative side by incorporating humor into their posts and finding music that appeals to their target audience.
Remember that the purpose of this platform is to have fun and be creative, not to make serious high-pressure sales content.
With the strategies provided, you should be able to use the platform's large audience to increase your brand's visibility and awareness.
Register for our 90% practical digital marketing course to discover actionable steps for leveraging TikTok and other social media platforms to expand your business. Gain all the essential support required to elevate your online business successfully.
Tiktok Ads
TikTok ads refer to sponsored content, often full-screen videos that businesses or creators pay for to display to a specific target audience on the TikTok platform.
These ads are a part of social media marketing and typically aim to increase brand awareness or promote a particular product or service.
In TikTok advertising, there are three levels of organization:
TikTok Ad: This represents an individual advertisement, often presented as a video, designed to showcase a product, service, or special TikTok offering.

TikTok Ad Group: It's a collection of multiple TikTok ads grouped together for coordinated promotion.

TikTok Campaign: This encompasses the entire TikTok ad, including various ad groups, working in synergy to achieve specific marketing goals.
Tiktok for Business FAQ
Is Tiktok good for business?
Yes, TikTok offers free business accounts. However, certain features, like the ads manager for running paid ad campaigns, involves that you pay a certain cost.
Is Tiktok for business free?
TikTok can be a valuable addition to your marketing strategy, depending on your business type. While creating TikTok content and maintaining an active presence requires time and effort, it can yield positive results. All you need is to keep pushing out the right content that resonates with your target audience.
How do I setup a Tiktok account for my business?
To set up your business account on Tiktok and establish your presence, here are a few steps to take:
Create a professional profile and switch your account to a business account.
Define your TikTok strategy and set specific goals for your business.
Generate engaging video content and use popular hashtags and ads to promote it.
Analyze your performance and evaluate your content's impact using TikTok's built-in analytics tools.
Simplify the process of selling on TikTok by connecting your account to your Shopify store.
Other Relevant Articles:
5 Strategies To Grow A Highly Successful Business Online
How To Identify The Best Marketing Strategies To Grow Your Business
How To Use Video Marketing To Grow your Business
Pinterest: How To Use Pinterest To Grow Your Business