What I'm going to share with you regarding Whatsapp Business App will skyrocket your business productivity.
But wait, do you know the business management tools for different business types, and how to incorporate each into your business? If no, you are not maximizing the potentiality of your business.
Whether you own and run a small-sized business or a medium-large sized, you need to know about business management tools for business and make use of them for every role it works for.
Do you know that everyone trained at our Digital Marketing skill institute has in-depth knowledge of how to leverage social media for business and all-encompassing areas of Digital Marketing?
Now, why don't you scale your business like others using our most preferred business management tools and models which you can learn from our 90% practical and 10% theoretical class?
See testimonials from our students.
Okay, let us begin by getting to know what business management tools are.
Business Management tools are methodologies, models, applications and other solution-rendering tools used by organizations to stay up to date with recent changes in their line of business, solve business problems and maximize business potentialities.
[bctt tweet="Business Management tools are methodologies, models, applications and other solution-rendering tools used by organizations to stay up to date with recent changes in their line of business, solve business problems and maximize business potentialities." username="dmsinstitute"]
From the definition above, it is very clear that you cannot define a business management tools without the word "application", and Whatsapp business app falls under the term application.
So let us answer the question, "What is Whatsapp Business App?"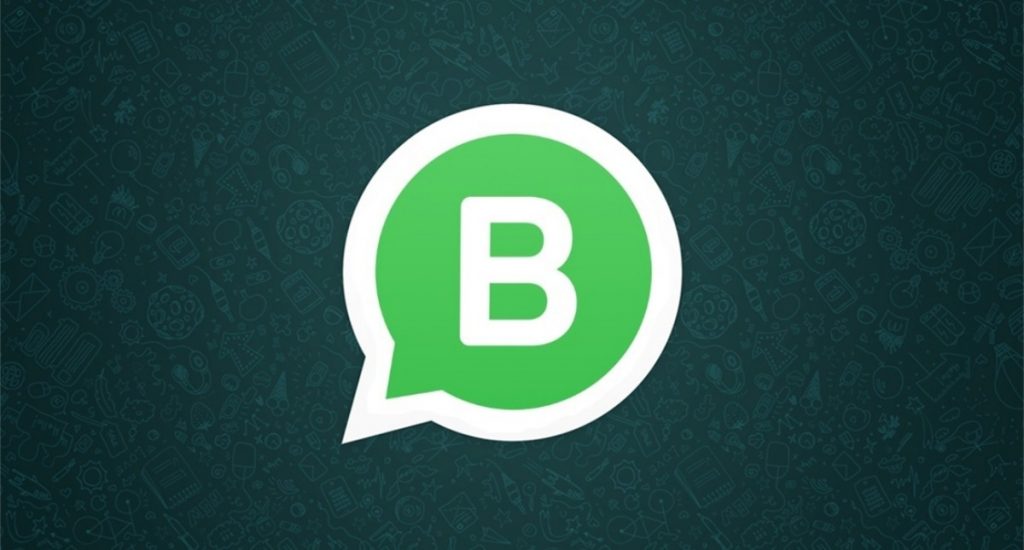 Whatsapp business app is a mobile application from the parent company Facebook Inc. With its design centered on small business owners, the parent company thought it wise to develop a version of Whatsapp solely for small businesses.
Because of Whatsapp's basic feature as a communication tool and its high volume of users, the Whatsapp for business tool has ranked as one of the most popular tools for both internal and external communication tools for any size of an organization.
[bctt tweet="Whatsapp Business App is making branding and marketing easy. The ads industry is waiting for its ads features." username="dmsinstitute"]
Read: Social Media For Businesses in Nigeria
Having a direct communication channel within your organization, or one for your client or customers is a strong branding and marketing strategy.
Tell me an organization with a poor business-customer communication channel and I will show you an organization shooting for failure.
The developers have taken advantage of its overtime success in the tech space, with a mix of its mobility feature and its easy-to-use interactive framework to steer it into a must-use business tool.
Why Do I Need Whatsapp Business App For My Business?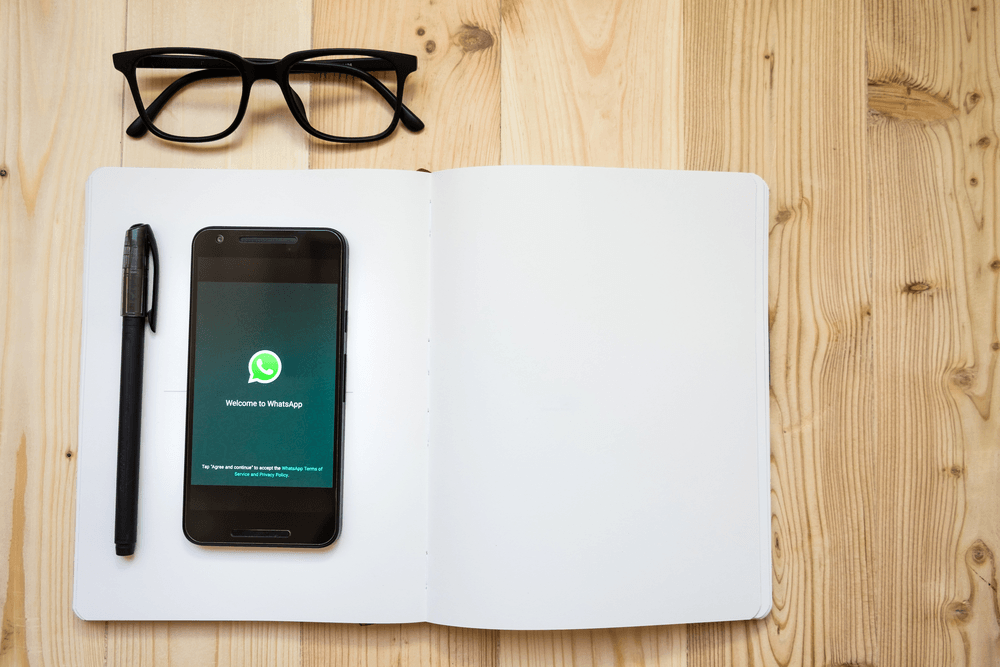 Very important read: How to use Whatsapp for business promotion.
From the personal touch of its use, and the sheer number of its users, Whatsapp Business App has taken a fair share in the business space.
There is a growing need for you learn how to use Whatsapp business app and other social media in creating a career or scaling your business output, whether in the fashion business, photography, finance or seeking to enhance your CV, join our next class now. Click on this link to get started.
One of the strategies of any marketing plan is to go where the crowd is and make a lasting statement or create a reputable presence, and that is exactly what Facebook Inc. has done.
Facebook has identified the large number of users, and the rising need for a more personal messaging rapport between organizations and their customers.
The number of Whatsapp users in the entire world is dominating a lot of other social media, and this data is tripling just because of the recent developments and innovation by the parent body.
There are countries with an unimaginable number of Whatsapp users. There are 120 million of mobile apps users in Brazil and 300 million active users in India alone. Countries with a relatively low user data like the United States of America still boast of 200,000 active users.
This is a very large market size, and an untapped business move for Facebook, to develop Whatsapp business App in these countries, for business growth.
Let us discuss some of the need for Whatsapp business app.
Firstly, the earlier discussed reason being its popularity and ease-of-use.
Secondly, businesses need this application for customer service functions. To get in touch with your customers, the Whatsapp business app is proving to be the best tool among many.
Thirdly, just like we earlier stated, customers using a website chat box is great, but most time, mobile users are making use of their Whatsapp application. It can be boring and can tamper with customer's experience when switching between web browsers and the Whatsapp application.
So all the travel time to sites have been minimized with the Whatsapp business app.
Let Us Take A Quick Glance At The Features Of Whatsapp Business App.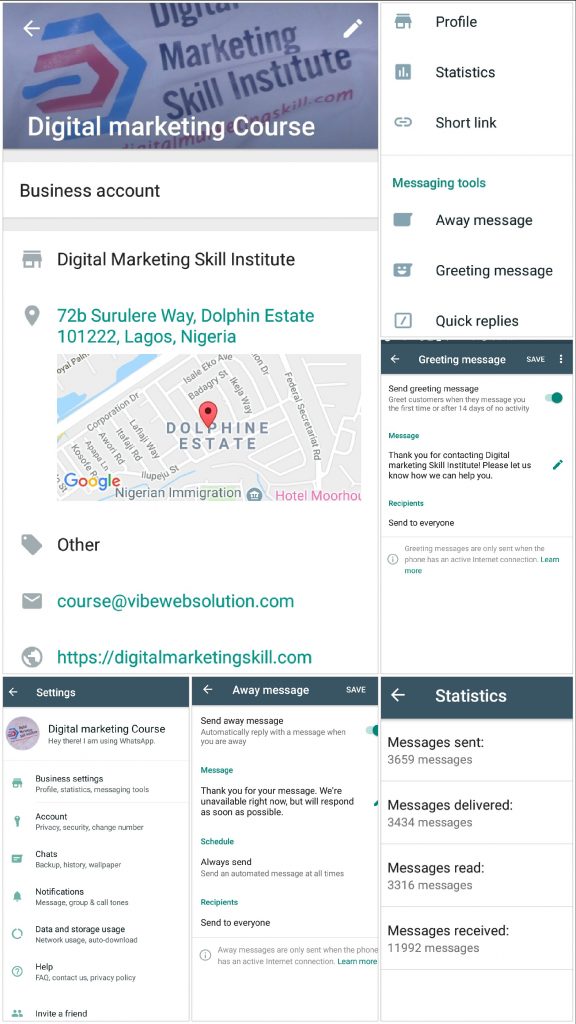 The Whatsapp business app is designed just like the original version of Whatsapp Application, with more features for customer and organization's interaction. Whatsapp is free for Android and iOS mobile users, with a web version that makes the customer service role easier.
If greatly used, it can serve more purposes than just a messaging app.
These are the newly added features that boarded it into the business space.
The Business Profile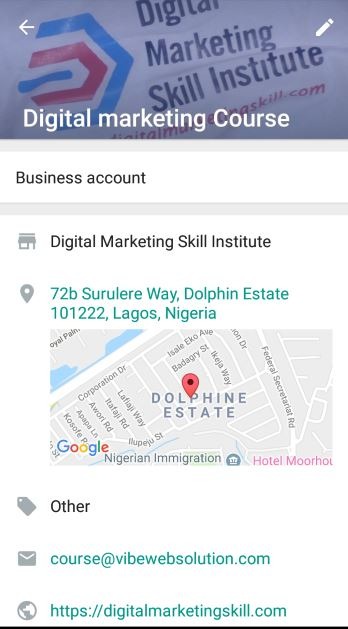 With helpful information like your business address, email address and website URL, you can increase your brand reputation and ease the visibility of your organization's profile for new and existing customers.
The equivalent ratio of users who know and make use of website chat boxes are relatively low compared to the number of Whatsapp users.
This means that communication with an online agent on a website will be a painful process for most customers compared to chatting with the already known mobile app.
Facebook Inc., in their intelligence and business savviness, took advantage of the breach and developed the Whatsapp business app to cut short the process, having the possible problem in mind.
Do you know that it is quite unlikely for a customer who is on the move to surf the web more than 50 seconds at a go? These data from customer behaviors are the focal point of any innovation in business.
Imagine surfing the search engine for contact details of an organization while walking on a busy road, any distraction or uneasiness can ruin the customer's purchase journey.
But with the ease of Whatsapp business app, packed with adequate information and a chat feature, the business profile feature can reduce customer's stress in reaching an organization.
The Whatsapp Business app also has room to input an organization's operational days of the week, business start and end time, industry type and a business short description.
Learn with us today. We are training our students on how to leverage the everyday social media tools in this era of tech-related businesses. Click the link here to start your early registration.
Labels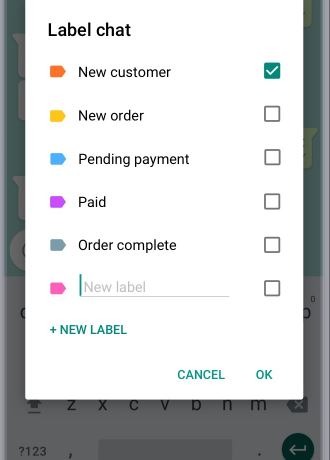 Labels are used to organize your contacts or chats so you can easily find them.
You can create or rename labels just like creating a folder for specific groups. So you can have a label named new order, Delivered, Paid, Weekend orders, and so on.
This distinct feature separates the original version of Whatsapp from a casual messaging app and launches this version into the space of today's business, for the sake of organizing your tasks.
Smart Messaging Tools
There's no formal label with the name 'smart messaging tools', this is a coined term to explain the messaging tools, their functions and how they assist a business.
Below are the formal tags to Whatsapp for business official features under this category.
Quick replies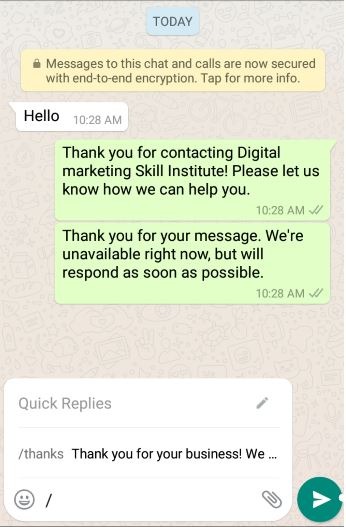 The quick reply is a feature that permits you to draft answers to common questions and skip repeating the same answers to random customers.
The good thing about this feature is its keyword specificity.
You can specify up to 3 keywords of commonly asked questions, so when such questions are asked, it becomes easier to fetch the corresponding answer.
You can also set the answer shortcuts with any character, once the character is inputted, the relating message comes up for you to take the next action. The feature is triggered by pressing "/".
Organizations that receive a high volume of orders or queries on a daily basis can save a lot of time with this feature.
Automated Messages
This comes as 'away message' and can be used to automate a message for any time of the day, mostly outside work hours or during busy times.
The good thing about this feature is the ability to schedule a massage for certain conditions and times.
It should also be noted that this feature doesn't work in Whatsapp groups. This is to avoid the unnecessary repetition of its scheduled messages.
Another possibility of automating messages is using the "greeting message" feature.
[bctt tweet="Automated messages are replacing the need for 24/7 customer support. " username="dmsinstitute"]
This feature is designed to assist you to greet customers who message you the first time or after 14 days of no activity.
The recipient feature is customizable to include different kinds of persons on your contact list, outside your contacts or tailor down to a specific person.
Short Link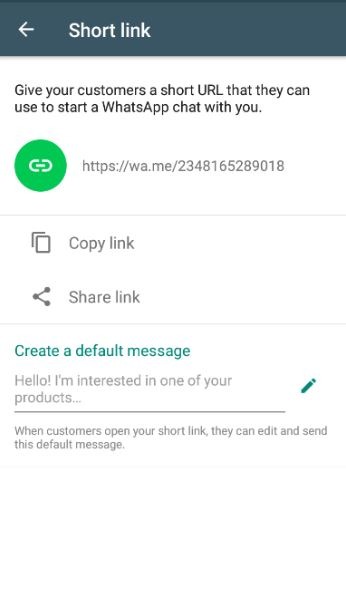 You can generate a short Link for new and existing customers to reach your Whatsapp business app directly. This is a very welcomed development such that the short links can be placed at different customer's journey paths to your organization.
Customers finding you from social media, blogs, websites and other places can easily reach you directly on your Whatsapp business app.
However, we have identified a new dimension or room for advancing the innovation for traditional marketing that makes use of offline platforms.
You already know that traditional marketing happens outside the digital platform, and the rise of digital innovations is taking the order of business today.
Offline marketing doesn't make use of digital possibilities, this doesn't mean that it should be left out from the entire race. Read below what can be used to mix traditional banner-age marketing with digital marketing.
Offline platforms like banners, billboards and the likes can use barcodes to directly get in touch with a company's Whatsapp business account also.
Just the same way barcodes are scanned to directly give you a piece of particular information, or lead you to a particular destination, it can be printed alongside information on banners and billboards when you can, it takes you directly to Whatsapp business accounts.
In our training, we give our trainees deep knowledge on how digital marketing can be mixed with the traditional marketing to bring the best outcome, equip yourself with our digital marketing courses for personal or business gains. Start your registration here.
We are hopeful that the tech folks at Facebook will roll out this awesome feature as soon as possible.
Businesses are strongly advised to leverage the potentiality of the short link feature on social media accounts and other necessary platforms for easy discoverability.
Now, do you know that short links can be used to generate lead from Facebook, taking advantage of a large number of your audience?
Take a look…
In creating a Facebook ad, copy your short link and go-ahead to create a Facebook ad.
Move-in on all processes of creating ads, but when you get to "edit placements", scroll down to "device types", open the drop-down and disable "desktop", that is selecting "Mobile".
Statistics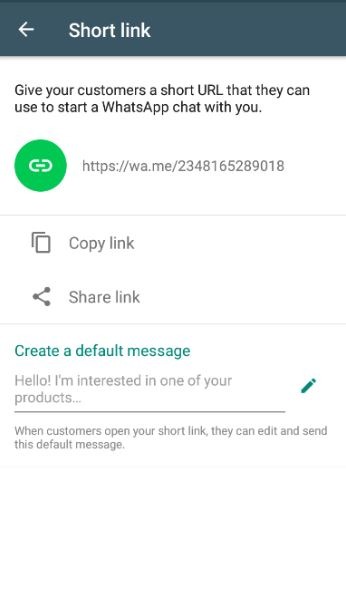 This particular feature gives you insight into the messages sent. You can find the read, received, delivered messages here. You can define how the feature benefits your organization.
To some organizations, there is a need for such data for reviewing simple metrics, while some organizations don't pay any attention to that.
Another feature that made it to the Whatsapp business app is the Whatsapp web feature.
Though this feature is available on the original version, it was included in the Whatsapp for the business version.
It is of utmost importance to the customer support team who make use of desktop or laptop for daily functions.
Whatsapp is also verifying businesses using mobile numbers associated to the business, this reduces risks of fraudulent companies.
The Whatsapp Business API
The WhatsApp API is a developer designed tool used to integrate Whatsapp as a communication tool between organizations and customers, to reach even a wider range, and to result to more customer satisfaction.
It has a high level of technical requirements which will need tech specialties, and it is not open to use for everyone.
These recent developments from Whatsapp is a business, branding and marketing enhancer for small businesses. Whatsapp business app might not be able to replace traditional customer service tools because it didn't start originally as such.
Though there is a possibility of Whatsapp developing better versions of its business app to match other customer service tools, this is one of our predictions for the future.
Our Future Predictions And Expectations
Just like we earlier stated, we are expectant that Facebook Inc. will release a barcode for easy connection from traditional marketing platforms. Users will easily scan barcodes found on banners and billboards and they will arrive directly on the organization's Whatsapp account.
This will reduce the time spent on typing business URLs.
We are also expecting Whatsapp to make the use of its business app's API open for public use. There are many customer support apps and related apps that have made their APIs open for public use.
This will encourage more user participation, enhance customer satisfaction which will ripple into marketing.
Also, it will be a great marketing change to make the Whatsapp ad possible. With the rising integration of Whatsapp in the global business, we are hopeful that this will become a great part of the marketing mix in the nearest future.
The possibility of sending ads to more than 1 billion users of Whatsapp around the world.
This will probably be the best thing to happen to Digital Marketing since Whatsapp retains its status as one of the most used mobile applications. The ease of reach and audience specificity will help brands reach potential customers around the world.
So much for the future of marketing. What we know is already phasing out, but with in-depth knowledge in digital marketing, you will easily learn how to follow up trends and implement adequately.
This is exactly what we are training our students to know, the modern marketing practices, unique and effective (not shortcut) models, implementation processes. Learn more about our courses here and take note of our well-covered syllables. Click here now.
Read Social Media Marketing Guide.
Conclusion
Do you know that most businesses are using recent tools like the Whatsapp business app to optimize their business outcomes? And at the same time, so many aren't.
The challenge is that technology is fast-moving and it is making a vast change in the digital space. It is vital that any business adopts recent changes that relate to their business.
For instance, some businesses are yet to understand how Instagram stories can be effectively used for marketing, the developers behind such innovations and designs are very informed with the changes in human behavior and how it is affecting businesses.
Using such a feature will assist your marketing strategy. If you as a new or existing business isn't steering towards such innovations, you're are shooting for a crash.