GetResponse's email and marketing automation services can help your business promote its products without needing a heavy technology background.
GetResponse is a very popular email marketing solution. It is easy to use and simplifies email marketing for small businesses and absolute beginners.
To those new to email marketing, GetResponse can help you get started with sending amazing emails.
GetResponse comes with beautiful responsive forms, landing pages, A/B testing, tracking, and autoresponders. It also integrates with third-party lead generation software like OptinMonster, SalesForce, Google Docs, ZenDesk, etc.
Support is provided by phone, live chat, and email. Their help section is full of free learning material including videos, webinars, how-tos, guides, etc.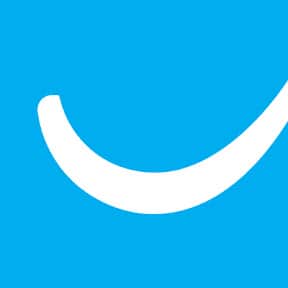 What is GetResponse?
The GetResponse platform contains a suite of email marketing and online campaign management tools designed to help you grow your sales, maximize ROI, and succeed in online marketing. From unlimited broadcasting and top deliverability to 5-star customer service and over 50 easy yet powerful features – we've got you covered.
GET A FREE GETRESPONSE ACCOUNT!
Email Marketing — Create professional email campaigns.
Send beautifully-designed, responsive emails. Increase your sales and subscriber engagement through comprehensive email marketing campaigns. In just a few easy steps you can have an entire campaign up and running, whether you're an experienced marketer, or just starting out.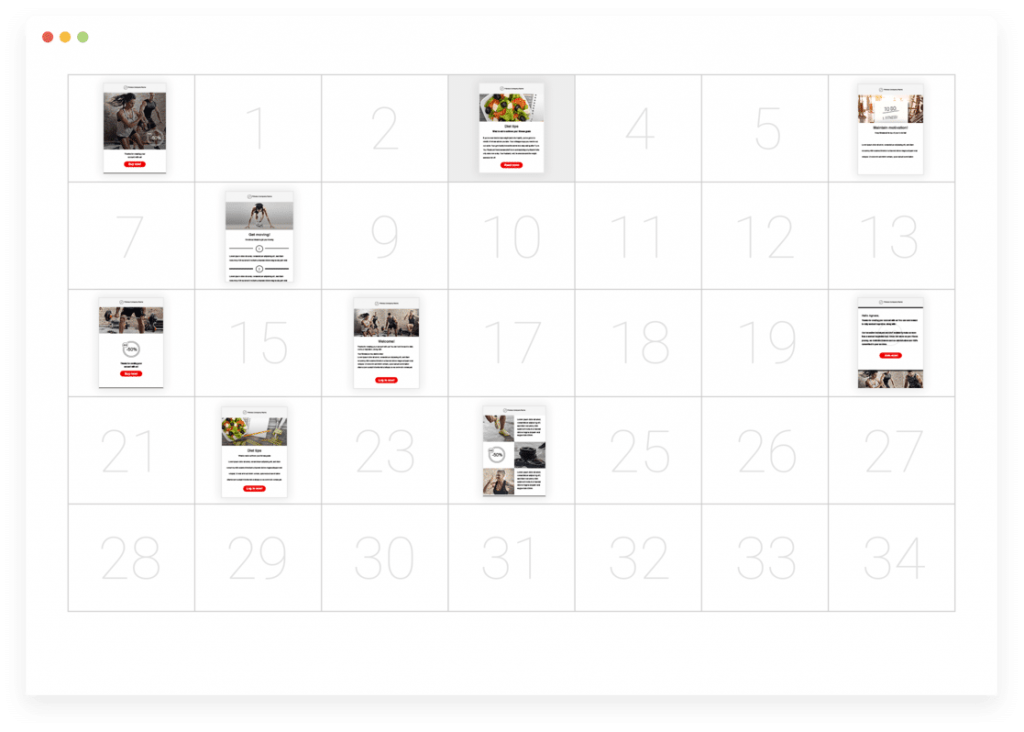 Deliverability

Autoresponders

Email Templates

Perfect Timing

Time Travel

RSS to Email
Marketing Automation — Build scalable workflows based on customer journeys.
Marketing automation for all shapes and sizes. No matter how large or small your business, create fully scalable workflows in an easy drag-and-drop creator. Track subscriber behaviour in real time and react to completed purchases, abandoned carts, and so much more.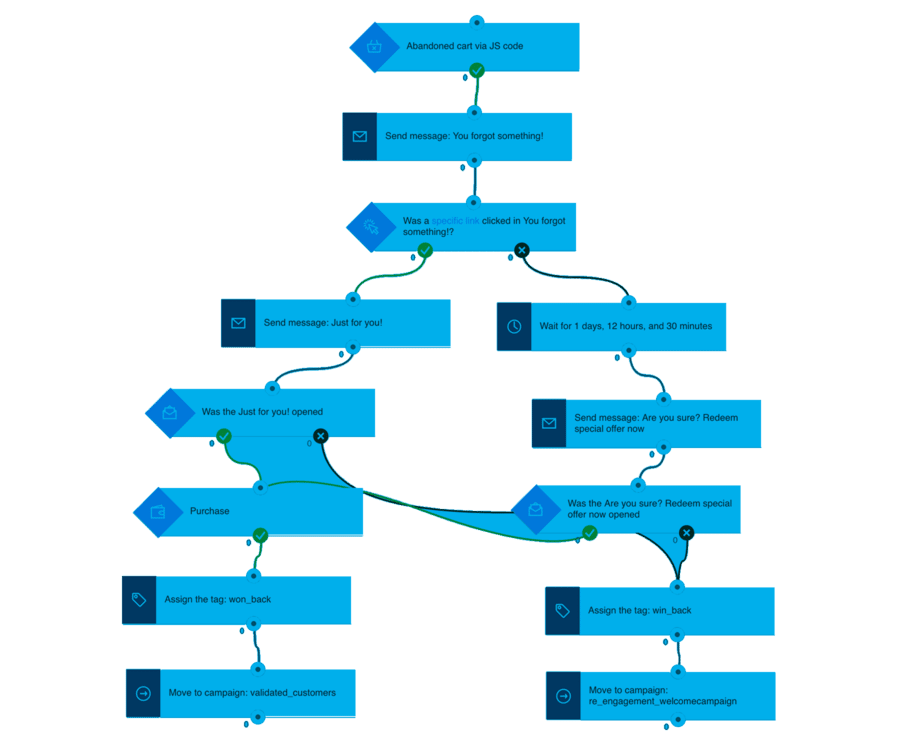 Automation Templates

Scoring

Web Event Tracking

Cart Abandonment

Automation Segmentation
Landing Pages — Create landing pages that convert.
Want to drive more online sales and attract new customers?Unleash your full potential with smashing, 100% responsive landing pages and web forms. To make your life easier, we designed an intuitive drag-and-drop editor with 150+ ready-to-go templates. Now you can transform wild ideas into profitable actions. Create top-notch web pages for opt-in, thank you, sales, webinars, and more in less than ten minutes without touching a single line of code.
Mobile Workspace

Landing Page Templates
Webinars — Nurture your leads with a complete webinar marketing solution.
Want to generate more leads while keeping your existing customers engaged? For us, lead generation is much more than a buzzword. We're the first email marketing service to provide a complete webinar marketing solution. With GetResponse Webinars, you will not only acquire new leads but also nurture existing customers, thanks to the advanced integration with all GetResponse features. Start turning subscribers into repeat customers today!
CRM — Collect, nurture, sell, repeat.
Keep track of your contacts and pinpoint when to sell to them – at every stage of their subscriber journey. It's all here – lead scoring, tags, statuses, and stages. Plus notes, tasks and meetings. So you can expertly plan every message and sell more stuff, with all the essential tools at your fingertips.
Forms and Survey — Customize your forms and keep growing your list.
Stand out and supercharge your list, with custom signup forms and handy list building apps. Seamlessly grow your contact list with forms that match your brand – and appear on scroll, pop-up, exit, and more. Use the intuitive surveys to learn more about your new contacts, and fine-tune your marketing message.
List Builder Apps

Online Surveys
List Building and Management — Grow a healthy contact list.
Build and cultivate a healthy contact list with a suite of special tools, like single opt-in imports, advanced search and filtering, list hygiene, and built-in integrations. Make use of custom fields, tags, and scoring to filter and segment your lists for laser-sharp targeting – and keep them from going stale.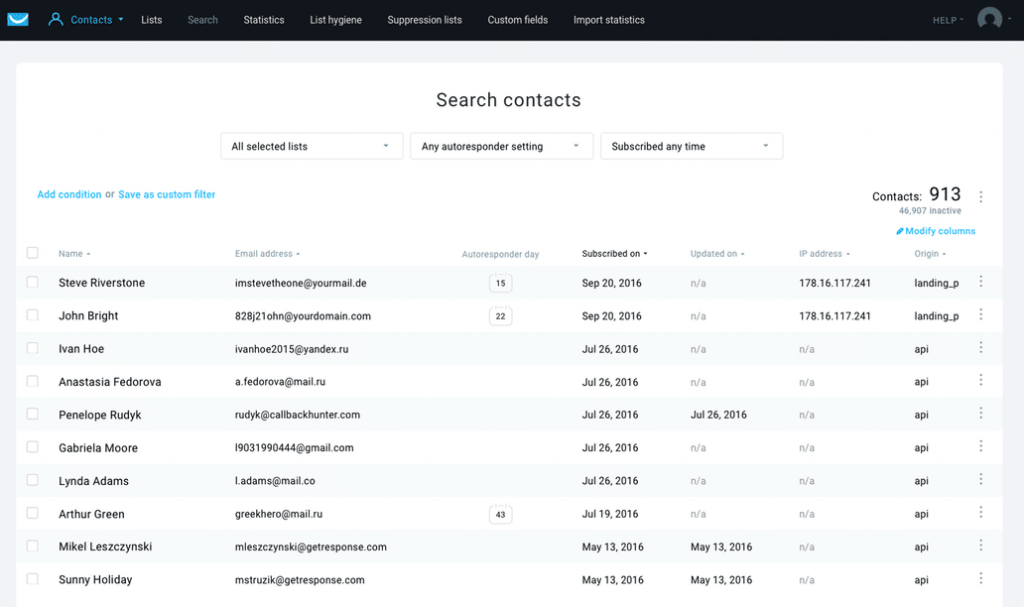 Single Opt-In List Imports

Hydra

Advanced Segmentation

Custom Fields
Analytics and Optimization — Test, analyze, and optimize – for better results.
What does your audience really want? What pushes their buttons – and gets them clicking on yours? The only way to know is to test and track their activity. In real time. Get a big picture view and drill down into opens, CTR, goals, mobile views and OS reports, subscriptions, and geolocation data. You can also split test and compare newsletters, landing pages and web forms – and make your next move based on rich data. So you'll know if your campaigns really hit the spot.
Advanced Analytics

A/B Testing

Inbox Preview

Global View

Spam Checker
Design Tools — Design with drag-and-drop ease.
Want to create designer-quality emails and landing pages in minutes without coding? Forget about hiring expensive programmers or spending days to build a single page. Whether you're a newbie or an experienced professional, you can thrill your customers with the first-class design of your online campaigns. Your success is in your hands.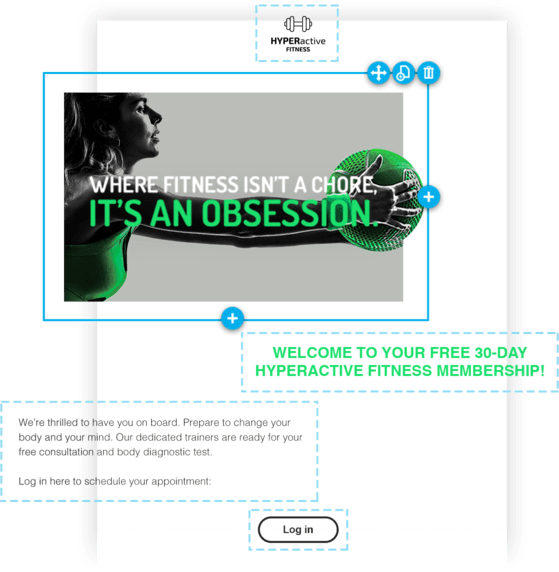 Drag-and-drop Email Editor

Dynamic Content

Image Editor

1000+ iStock Photos

Responsive Design

Multimedia Studio
Account and Campaign Management — Manage your account your way.
With GetResponse customers in over 182 countries, we know how complex multinational campaigns can be. Based on our experience, we created tools that make global campaign management a piece of cake. Now you can customize your content, deliver timed messages accurately in every time zone, and manage your multinational team with freedom and control.
Choose from our full suite of mobile apps to keep an eye on your campaigns – even when you're on the go. And with our 24/7 5-star support, there's always someone here to help.
Team

Multilingual Capabilities

Mobile Apps

Five-Star Customer Support
Integrations — Integrate GetResponse with services you use every day.
Online services are more powerful when they work together. With GetResponse, you can connect with CRM software, ecommerce platforms, and other popular tools your team uses to sell, market, and support customers. Choose from more than 100 ready-to-go API integrations or develop a custom application with our open API.
State-of-the-art API

App Center

Social Media Integrations
Eneterprise Solutions — Send lots of emails with customized services.
Do you often send multiple campaigns to a large database? Get a better ROI with our enterprise solutions. Like dedicated account management, your own powerful server built for big sends, in-depth training, and ongoing consulting. All tailored to your business.
Dedicated IP Address

Dedicated Account Manager

Onboarding

Consulting

Custom DKIM
GetResponse Pricing
There are three main types of Getresponse pricing plan – 'Email', 'Pro' and 'Max' – and within each of these, several additional types of plan to choose from (all based on list size).
Up to 1,000 subscribers: $15 ('Email') / $49 ('Pro') / $165 ('Max')
1,001 to 2,500 subscribers: $25 ('Email')  / $49 ('Pro') / $165 ('Max')
2,501 to 5,000 subscribers: $45 ('Email') / $49 ('Pro') / $165 ('Max')
5,001 to 10,000 subscribers: $65 ('Email')/ $75 ('Pro') / $ 165 ('Max')
10,001 to 25,000 subscribers: $145 ('Email') / $165 ('Pro') / $255 ('Max')
25,001 to 50,000 subscribers: $250 ('Email') / $280 ('Pro') / $370 ('Max')
50,001 to 100,000 subscribers: $450 ('Email') / $490 ('Pro') / $580 ('Max')
Additionally there is an "Enterprise" plan for users whose lists exceed 100,000 email addresses: this starts at $1199, with exact pricing depending on requirements.
GetResponse Free Trial – you get 30 days of free email marketing trial account. No credit card information is required.
GET A FREE GETRESPONSE ACCOUNT!
Key differences between plans
All three Getresponse plans cover the important basics; key features include:
the ability to import, grow and host an email database
a wide range of templates
autoresponder functionality
responsive email designs
split testing
in-depth reporting
RSS / blog to-email functionality
comprehensive segmentation options
social sharing tools
There are a number of variations between the 'Email', 'Pro' and 'Max' plans but for me the most important ones are:
landing pages – you can only avail of landing pages that allow split testing and unlimited views if you are on a 'Pro' plan or higher
webinars – this functionality is not available at all on the 'Email' plan and the number of webinar attendees is capped for the 'Pro' and 'Max' plans at 100, 500 respectively (it's unclear what the limit is on the 'Enterprise' plan).
users – you can only have one user account on the 'Email' plan; 3 on 'Pro', 5 on 'Max' and 10 on 'Enterprise'.
How to Get Started with GetResponse?
First of all, you need to create an account with GetResponse. Fortunately, it offers a free 30-day trial so that you can check out the service and decide whether you want to continue or not.
1. Creating a Campaign:
Step 1: Log in to your account and on the navigation bar, you will see a "campaign selector" tab. Click on it and then click on "Create Campaign".
Step 3: Once you have successfully created a campaign, you will see some options on your screen. Click on Edit Campaign Settings and tweak the settings accordingly.
Before you save your settings, go to Permissions tab and change the selection in the Confirmations Page. If you are offering freebies to your subscribers upon sign up then select Custom URL and add a custom URL in this option to redirect them to the downloads page once they are added in the list, otherwise select the Hosted By GetResponse option.
Once you have set up your campaign, you can go and add the contacts to this campaign.
2. Creating a Newsletter:
Sending out periodic newsletters to your subscribers is one of the best things that help you build trust among your readers. You can send out your latest posts, or give them some premium content or case study that you won't share publicly to show them their importance.
Whatever the reason be, creating and sending newsletter should be on your priority list. Here's how to do that:
Step 1: Once you are logged in to your GetResponse account, you will see a big green button that says "Create Newsletter" on your dashboard. You can even select the option by going to Messages > Create Newsletter from the main navigation menu.
Step 2: Then, you will be given two options – New Email Creator and HTML Source Editor. You can either use the pre-defined templates to build your newsletter or you can code it from scratch using your HTML/CSS skills. I prefer Email creator.
Step 3: On the next page, you will be asked to enter the details to the newsletter campaign.
​

Message Name

: Give a name to the message for your own reference. This won't be displayed to your subscribers so choose anything as long as you know what it refers to.

Subject

: This is the subject of your email. Choose something interesting!

From

: Set your own email address that will be mentioned in the email. You can change the Reply-to email as well.

Tracking:

 You can track the click-throughs and also track your campaign via Google Analytics.

Publish & Share

: Share on Facebook and Twitter.

A/B Test

: You can split test your emails.
Step 4: On the next page, you will be given the option to choose from email templates. There are lots of options that allow you to customize the template and format your email exactly the way you want to.
You can either select the email templates or go with "Start from Scratch" option and build a basic email design.
Step 5: The next step is the visual editor where you will be adding the content of your email. You can edit the width and alignment of your email and use the blocks from the right side to add content.
Step 6: Once you have created your email, you can send out a test message to check if it's working properly. You can even see the mobile preview and the desktop preview to see how the email will look.
3. Creating an Autoresponder:
Autoresponder is a really great feature when it comes to email marketing. You can use it to send a particular email to your new subscriber when he/she signs up to your email list.
You can set the time and the email will be sent automatically based on the time the visitor subscribed to your list. Here's how you can set up an autoresponder series:
Step 1: Click on Messages in the main navigation bar and select Create Autoresponder.
Step 2: There are lot of events you can choose from that will trigger the email. The most popular and useful choice is Time-based, so we are going to select it. (You can select the other trigger options based on the event).
Step 3: Next, you can select the campaign name, choose when to send the email, choose the message you want to send or create an email from scratch and select a name for the autoresponder.
One awesome feature to note here is the Time Travel feature!
In the Send Message option, when you select no earlier than and select the exact time, you will see an option to turn on the Time Travel feature below it. Turn it on at all times!
When you select a particular time and send out the emails, they will reach your subscribers at different times. When a subscriber is in a different time zone, then instead of receiving the email at the specified time, the email will be delivered at a different time.
That's where Time Travel option comes in! What this feature does is make sure that the emails reach to all the subscribers at the specified time. Even if the subscribers live 12-hour apart, they will receive emails at the time you specified.
GET A FREE GETRESPONSE ACCOUNT!
To sum it all up:
GetResponse is one of the cheapest email marketing solutions. It comes with some amazing marketing automation tools which allow you to create smart automated campaigns. With a drag and drop builder, you can create campaigns, segment contacts, and send content designed for specific groups. These tools help you create effective campaigns to boost your profits.
We hope this article gave you a good overview of the best email marketing services for your business.