Website has a tremendous role to play in terms of driving results especially for businesses in Nigeria and that is why evaluating your website performance ranging from navigation to information quantity and quality is paramount. You may think that a website audit is not important, but the truth remains.
You may think that a website audit is not important, but the truth remains that, if your website doesn't meet the required standard. It becomes difficult for search engines to recognize and identify it.
Why you must audit your website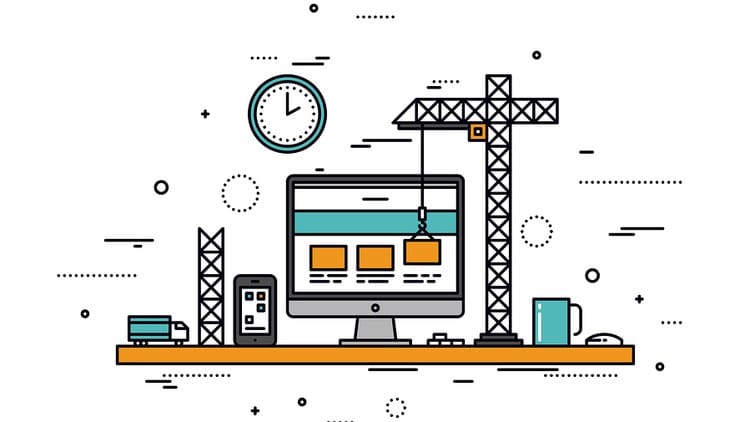 General look and Architecture of your website. Are all the main pages generally required by most people searching for Information? You need to find out if your website is easy to navigate.
Meta Data and Descriptions, this also has roles it plays a good role in terms website ranking. If these are not where they are supposed to be, it becomes difficult for search engines to find your website. The same thing is applicable to ALT tags on any images as google has a huge file of images that can be relevant to the subject matter contained in your site.
Basically, the search engines crawl your websites to figure out the changes.
Keyword relevance, is very important as is page titles, if the search engines find that the title and keywords are not relevant to the subject of that site you will be penalized.
Site Performance, Digital Marketing Skill Institute will analyze your website aimed at figuring out how many clicks you're getting.
Broken Links, if you have links to other pages or other websites that are no longer relevant it will definitely affect search engine results.
SOME WEBSITE AUDIT TOOLS YOU CAN USE TO BRING YOUR WEBSITE TO STANDARDS
WooRank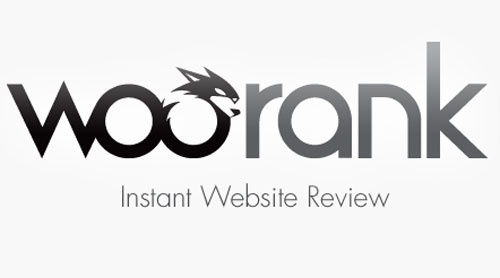 The WooRank is very essential and the most popular website audit and SEO tool. However, even though agencies would find the audit tool very valuable, the audit tool is more aimed at website owners and in-house SEO teams.
If you're a small business looking for a website audit tool, this tool is awesome. From SEO to digital marketing, use WooRank to analyze and optimize unlimited websites.
Marketing Grader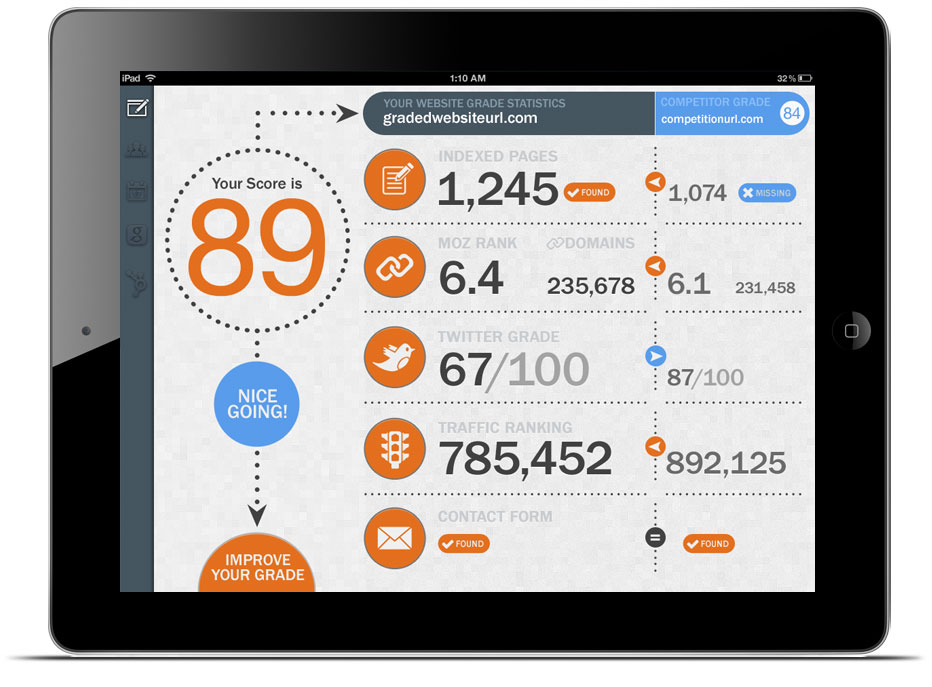 Marketing Grader has been around for a while and is owned by the very reputable company, HubSpot, Inc. Marketing Grader advice on how to improve many aspects of their websites and encouraged millions to bring their website presence to the next level, all for free.
It looks at your blog, social media channels, SEO, lead generation ability. By implication, it has very much to do with your website's performance.
MySiteAuditor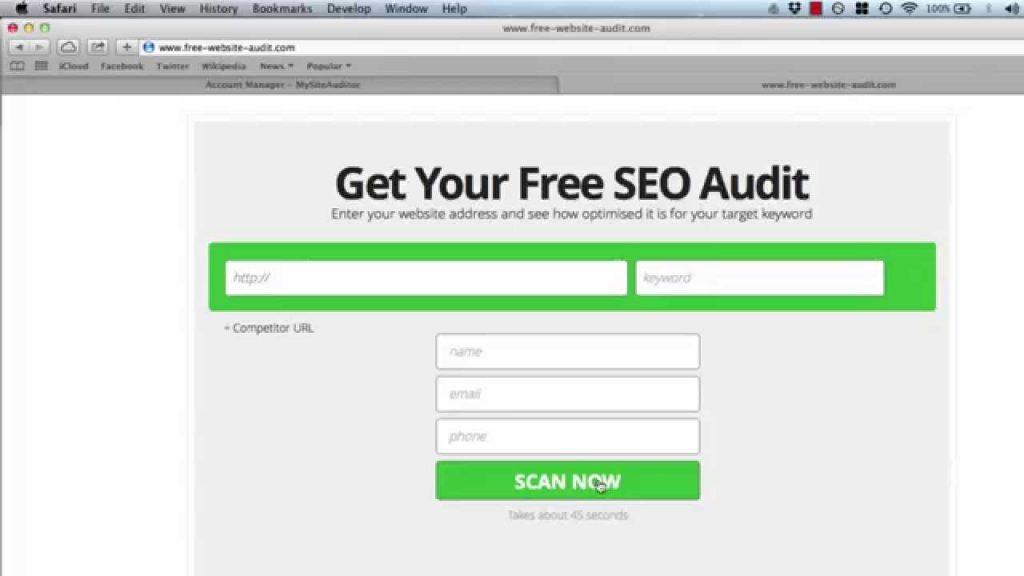 MySiteAuditor helps you more with SEO leads by embedding a free SEO audit tool on your site is by far my favourite website audit tool for a combination of reasons. The main reason is that we can embed it on our agency site and generate way more leads than our contact form.
So the audit really works well and is in direct alignment with Google's ranking algorithm. Many SEO audit tools make the mistake of trying to audit the entire site only, and Google ranks web pages, not websites. Here are a few other reasons why I love MySiteAuditor.
Screaming Frog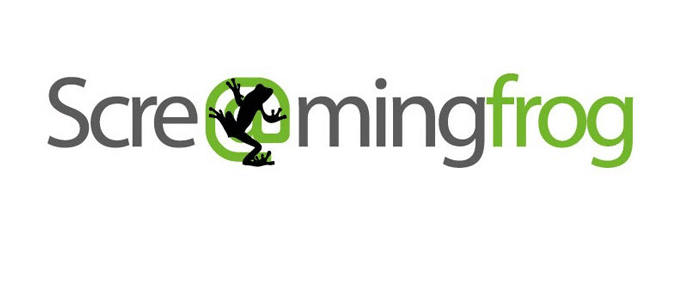 Screaming Frog is eccentric for getting the most informative data from an entire site at once, which spiders websites' links, images, CSS, script and apps from an SEO perspective. In fact, it's not really an audit, it's more of a crawl.
It crawls your entire site and outputs data from an SEO perspective, giving you lots of valuable insight into any SEO problems your site could have. You can view, analyze and filter the crawl data as it's gathered and updated continuously in the program's user interface.
SEO Report Card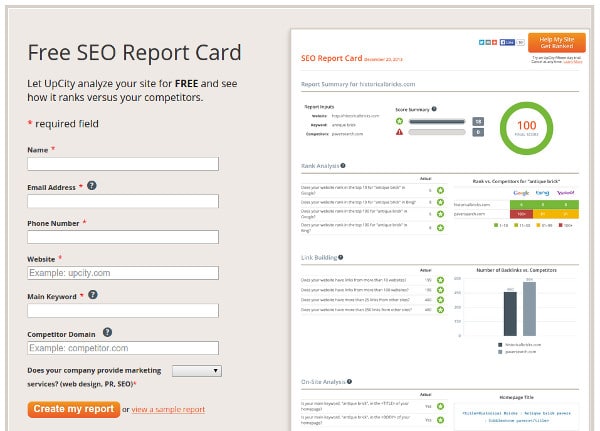 SEO Report Card is an awesome audit tool for a quick analysis on your website. It's very visual and happens pretty fast. It can actually improve their products' pages using simple and accepted optimizations. These optimizations are intended to not only help search engines understand the content of our pages better.
These optimizations are intended to not only help search engines understand the content of our pages better. SEO Report Card but also to improve our users' experience when visiting your websites.
Some website audit checklists you need to incorporate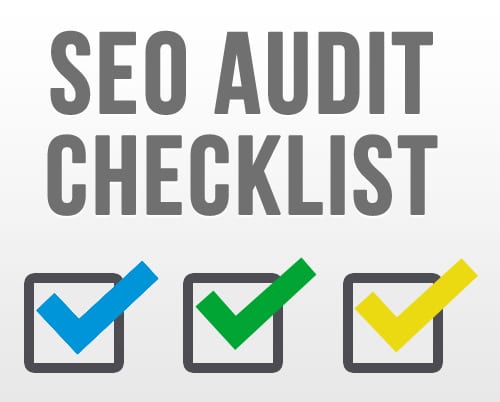 Check Google's cache for key pages
Do a mobile search for your brand and key landing pages
Are your landing pages mobile friendly?
Is the content showing up?
Are navigation links present?
Are there links that aren't visible on the site?
Does your listing have the "mobile friendly" label?
If the answer is no to either of these, it may be costing you organic visits
Review your organic landing pages
Does this match with the number of results in a site: search?
This is often the best view of how many pages are in a search engine's index that search engines find valuable.
Check indexed pages
Ask yourself the following: Have you done a proper search?
How many pages are returned?
Is the home page showing up as the first result?
If your home page isn't showing up as the first result, there could be issues, like a penalty or poor site, internal linking, affecting the site.
Did you enjoy this article? We give away 98% of our digital marketing resources for FREE. Right now, I want to prove that to you, join our community right now for FREE access to our actionable digital marketing resources to help you increase your sales and customer base online faster. It is absolutely FREE.