Trying to understand your Web visitors can be a bit confusing. Each individual visitor brings his own set of data that has to be collected, measured, analyzed and reported.
[bctt tweet="You have to know what is working, what isn't, and what trends will make your site the next "must read" for visitors each day. The only way to effectively do this is to have a good web analytics tool working in the background." username="vibewebsolution"]
However, figuring out which package is best for your site can be tricky. Until your site starts earning some revenue, you're best starting off with something  free.
Then, as your site grows, you may want to pay for a few more features. If you're really lucky, you'll start off with a free package that can grow with you, and it may be the only package you'll ever need. Here's another
Here's another 10 Great Web Analytics Tools to help grow your business in Nigeria.  Well in case you missed the Part 1  click here
 Spring Metrics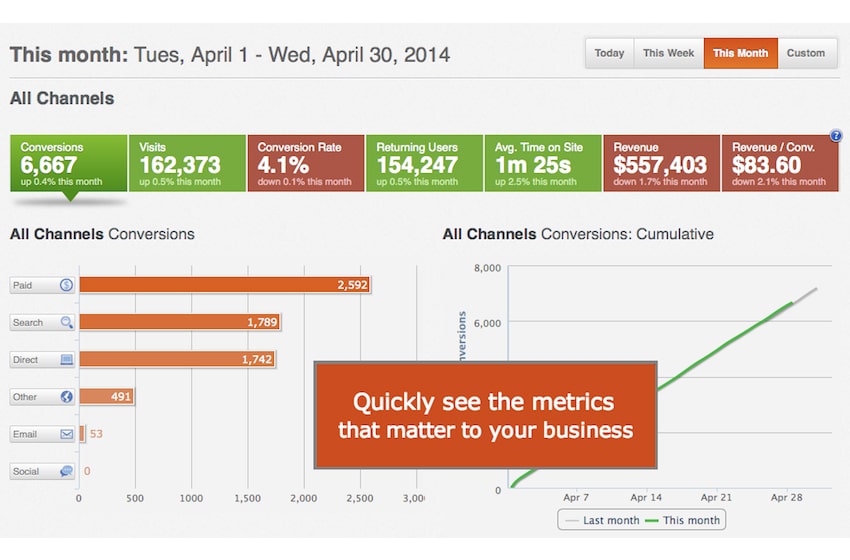 Spring Metrics has taken the analytics tool and made it simpler. You don't have to be a professional data-miner to get the answers to your questions. You get real-time conversion analytics, top converting sources, keyword analytics, landing-page analysis, e-mail performance reports and simple point-and-click configuration.
[bctt tweet="Unlike Google Analytics, Spring Metrics tracks a visitor's path through your website from the time he landed to the time he left. All of this is included in Spring Metrics. The simplicity of this tool has a lot of website owners switching over from Google Analytics." username="vibewebsolution"]
Price;Standard Plan for $49 a month. When you first sign up, you get to try it free for 14 days.
Advantages
Analytical services offered by

Spring Metrics

also include keyword analytics and intelligence.
Website experience and user interface is optimized for mobiles devices and platforms.
Spring Metrics provides details about both short term and long term revenue gains.
Disadvantages
Spring Metrics lacks the marketing capabilities of campaign management and product catalog.
The software does not offer the features of lead management and lead tracking.
 Piwik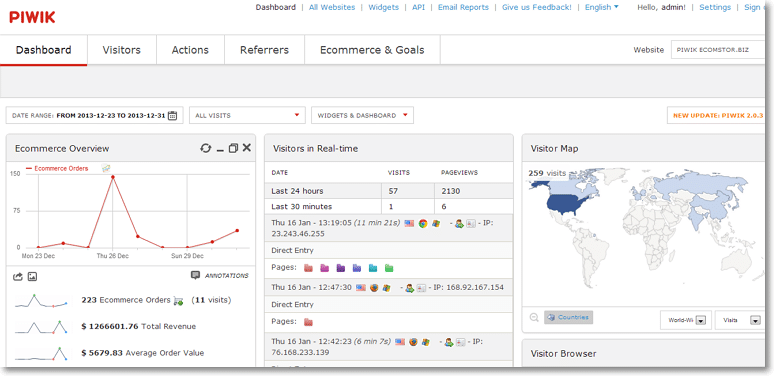 Piwik is another great example of a company providing a solid, free web analytics tool that is also open source, much like Open Web Analytics like we discussed above.
Piwik touts itself as being another open source option to Google Analytics, and from what I've seen, it provides a similar dataset, so you can say that it is comparable to Google Analytics, with the emphasis on the open source nature of the project.
It is a PHP MySQL software program that you download and install on your own webserver. At the end of the five minute installation process you will be given a JavaScript code. Simply copy and paste this tag on websites you wish to track (or use an existing plugin to do it automatically for you) and access your analytics reports in real time.
Price:Free
Advantages
 Most of Piwik's features are similar to that of Google Analytics, such as goal conversion tracking, real time data updates, events and campaign tracking and so on. However, if there is something that sets it apart from GA, it is the fact that there is no limit on data storage. By default all historical visitor data and reports are kept.
 Customize and create dashboard to fit your needs
 Piwik is an open source web analytics platform that must be hosted on your server for free access. You can track multiple websites without worrying about extra costs.
If your site is on WordPress you can work with the  WP-Piwik plugin. And here is a  quick installation guide for those who intend to host this tool on their own servers.
Disadvantages
Not a very organized and user-friendly interface.
Many features are similar to Google analytics. It could be a viable alternative if you stop using Google Analytics
AWStats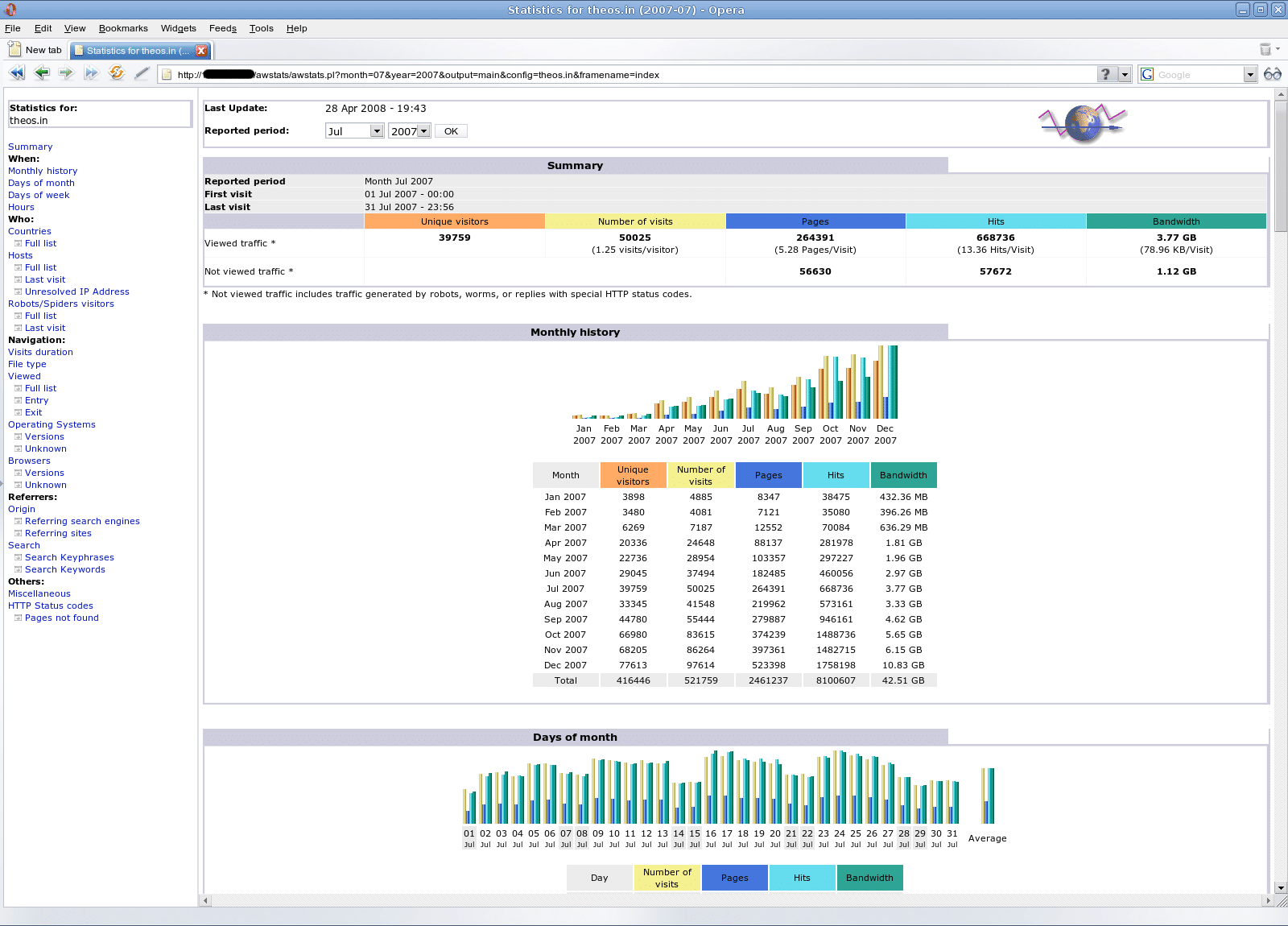 AWStats is considered to be one of the most amazing web analysis tools on the Web that will analyze log files coming from services such as HTTP, FTP servers and streaming media. Their main interface consists of a single page that is divided into different sections, each providing a summary of statistical data.
These include daily visits, list of referrers, search terms etc. These stats are automatically updated on a daily basis. It gives you the option of viewing a month by month traffic report, or you could also view the annual statistics.
AWStats defines a visitor on the basis of the user agent and IP address. If someone visits your website with a user agent, for example Google Chrome, and has an IP address, it will be counted as a unique visitor. On the other hand, if the user agent is a robot, such as GoogleBot, it will not be counted as a visitor.
Price: Free
Advantages
It will tell you the number of hits you have on your website, including the number of unique visitors as well as the time they spent on your website.
It will show you how much bandwidth different crawlers and robots are using.
It will tell you which countries, your traffic originated from.
It has a feature called Server Side, which can effectively process Raw Log files.
It can support various file types.
It allows you to view web compression stats.
It displays common HTTP errors.
Disadvantages
It does not provide an in-depth analysis of data so it is recommended that you use this alongside other tools.
Although Awstats identifies most common bots and avoids the mistake of counting it as a visitor, there are some bots it is still not familiar with, thus, incorrectly counting them as visitors and causing discrepancies in the visitor count.
It does not measure user activity. There is no way to know what the user does once they are on your site.
A visitor that accesses the same website on different IP addresses, at the same time, will be counted as more than one visitor.
It does not give an option to narrow down statistics to a more specific time frame, for example, last 7 days.
Webalizer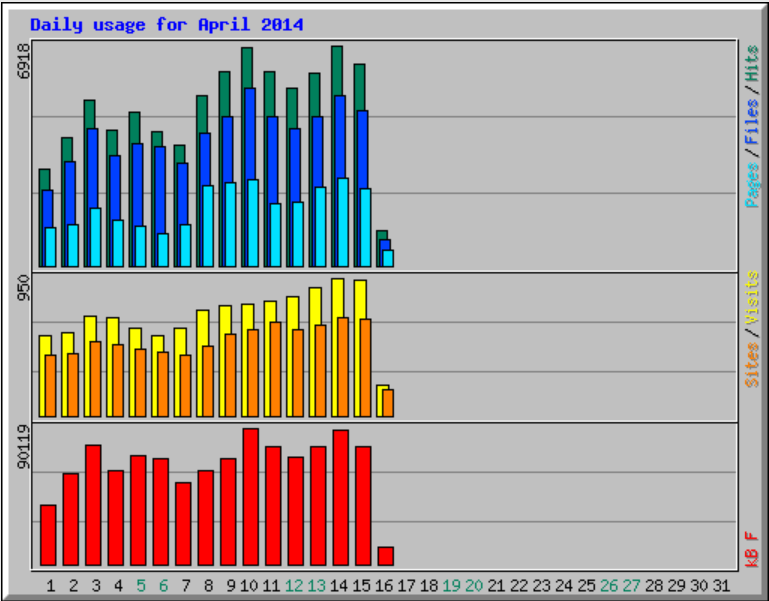 Webalizer is a very basic self-hosted server side analyzer that can give you a very detailed and easy to understand data in HTML format. Its main page consists of a graph summary and a monthly stats table with links to more detailed information about each category of information.
[bctt tweet="Webalizer is a very basic self-hosted server side analyzer that can give you a very detailed and easy to understand data in HTML format. Its main page consists of a graph summary and a monthly stats table with links to more detailed information about each category of information." username="vibewebsolution"]
Information about the browser used, referrers, pages accessed, keywords and visitor information based on hour, day, month and year is available. The information is presented in a way to make the process of integrating data onto a spreadsheet, easy.
Price: Free
 Advantages
It updates your log files throughout the day.
It lets you view your file logs online or you can download it if you need to use the data with other programs.
The reports are easy to understand and for the most part, self explanatory. But for those looking for help, it does offer an explanation with screenshots.
It gives you the option to receive reports of your website's traffic on a weekly or monthly basis.
Disadvantages
It has the tendency to overestimate data because it does not use cookies to recognize a visitor. It cannot distinguish between returning traffic and unique traffic properly.
It combines traffic from human visitors as well as search engine spiders, which makes the data even more confusing.
While adequate as a basic analyzer tool, when compared with other analyzers, Webalizer is limited in terms of being able to track advanced information.
Just like AWstats, the UI is not the best.
 BBClone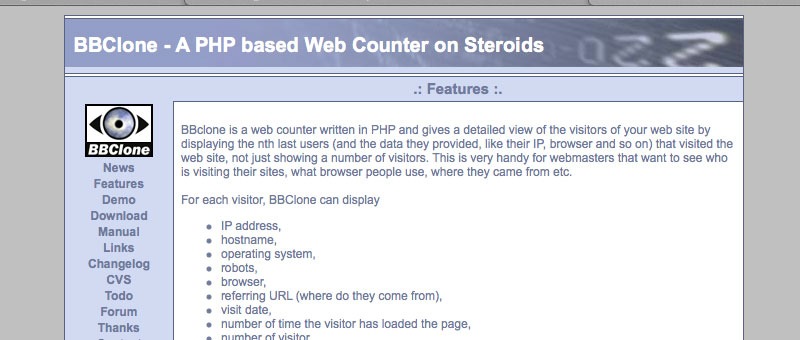 BBClone is a "web counter on steroids"—at least that's what its developers say. It can give you information regarding your visitors' OS, IP address, the browser they are using, as well as when, where and what time they visited. You just need to download the script so you can get real time data for your website.
Price: Free
Advantages
It gives you a clear view of who visited your website.
It can also show you the website path followed by a visitor in the order of visited pages.
It doesn't rely on my SQL.
It has some nice features such as reload resistance, proxy workaround, and hostname resolution.
Disadvantages
A lot of users have complained it is not stable enough. Also, the project has not been updated very frequently.
 Open Web Analytics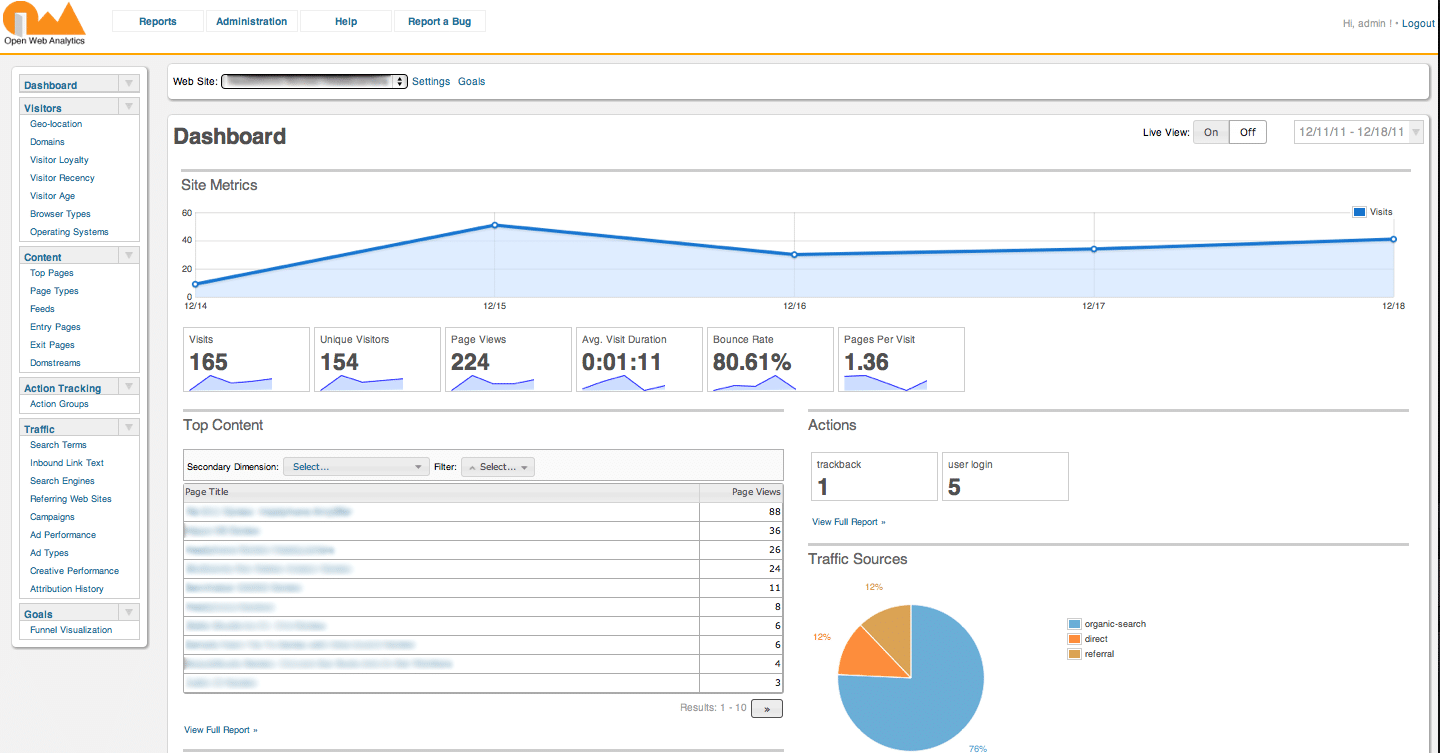 Open Web Analytics ,which is also known as OWA is a downloadable application and is essentially the open source community's answer to Google Analytics. It is self-hosted, and for wordpress users there is a plug-in available. This tool can be used to track more than one website. For a free tool, OWA  is filled with features. It offers stat filters and heat maps.
Price:Free
Advantages
 It is open source and must be hosted on your server. There are no data limits and you can use it on unlimited number of websites.
 You get individual and detailed snippets about each latest website visitor on your site that shows you location, browser type, pages viewed, visit length and referral source.
 Since you host this on your own server you will retain control and ownership of your own site's analytics data.
Disadvantages
Aimed at tech savvy users, who understand how to install  PHP based applications on a server.
Customizing or changing the source code, can only be done by an experienced developer.
 MixPanel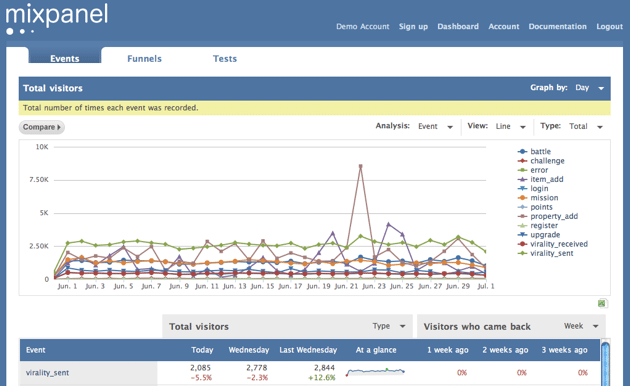 Mixpanel is another real-time analytics tool that measures user engagement.
Price:Starts with a Free plan for up to 25,000 Data points.
 Advantages
This tool is very similar to Kissmetrics and its main features are based around statistics that allow you to learn more about every individual website visitor.
Mixpanel offers advanced segmentation of your website visitors, event tracking through funnel data, retention reports of engaging and returning customers and a targeting system that groups users with similar profiles.
 Compared to its current competitor

Kissmetrics

, this tool offers better real time data and in an easy-to-understand user interface.
 Using this

great web analytic tool

you can retain your lost customers or customers who are on a free trial, by sending notifications on the web or mobile. You can schedule the notifications on the tool.
 As a new feature, the tool allows you to set a pre-composed email message and send it to customers.
Disadvantages
Since the pricing is slightly on the higher end, it is not fit for websites with insufficient budgets.
Setup is not easy. You need technical support or knowledge to fully integrate API tracking with this tool.
 Reinvigorate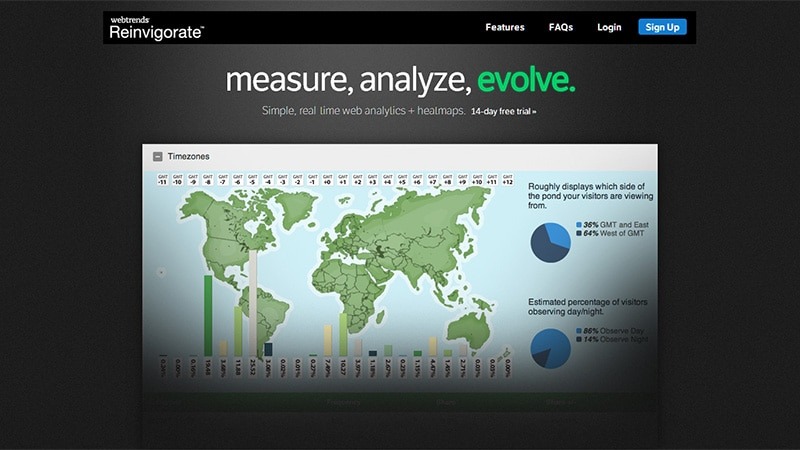 Reinvigorate is a website analysis tool that has been on the market for quite some time.
Price:$10 – $100 per month.
Advantages
t has an attractive user interface.
It has a built-in heatmaps.
It has a visitor-tagging feature that makes user identification and profiling easier.
It has an option to give updated directly on your desktop.
Get a geographical view of your users coupled with timezones so that you know what time your visitors are visiting you, from different regions.
Tracks the referral traffic in real time and adjusts your web content to best suit the traffic source.
Web integration is easy and just requires entering a small JavaScript code.
Disadvantages
It doesn't let you deep-dive on actual traffic data.
  Inspectlet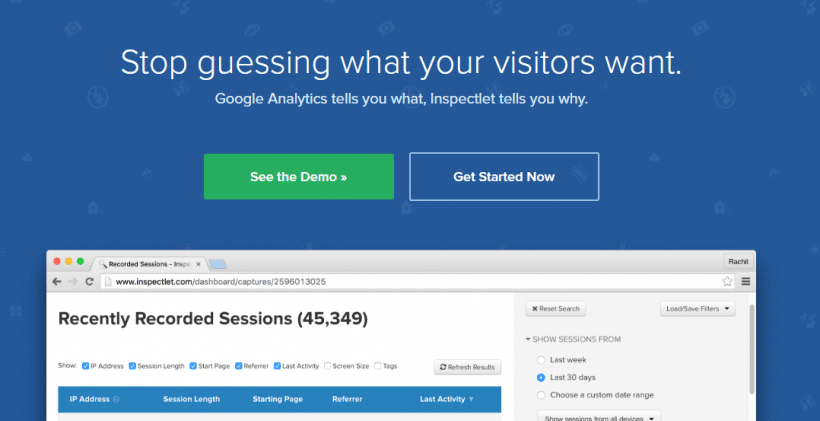 Inspectlet is an analytics tools more focused on Usability testing. It has four important features, which are: eye tracking heatmaps, screen capture, customizable metrics, and real time analytics. It goes beyond just providing the basic visitor metrics.
Price: Plans start at $10 per month.
Advantages
It is an excellent tool to measure conversion funnels.
You can easily view visitor-content interaction because of its screen capture feature.
Their eye tracking heatmaps allow you to spot what part of your website the visitors are reading through their mouse movements. Click heatmaps tell you what your visitors are clicking on, and scroll heatmaps show how far the visitors have scrolled down the page.
You can basically record a complete user session and see how users are browsing on your website.
Create custom metrics to see what matters to you.
Disadvantages
 SUMMARY
  There are plenty of additional analytics options out there, including Feedburner, Percent Mobile, Mongoose Metrics, AdWords, Klout, Topsy and plenty more. It really depends on what you want to focus on most with your business and that's what you need to analyze before digging into this process, but these cheap tools are a great place to start.
Did you enjoy this article? We give away 98% of our digital marketing resources for FREE. Right now, I want to prove that to you; enter your email below right now for FREE access to our actionable digital marketing resources to help you increase your sales and customer base online faster. It is absolutely FREE.