Businesses have come and gone.
These days, it has even become easier for businesses to fold up than to spring up.
In a struggling economy as ours, a lot of internal and external factors can bring a business to its knees.
What is not often reported, however, is that many of such businesses fold up because they could not keep up with the heat from their competitors.
And from another angle, if you can start off and sustain with an effective digital marketing strategy, there is every possibility that you become the one to dislodge your competitors in your niche.
Call it the business version of survival of the fittest, if you want.
[bctt tweet="If you're a small business owner trying to compete in the big leagues, this post is for you. I'm going to share a list of all the digital marketing business ideas and strategies that can help you compete with your competitors and other major businesses within your niche." username="dmsinstitute"]
It doesn't take a huge corporate budget to compete online.
Let's get started so that I can show you.
The Digital Marketing Super-Highway
The Internet is a place of a billion possibilities.
Whatever your business be, if it isn't online, it is hardly existing.
There was a time when the means of marketing and communication were just limited to print media, and word of mouth, while in the past decade things have changed drastically.
Google is now processing 40,000 searches every second, and 3.5 billion of the same in a day.
For that reason, businesses these days have started focusing on both offline and online marketing. In this scenario, being a step ahead of the competitors is something anyone would want.
This is one of the factors that have informed us to create a practical digital marketing training that, among many other strategies, teaches you how to leverage Search Engine Optimisation (SEO) and paid advertising on Google as well as other Google products for your business growth.
If you want to learn how to take your business to the next level by leveraging Google, then you can click here to join the next class.
You see, the realm of SEO and digital marketing has not yet been explored and known by many industries. Considering that, to have an upper hand here, you need to invest in techniques that help you stand out.
To whatever degree, every business owner, marketer, or entrepreneur armed with a website sees themselves as some kind of internet marketing guru.
And every other internet marketing guru out there is preaching about some cool amazing new digital marketing strategy or tactic you've simply got to use in order to stay ahead of the game.
It can be freaking overwhelming at times, I can tell you.
I remember starting out in this niche many years ago and thinking, I'm never going to get to grips with this.
And you know what?
Even though I feel I know a great deal about how to market my business online today. I'm still learning every single day.
So, one of the questions I get asked a lot as a digital marketer, particularly from startup businesses and new bloggers, is this one –
"Do I really need to learn digital marketing, or can I just build a website and wait for people to find it in Google?"
I know what you're thinking –
But Tobi, everyone knows how to do online marketing, it's 2017 for heaven's sake.
You would be extremely surprised.
I have worked with successful business owners that don't have a clue what to do when it comes to growing their business online.
For most of us internet marketing gurus who spend the majority of our time online, we're savvy enough to know a thing or two about digital marketing, right?
But to assume that every business owner knows about running a website, marketing, doing social media, launching email campaigns, doing PPC, and all the rest of it, is thinking narrowly.
Here's the reality.
There are thousands of individuals and small businesses who have no idea where to start when it comes to online marketing.
Heck, most of these folks don't even have a website to start with.
So think about those businesses that have been long established 'offline', they simply hit a brick wall when it comes to the online world.
Think of these people as competitors that you can dislodge.
Here are some ideas and strategies that you can use to compete favourably with them.
Digital Marketing Ideas that will Steal the Deal from your Competitors
1. Digital Marketing Strategy: Be Found More. Be Everywhere.
Google Search Algorithms and Google Search Results are both constantly changing every other day.
Whenever you get to see any changes in any of Google's Products, you know that Google is going an extra mile for improvising the usage experience, for your audience.
That is exactly how Google tried to improve local search results too.
[bctt tweet="Knowing all that, the best thing that you can do for scaling heights with your online business is, be found in your consumers' local searches." username="dmsinstitute"]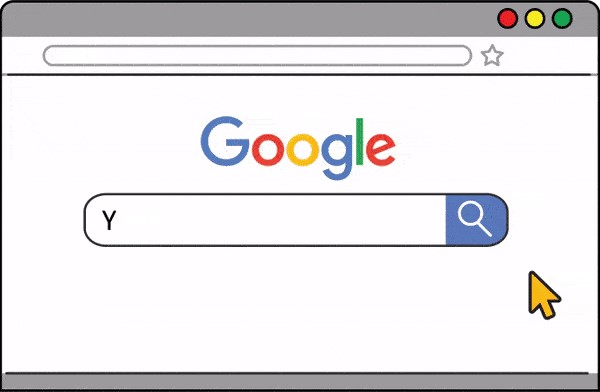 Around 3 Billion out of the total number of Google Searches include local tags in the keyword.
And then almost 88% of the users who perform a local search, either call or visit the store within 24 Hours. That is some impressive number to help your business grow.
So, ensure that you create your GMB (Google My Business) account, optimize it so you are present on the map for your customers to see.
Key Takeaway:
With the times and Google SERPs changing to place local results in front, optimizing your GMB (Google My Business) account is a great way of improving your local presence.
2. Digital Marketing Strategy: Social Bookmarking, Classifieds, Forums, and Directory Listings
Whether it is for SEO, or for being omnipresent on the web, Social Bookmarking, Classifieds', Online Forums, and Directory Listings are a good way of reaching out to your audience.
The sad part is that these are the platforms which people generally neglect for their online business promotions, for the lesser number of user base over these.
Despite less number of users, these platforms work well because they focus more on quality. This makes sure that everyone who comes to your business through these networks adds value to your business.
Social bookmarking, classifieds, and directories are useful for publishing yourself over different places on the web and expanding your reach through it. Also, you can really use online forums to boost your consumers' faith in your brand.
Answering Questions including users' problems on these forums, and other similar question driven online Communities, like Quora and Reddit can drive great amounts of quality traffic including potential consumers to your landing page.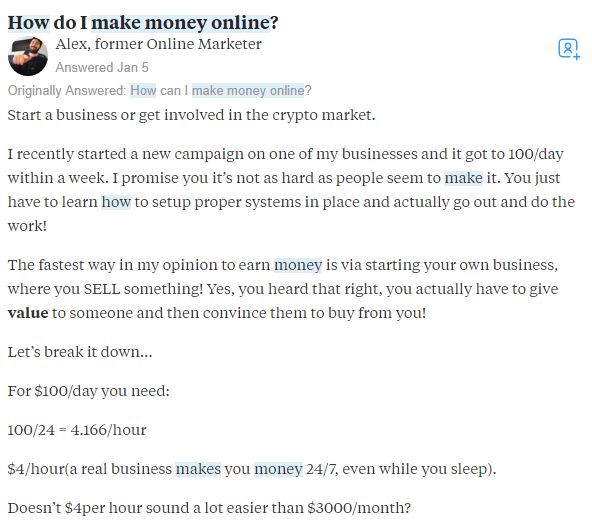 For instance, this question here was "How do I make money online?" To answer to the same Alex mentions all the important information, which is helping the audience, and apart from that, he offers to teach more, providing free access along with a link to his website.
That is a decent example of helping the users by addressing their queries, and also suggesting them to try your services in the same industry, without making your purpose obvious at all.

You can learn how to acquire this skill practically from our digital marketing course.
If you click here to join the class today, you will also learn how to generate backlinks to your web pages, write SEO rich content, optimize your on-page and off-page experience so that you can increase your organic and SEO traffic without paying a dime.
Key Takeaway:
For scaling your business and preparing it for operating online in the long run, it is important to be present on channels which are relevant to your niche. By creating your authority on these, you can drive great results.
3. Digital Marketing Strategy: Keep an Eye on your Competitors' Links and Traffic
If your business or even a part of it relies on search-driven traffic, then this is the key to building better backlinks and getting more traffic to your site.
This part majorly includes analyzing your competitors' website for the keywords that it ranks for, and being more visible in the search results by working over those and building similar or better backlinks.
In the times today, when SEO and the search itself is totally unpredictable, monitoring the backlinks, and keywords of a competitor is a great way to get an idea about what exactly is working and what's not.
Taking cues from it, you can enhance your own digital strategy.
Key Takeaway:
Using website monitoring tools can help you get relevant data about your competitor and help you to gain an edge.
4. Digital Marketing Strategy: Using Push Notifications
Within a week of the first visit, any website or app loses the majority of its users.
An average of 21% people come back to the app on day 1, while after a week the number falls down to 7.5%, and by the end of 3 months, there are only 1% of the total number of users coming back to check the app.
For this reason, user retention is an important aspect of running an online business, and that is why it costs around $2 for getting a user back, while if it was a loyal consumer, the price goes high up to $3.34 per user.
Having been introduced recently, push notifications are taking over the online landscape by providing a better user experience.
Whenever you need to get a user to come back to your website or your app, push notifications can play a vital role in making that happen.
It's just like using the push notifications, you get the power to ping your user base, with all the latest updates, which your site underwent recently.
A recent study shows that push notifications boost user engagement for a website by 85%.
Pixowl used this new evolving technology to connect better with their users and to increase user retention for their app spending the least.
Key Takeaway:
Use push notifications to reach out to your audience, and keep them updated about all the activity on your website or app.
5. Digital Marketing Strategy: Add Life with More Visual Content
The world is being driven by visual content in 2018. Be it Facebook, or YouTube, visual content is everywhere. You can even come across businesses marketing themselves over WhatsApp using videos.
The reason for the popularity of visual content is that we process visual information faster when compared to text and hence storytelling becomes more effective when supported with visual cues.
It is always more interesting and better for a user to watch a video, or a gif, rather than reading the long blocks of text for any information.
For an example, you can consider this 1 minute explainer video for Zwayam. This effortlessly explains how you can use Zwayam's Recruitment Engine to automate the Recruitment process in your company.
It's simple, on point, and catchy at the same time.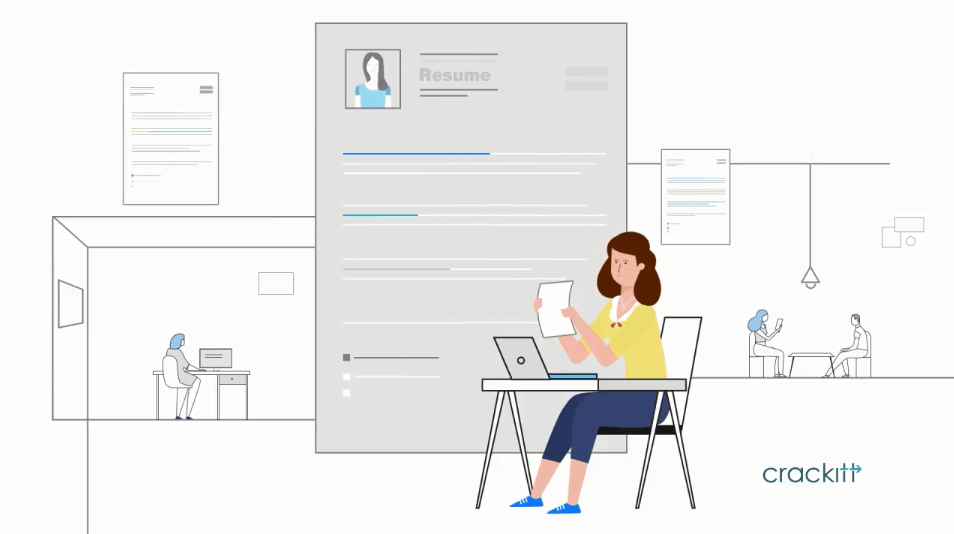 Key Takeaway:
Visual content is an amazing medium to connect better to consumers. It is more engaging in every way, and also more entertaining. So, if you get your feet down for creating more creative visual content for your brand, you are walking the road to success.
6. Digital Marketing Strategy: An Army of Your Email Subscribers
It is always very important to know your consumers. One fine way of doing that is building an email list. That is how you get a chance to connect with the users with no other bridges in between.
At an average, out of 98.28% of the delivered mails, 34.04% are opened up, and 18.03% get link clicks.
The above stats just mean that if you are not using email marketing to scale your business' online growth, you should start doing it, immediately.
When a user signs up for getting emails from you, you know that now you can throw more cards. It's a lot about consent, and once you have it, you need to use it in the best possible way. Creating an email list will always help you understand and connect to your users in better ways.
But, all of that doesn't come easy. You need to produce epic content or provide epic services for getting users to trust you with their email addresses.
Key Takeaway:
Your mailing list is your army of fans and subscribers. These are the people who love your work enough to have allowed you in their inboxes.
Conclusion
All kinds of businesses, whether small or medium, are picking up the internet as a medium of promoting themselves better, and over wider horizons.
So, if you are lacking, or lagging anyhow, this is the time to buckle up, and up your marketing game to rule your niche.
If you implement the above steps in the right way, at the right time, your online marketing campaign will help you achieve what you set out for.
If you, however, need a practical and more immersive class that takes you on a result-oriented journey through the digital marketing strategies that work and that will help you in the survival of the fittest game
Then you need to click here to register for our digital marketing training 
Vaibhav Kakkar is the CEO of Digital Web Solutions, a globally trusted agency with a full suite of digital marketing & development solutions. Vaibhav believes in building system over services, and has invested in multiple tech startups including RankWatch, NotifyFox and a CRM software to help scale up client agencies from scratch to niche-leaders with million dollar turnovers.