If you want your product and services to reach more potential customers, Facebook marketplace is the right place.
Facebook marketplace is a product of Facebook app and services which can be referred to as an e-commerce platform or digital garage.
It is a shop-like feature on Facebook that connects users directly with the product they want to buy.
Marketplace makes it easier for people to buy and sell in their local communities and as more people started using marketplace, businesses or brands were allowed to use it as a new way to engage with consumers and sell products.
Today Marketplace continues to grow as more people use this feature to connect and communicate with interested buyers and drive sales.
It also makes it easier for buyers to search for products they looking for and get helpful information from the seller in real-time through messenger.
Marketplace enables businesses to effectively manage relationships with potential consumers to convert them into paying consumers.
Therefore marketplace was created for people and businesses to discover, buy, and sell items listed on Facebook within their local communities.
Listing your product or services on Facebook marketplace is a great way for you to advertise your product and services and increase brand awareness and sales.
This is because the marketplace helps you to reach buyers on Facebook; where they are already browsing products they want to buy and it enables you to provide useful information such as; the price and description of your product.
One basic advantage of using the Facebook Marketplace is because it allows you to create a listing of your products and services
with no additional cost.
In this article, I will be sharing with you a step-by-step process on how to create a listing for your products on Facebook marketplace.
What is Facebook Marketplace
Facebook has an average of 1.91 million daily active users, making Marketplace a great platform to advertise your product and services and increase sales.
According to Facebook: Marketplace is a destination on Facebook where people can discover, buy and sell items. People can browse listings, search for items for sale in their area or find products available for delivery.
Today marketplace place has more than 1 billion users.
The ideal for Marketplace was birthed when it was discovered that users on Facebook use the Facebook platform to buy and sell to each other and this activity started in Facebook Groups.
So, to make it easy for people to discover, buy and sell items with people within their local community Facebook Marketplace was launched in 2016.
Rather than selling through user-created groups on Facebook, anyone can list their product on services on Marketplace
Also, people can search for products they want to buy or service they want to use on the platform by using the "search-box"
For example, if you use the search box on marketplace" to search for cars, you will get a list of cars from different buyers.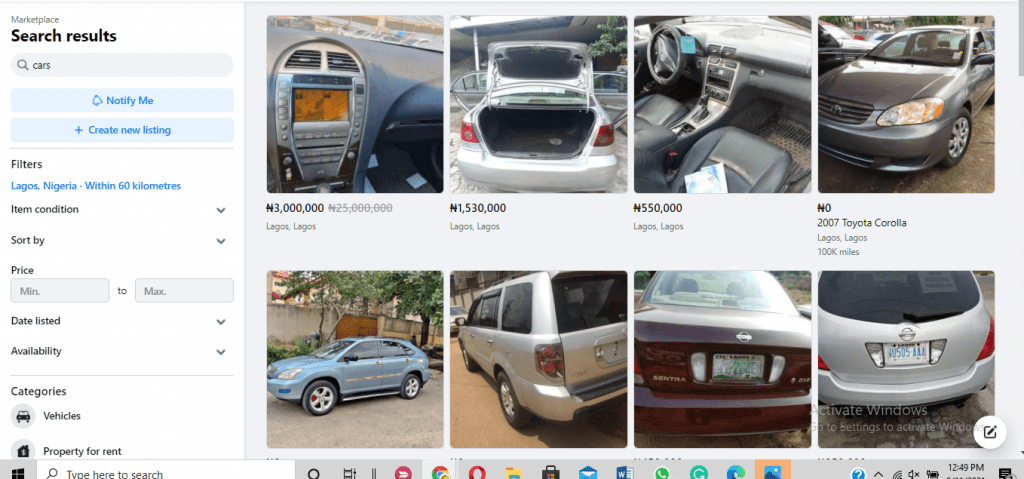 While this platform is often used by individuals, it is also available for businesses who would like to list their products on the platform.
It is a great platform for businesses to achieve an increase in sales by making their products and services available on the marketplace
This is because so many people are using the platform to search for products they want to buy or services they want to use and anyone going through the platform has a buying intent.
Both individual and brands can list their products on Facebook marketplace and get in touch with potential customers.
Benefits of selling on Facebook marketplace
Facebook Marketplace has a lot of potential for small businesses because millions of people are using the feature to browse through marketplace to look for products they want to buy.
1. Free listing
Free listing is one of the the biggest advantages of selling on Facebook marketplace. Unlike other online-store platform marketplace does not charge sellers additional fees to create a listing for their products.
It is low-cost and allows sellers to spend the money they earn from their sales to buys to buy additional products to sell.
So, if you have a small business, you can take advantage of the free-listing to showcase your product to potential customers.
2. Access to an ever-growing community
As, a seller on Facebook Marketplace, you have the opportunity to access a growing community of millions of people globally, who use marketplace to browse for products they want to buy.
Facebook Marketplace is structure in such a way that your listings are being shown to people in your area who are searching for items they want to buy.
3. Easy to use
Facebook marketplace is fast and simple to use.
As a seller using this feature, you can create new listing of your products, respond to your potential or current customers questions within seconds, update the availability of your product within second of selling an item.
4. Increase brand awareness
Listing your product on Facebook Marketplace helps to create awareness for your product.
This is because each month's millions of people are browsing and buying items from people and businesses on Facebook
As a business owner, marketplace allows you to showcase your products to millions of people thus, increasing awareness and sales.
To effectively create awareness for your product you must list it in the right category; so that its easy for buyers see your product when searching for products similar to yours.
5. Directly connect with potential customers
Businesses benefit greatly from the ability to respond to questions and inquiries from interested buyers and Facebook marketplace place offers this through messenger.
Messenger allows you to communicate with leads and potential buyers and convince them to buy your product before they lose interest or decide to buy from another seller.
Marketplace allows your prospect to send messages directly to you and you can respond in real-time.
The ability for sellers to connect and communicate potential clients is an effective way to establish trust, overcome objections and nurture potential customers to become paying customers.
6. Test new products
You can use Facebook marketplace to test new product ideas and see how it performance.
The list your product on Facebook marketplace is very easy to set-up and once you've list your product in the appropriate category it will be easier for your to get discovered by people who will be interested in what you offer.
Marketplace helps you create a online store, which will make it easier for you to promote your products.
Apart from using marketplace to test new product, you can use it to determine how people who are searching for your product will respond to discounts and increase in price.
How to sell on Facebook Marketplace
When you create a listing of your product and services on Facebook marketplace, you've created a public a public listing for your product that will be seen by anyone on or off Facebook.
This includes people on marketplace, Facebook search, Facebook Newsfeed, Facebook groups, search engines, and other places on-off Facebook.
You can also choose to post your listing (product) to any buy-sell group you are a member of.
There are Four (4) types of list on Facebook that you can choose from; which include:
The item for sale: When you choose these listing types, you can create a single listing for one or more items to sell and there are different categories you can choose from under this listing which includes:
Tools
Video and games
Furniture
Books
Film and music.
Household
Garden
Appliances
Video games
Books
Film and music
Bags and luggage
women's clothing and shoes
Men's clothing and shoes
Jewelries and accessories
Health and beauty product
Pet supplies
Baby and children products.
Toys and games
Electronics and computers
Mobile phones
Bicycles
Arts and crafts
Sport and outdoors
Car parts
Musical instrument
Antiques and collectible
Garage sale
Miscellaneous
2. Vehicle for sale: You can choose this listing if you want to sell a car or any other type of vehicle. This listing is for people in the automobile industry or for a person who wants to sell their car.
3. Property for sale and rent: This listing type is to list the property for sale or rent. It is mostly used by people in the real estate industry or anyone who has a property to sell
4. Job opening: You can this listing type to list a job on marketplace public job board.
Always ensure that your products are listed in the right category because placing your product in the right category can help you attract the right audience.
To list your product or services on Facebook Marketplace, you must ensure your listing complies with Facebook commerce policies.
When you list your product or services on Marketplace, people who click on your listing can view more information such as price, photos, and description of your product and interested buyers can connect with you over messenger for more information.
Also, you don't need a separate account to use Marketplace; you can access it through your personal Facebook account.
If you are you are using a desktop, you can access Marketplace at the left-hand side of your Newsfeed, and if using mobile you can access it at the top of your Newsfeed.
1.To create your first listing, click on the Marketplace icon.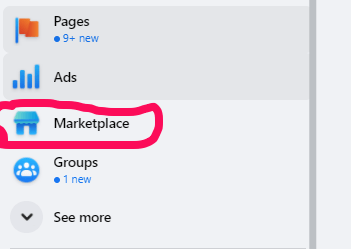 2. Click on create a new listing.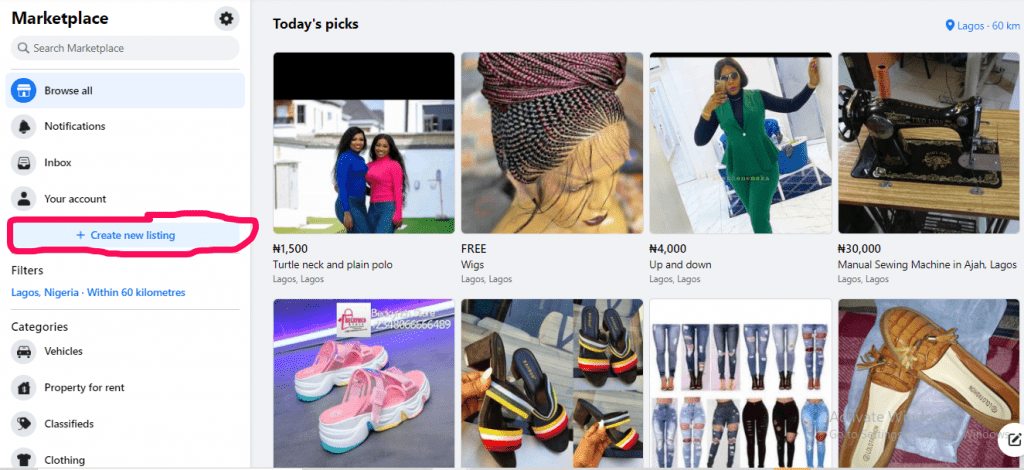 3. Choose a listing type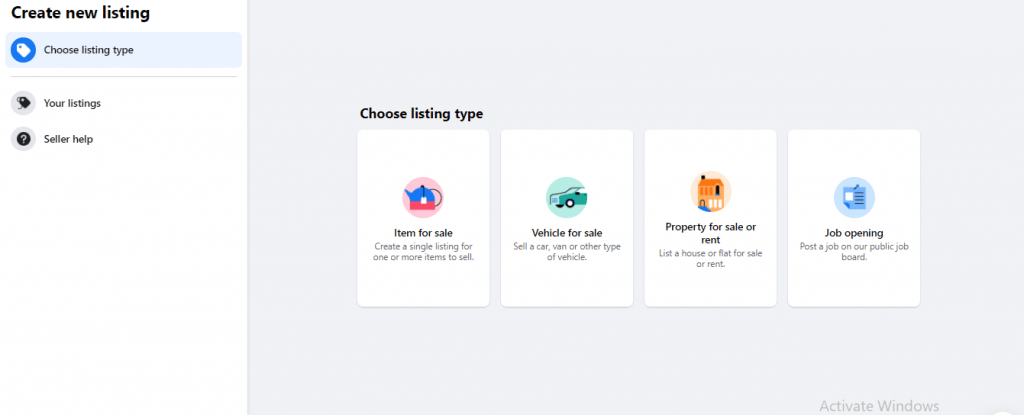 4. Once you chose your listing type, Facebook will ask you to provide information about your product.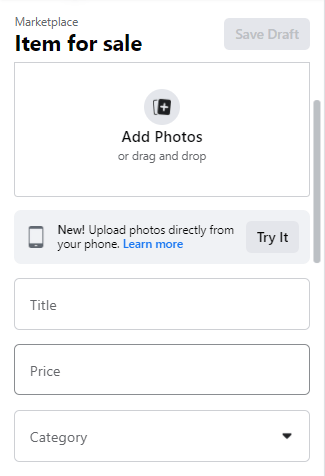 Here are the following information you need to provide about your product before you can list it on marketplace
Photos of your product.
Title (Name of your product).
Price.
Category of your product
Condition.
Description.
Availability.
Product tags- optional.
Sku- optional.
Location
Hide from friends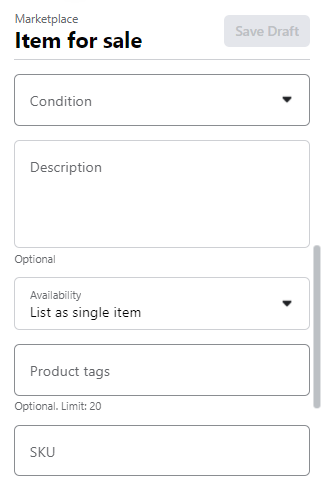 SKU refers to a stocking-keeping unit, which is used by retailers to identify and track its inventory or stock. It is a unique code consisting of letters and numbers that is used to identify characteristics of each product such as, manufacturer, brand, style, color, and size.
Companies or brands issue their own SKU codes which are specific to the goods and services they sell.
SKU is optional when filling out information about your product on Facebook.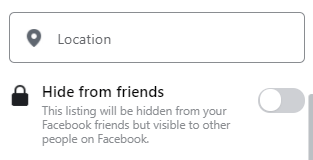 You also have the option to hide your listing from your friends on Facebook but be visible to other people.
But when you hide your listing from friends you can't cross-post your listing on Facebook groups.
Facebook automatically creates a profile for you on marketplace when you list your first item.
If you own a small business, you have nothing to lose with Facebook Marketplace. It's an effective, affordable platform that you can try out for several months. If you find that you aren't earning consistent sales, you can always move on to other platforms in the future.
How to use market place to grow your business
1.use your own photos
Always use the photos of the item you want to sell and avoid using photos of items that you don't own because most buyers can be recognized when a photo has been taken from another website.
To build trust with your potential buyers upload the original photo of the item or product you want to sell.
Avoid using blurry photos of your products, always ensure you use high quality photos of the product you are listing and show multiple angles of the product to help potential customers get a better ideal of the current condition of your product.
This is because the photo quality of your product is what will attract potential customers and influenced their buying decision.
You can also include photos of your product being used or photos from happy customers.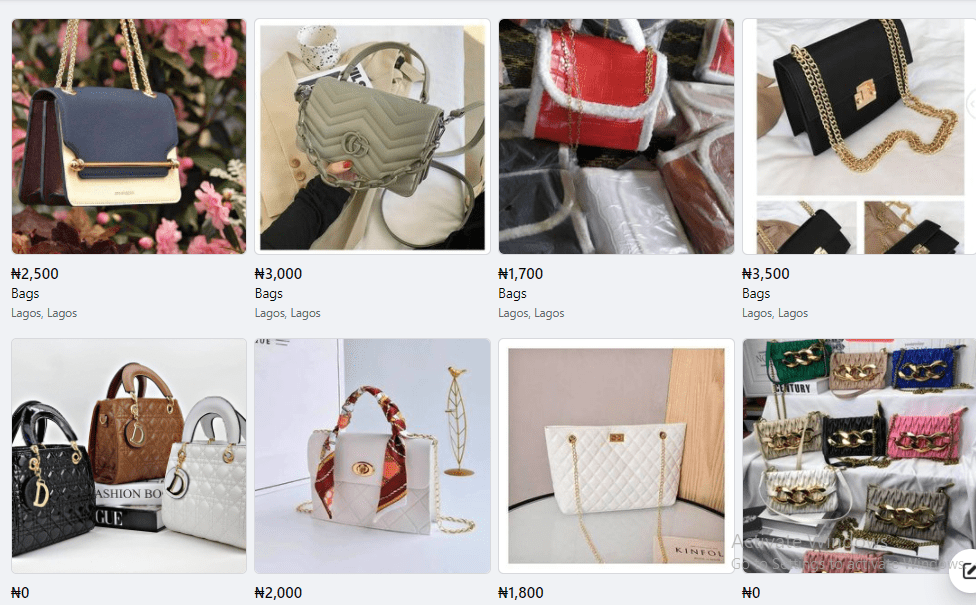 2. Be honest
For you to thrive as a seller on marketplace you must be transparent about the condition of your product. Don't hide anything from people who interested in buying your product.
Always ensure you are clear and specific when describing your product.
3.Set the right price for your product
Before listing your product on Facebook marketplace, It is important to search marketplace for the price of items similar to yours to compare.
This will give you an idea of how to price your products and it will prevent you from overpricing and underpricing your products.
Offering fair and competitive price will make it easier to sell your products on time.
For example; if you sell shoes and you want to create a listing of your shoes on Marketplace, you can do a research on Facebook marketplace, to see the price of shoes of other sellers on marketplace.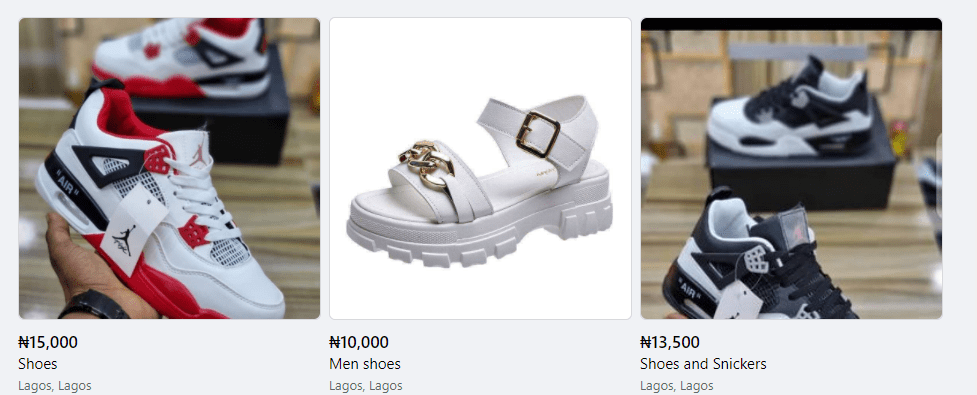 You might decide to set the price of your product a bit high, to give an avenue for your potential customers to bargain, when they begin to bargain, they will eventually arrive at the actual price of the product and they will feel satisfied that they've gotten the right price for the product.
Sometimes, your potential customer might end up buying the product without bargaining on the price and you can earn more money from the product sale.
4. Engage regularly in relevant buy and sell groups
To create awareness and visibility for your product, you can join and participate in relevant groups that are associated with the product you sell.
This will help you reach your ideal customers easily.
For example: if you sell fruit salad, you can join groups that are focused on healthy foods, or vegetables and fruits.
5. Prompt response
When you use Facebook Marketplace to sell your product. you create an avenue for potential customers to contact you directly through Facebook Messenger.
Facebook Messenger gives you the opportunity to chat with potential customers in real-time.
Therefore to be productive as a seller on this platform, you should respond to messages as soon as possible.
If you take a long time to respond when a potential customers contacts you, they will lose interest and turn to competitors who readily respond to their messages.
Always ensure that the information you provided (price, payment options, meeting location, delivery) when you listed your product is the same when responding to your customers.
What will distinguish you from other sellers on marketplace and get more customers, is prompt response to people who ask questions about products.
Responding to your customers on time should be your priority when selling on marketplace because there are other sellers who same the same product.
Conclusion
Facebook marketplace is a great platform to showcase your product because people who browse through marketplace are already in the buying mood.
With the invention of Facebook Marketplace, it means you can create an online store and get connected with potential customers within your community for free and with ease.
It allows both individual and businesses to list their products and offers a personalized peer-to-peer approach making it easy for customers to reach out.
As a business owner you can take advantage of Facebook marketplace to find new prospects and build relationship with them, test new products idea and price.
Using marketplace effectively can help you create a channel to generate more leads and sales.
For more practical steps on how to list your product on Facebook marketplace; register for our 90% digital marketing course and get all the strategies you need to grow your business online.
More articles to read
Driving online traffic: How to use Facebook to drive traffic online
Mistakes to avoid when using Facebook for your business
Facebook Ads: How Facebook Ads Delivery System Works
Small business: 4 Effective Facebook Ad Strategies For Small Business
4 Best Hacks To Get More Conversion From Facebook Advertisin
15 Advanced Facebook Advertising Techniques That Would Improve Your Marketing Strategy