Imagine you could have a monthly payout cheque of about $8,000 from Facebook, what this means that in about a year, you would have seen a payout cheque of $80,000+ plus a potential of making more if you do what I will show you in this post on core ways to make money on Facebook.
Right now your Facebook page might be an ordinary social media network for connecting to family and friends, and your dream is to work from home while earning up to $8,000 with a social network.
This is the catch with Facebook, there are known ways to earn money from Facebook by using the high audience on this social network. It could be the following:
Starting an affiliate marketing business and marketing to your page followers
Monetizing your page and making money from mini-importation or drop-shipping business
growing your page subscribers and advertising brand products and services to your list
etc
These strategies and many more are what we will be breaking down in understandable bits for you to make money on Facebook.
1. Become a Facebook influencer and monetize your worth
There are many reasons why Facebook influencer marketing is more profitable than other social media networks. Facebook's popularity and audience size are some of the reasons why brands will love to invest in you as a Facebook influencer.
With 50,000 followers on your page, brands will love to pay you to advertise their products or services to your followers. Now, growing your audience base would involve you using content marketing to drive engagement on your page.
For instance, if you want to grow your Facebook influencer business in the Food industry, you could post educational content about foods, and get your followers to get to engage with your posts.
Foodbeast is using this strategy to rake in thousands of followers on their page, and has seen a tremendous growth rate.
With a good number of page visitors, brands in the food and drinks industry will pay FoodBeast to advertise their products to their audience.
One of the skills you must arm yourself with is content marketing.
With content marketing, you get to learn how to post engaging posts, schedule posts, analyze reach and engagement, etc. In scheduling posts, one of the all-inclusive tools that you can use to schedule your posts on different social media, analyze the performance of these posts, etc is HootSuite.
2. Sell Products On Facebook
Just like the influencer marketing business, you can monetize your large audience by selling items to these audiences.
Let's say for instance you run a designer perfume store on Facebook, using content marketing you can grow the engagement on your page and your follower base, with a high number of these followers sticking to your page to get educational content regarding perfumery, they grow to build trust on your business and in turn, you sell to them.
Good thing is, Facebook has an inbuilt shop on its platform, making Facebook a top-tier eCommerce platform to aid small eCommerce businesses.
On this page, you can integrate a payment gateway, send your page visitors to your website, create categories of your products, and use a carousel image display format to display items, attach prices, and give discounts.
Click here to get started with the Facebook shop.
3. Sell Affiliate Products 
Just like selling services or end-user items to your page followers, with affiliate marketing you can make money on Facebook. You can grow your page follower base, nurture them with content marketing to take actions on your page, and engage with your posts. This is a good place to start your affiliate marketing business.
This is a simple funnel to take on for a successful Affiliate marketing on Facebook.
Create a Facebook page
Choose a niche according to the affiliate products you want to advertise. For instance, if you want to promote web design-affiliated tools like Elementor, you have to post content relating to domain registration, web design, WordPress, etc.
Use content marketing to engage your followers and make your page relevant to them and a go-to source for original content in your niche
Register on high-paying affiliate marketing programs
Post affiliated product content
Advertise your contents to your page followers to leverage their warmness, and advertise to non-followers on Facebook and nurture them to become a warm audience
To read more on affiliate marketing, click on this link, and have access to our detailed affiliate marketing guide.
As much as you can leverage organic traffic to make money on Facebook using your page follower base and affiliate marketing business, you can leverage paid advertising on Facebook.
Facebook advertising will give you the opportunity to shoot up your post reach to your followers who might not be online at a particular time, hence miss your posts.
With advertising on Facebook, you can target your page followers since there is an established loyalty to your page, they are a warm audience you can leverage on for more sales.
Click here to learn how to advertise on Facebook with the inside strategies we've listed.
4. Become A Facebook Account Managing Expert
As opposed to being a social media accounts manager, there is nothing wrong with specializing in one social media and doing the best of it. The simple fact that Facebook is housing more than 2.60 Billion people on earth makes it a top-tier social media network that brands want to use to achieve their business goals.
so if you can handle these corporate organization's Facebook accounts, you could be on the way to be the next Facebook account manager whose job is based on one social media network.
Specializing in Facebook alone would mean that you have to up your game in professionally handling accounts. You have to be proficient in newly rolled out features like Facebook shop, give expert advice on how brands can leverage on Facebook shop to get more sales conversion.
Some of the skills that can boost your profile and make you a top-level Facebook account manager
Expert in setting up and optimizing Facebook ads
Customer service skills
Content marketing
analytical skills
graphic designing
With these skills, you can earn money from Facebook as a Facebook account manager. Now, the challenge becomes, how do you land clients who would hire you for such services?
This being one of the many challenges in monetizing Facebook to make money on Facebook, we teach our students how to secure top-paying, international clients after taking our digital marketing course. Click here to learn more about our paid course
Here we have a 90-Days challenge that reveals the industry secrets on what to do every day for the next 90 days to achieve your goal.
5. Make Money On Facebook Using Facebook In-stream Ads
Facebook in-stream ads allow you to monetize your Facebook video content, allowing Facebook to place short ads in the form of pre-roll, mid-roll, and image ads in between your video contents, and in turn, you get paid for your video content.
In a few paragraphs, I will show you how to pick a niche and start earning money from Facebook, click here to learn more about Facebook in-stream ads.
For Facebook in-stream ads, the major factor here is using video content.
Before kicking off, you have to pick a niche that you would love to make videos in. The reason for this is to become authoritative in a niche and have loyal followers. who follow your page for relevant video content that will solve their need.
Once you establish this part of the step, then think of your video content and how it can make you relevant in your niche. For your video content to position you as a relevant source, your existing and future followers must be affected positively by your content. Your content must solve a problem for your viewers.
Encourage your viewers to comment and start a discussion on the comment session, this will boost the organic ranking of your video content.
6. Monetize Your Facebook Live Events
Monetizing your Facebook live events would mean generating a high number of viewers, and charging brands for product placements.
Top brands can pay you to have their backdrops on your Facebook live events, or sponsor your events because they want to use your event to create awareness for their brand or promote a new service or product.
Take for instance, during the IG live event hosted by versus, Apple music and Ciroc are proud sponsors of these events, using HipHop to create awareness for their brands, and each IG live session would witness more than 1 million views till the end of the event.
This is a great way to monetize social media and Facebook being the number one social media by users statistics has made it a perfect place to start such a business, especially when all brands have tons of loyal customers who are registered on Facebook.
7. Join A Facebook Group And Render Help
Some institutes in the business, marketing and consultation niche are looking for experts in these areas who can become part-time tutors to answer industry-related questions, assist their subscribed members, and render professional assistance in some closed groups, this is a way to sell your intellectual property and also grow in the field.
But how do you find such groups on Facebook?
Take your search outside Facebook and find institutes and training in this professional niche, write to them and ask if there are openings to become a part-time helper on their platform, if you get lucky, you would be trained according to their company policy, and you would be assigned days where you come on their closed groups to answer questions.
Most times, some of these institutes might not have any opening available for you, but you could pitch the idea to them and get them to sign a contract with you.
8. Make Money On Facebook By Starting A Closed Group
Starting a closed group on Facebook doesn't necessarily make you money, but what you do with your group is what eventually becomes a source for you to make money on Facebook.
While you might need to set up a website to sell a course, for instance, you can decide to make use of Facebook where your course subscribers are added on Facebook groups where you share study materials and hold Q&A sessions right in the closed group.
This is a strategy to start and sell a course with a low budget, especially when you do not have funds to set up a website and create a student portal for your members.
9. Find A Job 
Here, you don't directly make money from Facebook or using the Facebook app to earn money, but here, Facebook becomes a channel to get a job which in turn earns you a monthly paycheque.
Different brands on a Facebook post about their job openings on groups, as content on their page, or even using Facebook promote mode. A simple search on the Facebook search bar can give you information closely related to your search, what you do then is to filter manually, the ones that look like recent job openings.
Words to type on the search bar are:
We're hiring
Job opening
Vacancy for [Specific job name/term]
[Specific job name or term] to give you a precise result
Take a look at this image below and see the result.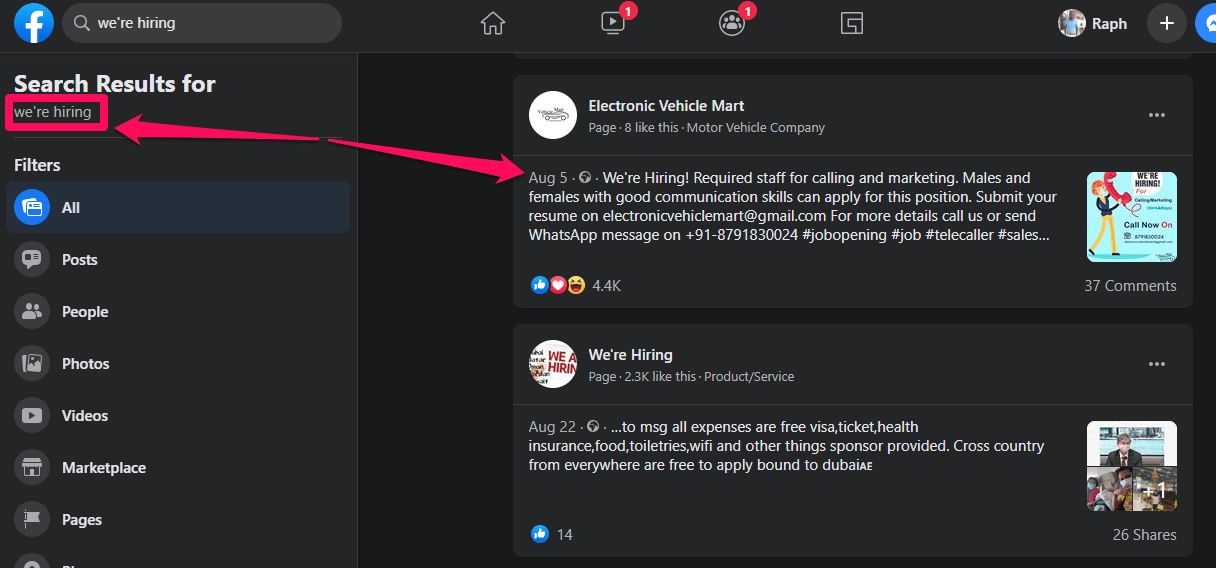 Conclusion
These strategies on how to make money on Facebook can earn you more than $100,000 as a full-time job, or as a passive source of income, what you make of it is how strategic you get with any of the skills you decide to use in earning money from Facebook.
Aside from Facebook, we have detailed other means to make money from blogging, as more companies are advertising on Google, you can earn from Google ads when you pay attention to the strategies we've listed in the blog post. Click here: How to Make Money from Blogging (The Complete Beginner Guide)
Additional Resources
Facebook For Business Marketing | 3 Actionable Tips For Growth
9 Amazing Digital Marketing Skills to Make Money Online [With Proof]
How to Make Money from Blogging (The Complete Beginner Guide)
6 Ways Nigerian Businesses Use Social Media To Grow Their Business
50 killer Facebook Post Ideas for Small Business Owners (Unbelievable!)