A few weeks ago, one of my students asked me… "What are the common SEO mistakes to avoid and how do I possibly fix them?"
Search Engine Optimization is a topic that drives serious question.
I am particularly interested in SEO because of the benefits it brings to your website and business generally.
We go as far as teaching SEO in-depth in our digital marketing course. You might want to check it out.
In the past,
I have faced different SEO mistakes from clients' websites while doing SEO audit for them.
These mistakes will be covered in details as you read on.
You will also learn how to avoid or fix them permanently on your website if you want to stand a chance to rank high on SERPs.
Let's get right straight into it.
Here are 7 Common SEO Mistakes and How to Fix Them
1. Not considering page speed
The first thing I want to discuss here is page speed.
The faster your site, the more Google will favour it.
There's a very useful tool from Google itself to check your site speed: Google PageSpeed Insights.
This tool gives you an overview of what aspects need repair to boost the speed of a particular web page.
As an SEO expert, one of the recommended fixes for slow websites is Image compression.
Compressing images before uploading on your website can increase your load time tremendously.
Although,
Many people have failed when it comes to compressing images on their website.
Based on experience, I have noticed a vast number of website have image size problem after testing their website.
It's quite difficult to get hundred percent score if your website already has high-end photographs.
Here is a snipe from GTMetrix:

To correct this, I use a plugin called Smush Image Compression and Optimization.
This plugin can be installed on your WordPress website.
Smush Image Compression and Optimization or WP Smush meticulously scans every image you upload – or have already added to your site – cuts all the unnecessary data and scales it for you before adding it in your web content.
Another factor that affects your website page speed is not using a caching plugin.
This is another common SEO mistake people do.
Ignorantly they forget to install a caching plugin on their website.
What is a caching plugin?
Caching plugins work is by saving the dynamically generated HTML files and serving them from the cache (i.e. reusing previously generated data) whenever a request is made, rather than loading all of the PHP scripts from WordPress every time you hit refresh.
Here are two recommended caching plugins – WP Super Cache or W3 Total Cache.
With just simple settings, you can configure either of this plugins to start caching your website content right away.
I will stop here.
Although, there are other things you can do to optimise and speed up your website. You just have to check out this post to find out more website speed optimisation tips.
2. Optimising your content for the wrong keyword
No doubt, keyword research is one of the most integral parts of digital marketing.
That's why we have included it in our digital marketing module.
Click here to check out our digital marketing course outline.
To get a chance to rank on Google or other search engines, you really have to understand how to choose the right keywords for your web contents.
I have previously covered how to do keyword research using Google keyword planner, but what I'm yet to comprehensively discussed how choosing the wrong keyword affects your SEO strategy.
As an SEO expert, one of the problem businesses today face is trying to rank for generic keywords. These are keywords I call short tail keywords!
For example;
A startup company trying to optimise their new website for "website design company" is obviously not on the right track. This is
This is because that keyword is highly competitive and as a startup company who want to rank for website design in Nigeria.
Looking at the example above…
I recommend that such company starts with what I call a long tail keyword. These are keywords that are not so competitive, low search volume but are more targetted and have a high probability of conversion.
As a matter of fact:
They might want to start optimising their website for "Website design company in Lagos" instead of "Website design company".
3. Ignoring Metadata
Quite a number of website owner ignore metadata information on their website.
SEO metadata is what appears on search engine result pages (SERP) when a website comes up for certain queries. It includes the title of the page and its meta description (descriptive text below the title).
Here is a sample:
No doubt that title and meta description plays a huge role in Search Engine Optimization.
Title tags are the most important of all of the meta tags. These tags have a real impact on search rankings and, perhaps just as importantly, are the only one of the tags we'll discuss here that are visible to the average user.
For the Meta description, It is a quite a useful meta tag as, very simply. It explains to search engines and (sometimes) searchers themselves what your page is about. Let's say you were googling the phrase "Make money online in Nigeria" for example. You might encounter the following results: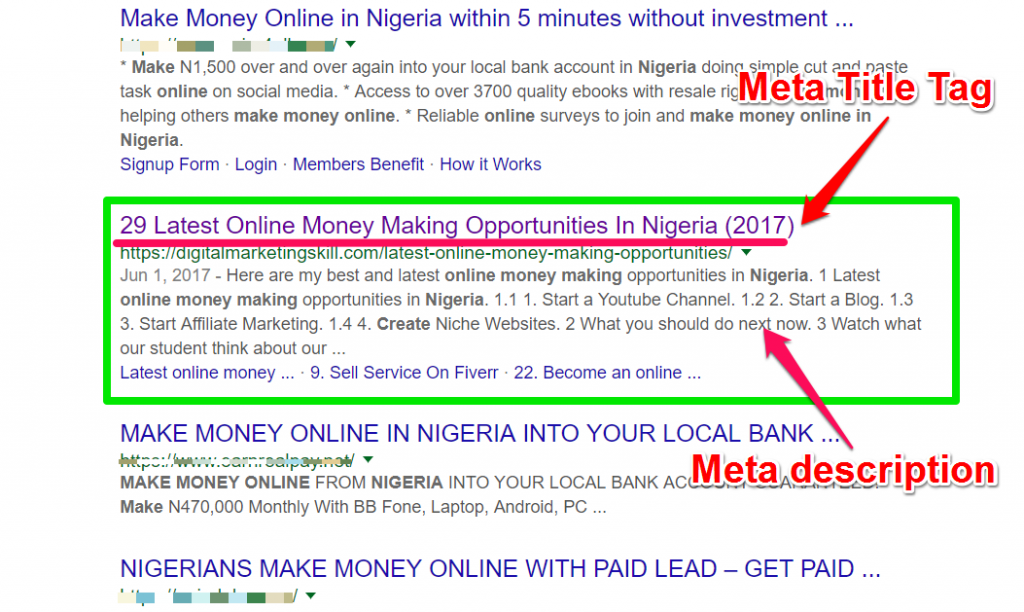 How do you fix this?
Take note of the following pointers below:
The Title Tag alone can impact your search engine rankings.
Descriptive tags may encourage users to visit your site.
The meta description may serve as "organic ad text."
So you have to make sure it's optimized correctly for every page.
This means adding the relevant keyword to each particular page and making sure that your page title isn't too long. If your page title is too long (currently 400 to 600 pixels), it will get cut off in Google. You don't want potential visitors to be unable to read the full title in the SERPs.
The meta description is not a ranking factor, but it does play an important part in optimizing your Click Through Rate (CTR).
CTR gives some insight into how likely potential visitors are to actually click on your site in the SERPs. If you optimize your meta descriptions with clear and attractive extracts on what potential visitors can find on your site, it becomes easier for them to see if the information they're looking for is on that page.
4. Persistently publishing poor quality content
Another prevalent SEO failure is not publishing high-quality content.
There's a popular saying on the internet about "content being king".
This saying is even truer than what many website publishers do today.
The internet is flooded with a lot of mediocre content.
There is a lot written about writing high-quality content on your website but blogs and website owners have consistently published poorly written articles.
It is very important to write long website content or rather, publish one with a decent amount of words.
As difficult as it is to write on your product page, Yoast recommends that you have a minimum of 300 words in them.
Although,
If you truly want to rank your posts, then it's recommended that you stick to writing long-form content.
Blog posts that are around 1,500 to 2,000 words are typically considered "long-form."
However, those numbers are slowly increasing with 3,000 to 10,000 words becoming the new standard.
Today, when you ask Google a question, it will return what it believes is the highest quality post that answers your question, and in almost every case, it's long-form content, over 2,000 words.
In conclusion, focus on writing quality long-form content and make sure they are original.
5. Website not mobile responsive
Mobile Internet access has long surpassed that of desktop computing.
It is believed that by 2020, there will be more than 6.1 billion smartphone users. As a result, it's safe to assume that a large portion of your website traffic is going to be from many of those devices.
However, it's not enough to simply choose a responsive design and cross your fingers.
Since Google has announced that next year they will switch to mobile indexing first, you should be busy preparing your site for this change. 'Mobile indexing first' means that Google will look at the mobile version of your site to decide how high you should rank.
So if the desktop version of your site is set up brilliantly, but your mobile site isn't responsive at all, you have a lot of work to do if you don't want to suffer a rank drop over next year.
Everything from image optimization to text fonts and layouts needs to be addressed.
A great way to test mobile friendliness is to use Google Mobile-Friendly Test Tool.

Testing on various screen resolutions may also be necessary to determine if the site looks good across the board. Otherwise, you may have a horrible mobile layout on certain screen sizes without knowing.
6. Assuming any link is a good backlink
A common SEO practice by many in the past was to create guest posts on blogs or other websites while linking back to their own.
Now,
This process is still necessary for creating recognition of your site.
However,
It needs to be done in a different way.
Since 2012, search engines have been putting more emphasis on relevant linking. An example of a bad one would be to link a cat toy eCommerce site to a boating supply shop.
These two are not relevant and may score poorly in search results.
If you want to create a strong network of backlinks, you need to be careful where you post your content. Create guest posts on blogs, but make sure they are relevant to your site's specific niche or industry.
Studies show that link authority plays a strong part in higher rankings within search results.
This means links from websites that have a high rank according to Ahrefs Domain Rating can greatly impact the appearance of your site in search results.
Before applying to write a guest post. Make sure you have done competition research of possible websites that have better domain authority than yours.
You can use MOZ.com to check to domain and page rank of websites in your niche
Use SEMRUSH.com to analyse competitors in your niche.
7. Stuffing keywords into your content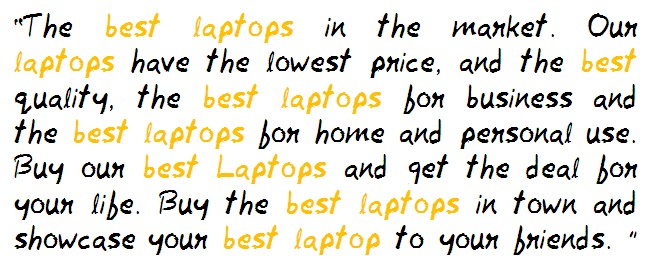 Keyword stuffing was quite a common practice at the turn of the century.
According to Google,
"Keyword stuffing" refers to the practice of loading a webpage with keywords or numbers in an attempt to manipulate a site's ranking in Google search results. Often these keywords appear in a list or group, or out of context (not as natural prose).
Many people discovered that using the same word over and over again would help rank a site higher in search results.
Unfortunately, this also created terrible and difficult-to-read content.
Although,
This practice has been widely abolished, it's still something that happens more often than it should. There are still developers who stuff as many keywords as possible into a small amount of text. As a result, the pages do not perform well during a search.
There are still developers who stuff as many keywords as possible into a small amount of text. As a result, the pages do not perform well during a search.
Experts believe that an ideal ratio for keyword-to-content should be approximately 2.5 percent. This means you want to use the same keyword once for every 50 words at the most. Otherwise, you'll run the risk of a penalty from search engines such as Google.
This means you want to use the same keyword once for every 50 words at the most. Otherwise, you'll run the risk of a penalty from search engines such as Google.
As an SEO expert, let me give a quick tip I proffer to students who registered for our digital marketing training.
You can click here to see our digital marketing training course guide.
What I normally suggest is to:
Use LSI keywords instead of abusing keywords in your content.
So what are LSI keywords?
LSI stands for Latent Semantic Indexing. It might sound complicated at first reading, but it's not really.
LSI keywords are words or phrases that are semantically related to each other. They are not limited to synonyms or keywords with similar meanings.
To generate LSI keywords, you can use:
Google Autosuggest feature
Google related search option
There are more tips about using LSI in content, and I think you should have look at it.
And there you go…
Those are some of the most common SEO mistakes content curators make when trying to rank their websites.
If you don't want to fall a victim of search engine optimisation mistakes, you should carefully follow each step mentioned right above.
Are there other mistakes you've noticed that wasn't mentioned in this article?
You can let us know right away. Thanks for reading.
Before you leave, why not check out: