Are you thinking about marketing your business online on Instagram? Do you lack the right Instagram post ideas to grow engagement?
Are you looking for perfect Instagram post ideas to increase engagements and grow your business?
Clearly, Instagram is an up-and-coming photo-focused social platform never to be ignored. So what can your brand do with this photo-focused app?
There are lots of great benefits if you start implementing Instagram marketing strategies in your business and this post would just lay more emphasis on a subpart of how to grow your engagement via Instagram.
Sharing posts sometimes can be a brainy task, it requires lots of creatives to share content that appeals your audience on Instagram. getting Instagram post ideas is quite difficult when you realise you can only share videos and photos.
The second most popular social network after Facebook has about 400 million users in their network already, and that figure should increase in the near future. This is 139 facts and stats (Infographics) about Instagram that shook the mobile photography world.
Instagram stands as a social media platform that should not be ignored. Meanwhile, celebrities and other public figures have leverage on the use of this tool to grow their community, grow their popularity and expand their reach.. why shouldn't you?
In my post, I'll share with you amazing Instagram post ideas you should implement in your Instagram content sharing strategy today, these tips are a compiled list of my favourite posts ideas for Instagram, I will further be insightful by adding relevant Instagram post links and screenshots of top brands around the world.
Instagram Post Ideas For Business Marketing
1. Product photos
Though the product photo sharing seem fairly obvious to be added to my list of Instagram post ideas, but successful marketing campaigns on Instagram is easier said than done. You don't only need high-quality product photos, you also need to make sure your pictures are seen, liked and engaging. This means using attractive, compelling, and on-brand filters and getting more creative than placing product against a blank background.
If you own a business Instagram account, I am sure you must have been sharing your product images. You just have to try and think about creative ways to share your products pictures on Instagram.
These chickens from Chicken Republic are enticing. If they were closer I'd have been straight down to buy some.
Funky Crayon Lady also has a great visual product. Her shaped crayons are very clever but it may not always be obvious what they do. In this post, she clearly demonstrates it with just a few squiggles.
You can consider following the footsteps of brands such as Adidas, Zara, or REI, these brands don't joke with user-submitted images and the product in use (just ensure you have the right standards, terms & conditions, and agreements in place).
The photo you're intending to share on Instagram can be surrounded with other items (let say, place sunglasses next to a magazine and ice tea). These sorts of photos fit in well in Instagram and demonstrate your image's one of a kind style.
https://www.instagram.com/p/BBP3ZBtynU5/
2. Staff Showcase
If you're proud of your team, do let your audience know that. Share pictures of your team with your Instagram followers to show them the brains behind the scene, also, doing that build a strong relationship and engagement with your audience.
Use photos and videos from company's conferences, training, parties and more when and where appropriate, though, don't overwhelm them by sharing them excessively.
For pictures and videos that are fixing to a particular time, you can do throwback posts when the anniversary of an occasion or gathering rolls around. In a situation where an event is coming up, you can share pictures or videos signalling your interest of being present this year or how you and your team is anticipating it.
A video posted by @Godigitalmktg shows Tim and his team (Account managers) taking a jog with a core focus on the national running day (#nationalrunningday).
Isn't this creative?
Another fantastic way to reassure customers about your brand is to share behind-the-scene pictures and videos.
A post from the Royal Academy of Arts shows the preparation ready for an exhibition launch. It builds buzz and shows snippets of what to expect.
Also, another post from @d.photoshot shows a behind the scene photography.
4. Quotes
Share inspiring quotes that relate well to your business and brand, make sure your these quotes go a long way in making sure your followers to comment, like or tag other friends.
Did you know that good quality quotes that relate to your business always make good content?
Pinterest is surely my favourite place for getting high-quality quote images for inspiration, I find Pinterest to be a great source of quality pictures and quotes. With a simple search, I get lots of suggestions and ideas. Don't be tempted to steal images from Pinterest though. Pay credits to the original owner by making a simple note of the quote, who said it and add it to your own images. Remember to add your own branding too.
# Scribbling quotes: We Teach Social created a scribbled quotes on Instagram, the quote was scribbled on an envelope and iWatermark was used to embed the branding.
# Quotes on products: This quote-post by @Jumiaid got a few more engagement than the one one down below it.
Why? This is because it's more appealing to see a quote right on a product they love and trust, with the message on it, "enjoy the little things".
Quotes with brand colour: This another example from Curious Wines also relies on their brand colours rather than their logo. It's a good relevant quote about wine that put a smile on my face.
Tools like WordSwag and Canva make it easy to add text to images downloaded on Pinterest.
5. Tips
According to oxford dictionary, Tip is defined as "a small but useful piece of practical advice".  There's something really different about sharing a little piece of information compared to having a long post of same information.
With tips, you can get to pass small nuggets of advice to your audience and see them pass it on to another, and so it keeps spreading.
Kerrygold just recently ran a competition to gather tips from their followers. People shared their #nuggetsofgold and Kerrygold created Instagram images from them. Here's one that I find particularly useful.
@Incrediblesdiy shows how relevant sharing simple DIY tips can be through the 5 minutes craft video shared below. Oh, I didn't mention video earlier, since you know how "photo and video friendly" Instagram is, under no circumstances must your restrict your tip-sharing to only photos.
https://www.instagram.com/p/BP27i8bljv_/
Another example is @newhorizonscreditunion money saving tips for 2017. See below;
If you want to create these more complex graphics for Instagram try Canva. it comes with lots of amazing templates for you to select from. It makes your photos appealing and visually creative. You can now use Canva from the iPad app as well as the web which makes It easy to create images that you can then easily share via mobile.
6. Questions
You can utilise the power of questions to discover more about your clients and target market. They will also help you build a more interactive audience. They spark discussions with individuals who will remember you for it.
Straightforward questions that are not too difficult to answer work best. Bear in mind that people spend most of the time on Instagram with their mobile device, so having a question requiring long answers isn't ideal.
This example from @EduncleIndia works well for getting those quick responses.
7. Question & Answer (Q/A)
This one is different from the tips shared above but it's quite similar. In this section, you engage your followers in a segment where they direct questions to you while you answer them, keep in mind that these questions must be in line with what your community is about. This is always good for people looking to grow a strong community of people relating intimately.
This is an example of a Q/A, here, @brittneyrosette told her page followers to feel free and ask her anything they would like.
https://www.instagram.com/p/BP7BeASlJ9U/
8. Reviews
If you run a type of business that gets plenty reviews on products or services you own on Facebook or you sell your products via Amazon, Yelp or Trip advisor share screen caps of them. This will help you build customer reassurance.
This one from @StapleFoods grabbed from the Lovin Dublin blog got great interaction with their followers.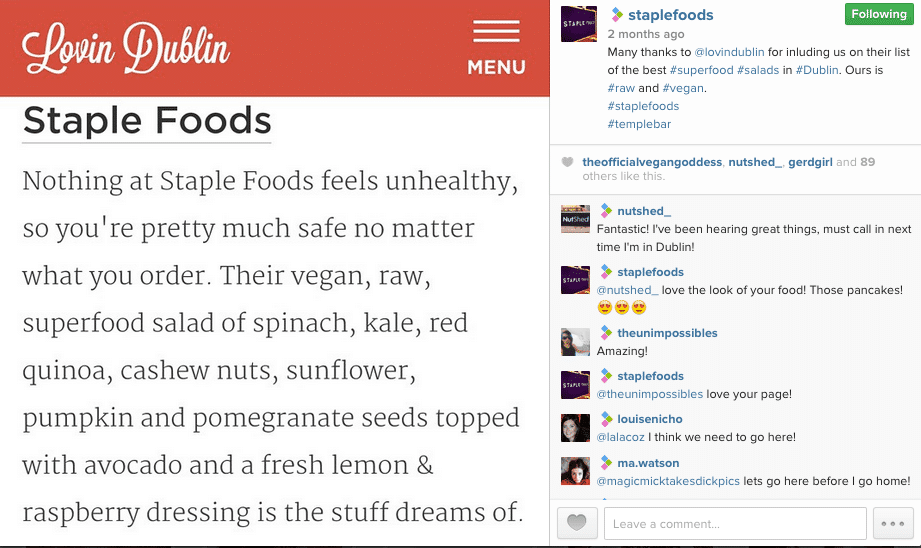 Another sample is this; @sankyyy shared a photo of a user review of his book.
https://www.instagram.com/p/BP7TbG1lrP1/
9. Regram
If you can't come up with amazing contents, maybe your target market or customers do. Search for Instagram posts that suit your business. They may be people using your product, involved in activities related to your business or people in the local area.
@DeesWholefoods do this really well. Their account is crammed with customer photos of their vegan foods.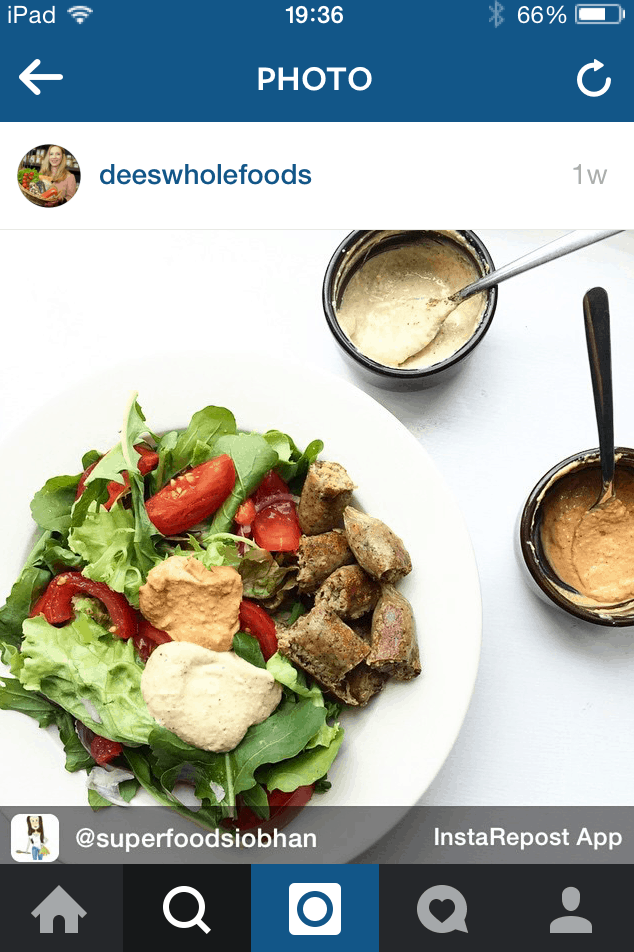 As for @VisitDublin, they encourage people to share photos with the tag #lovedublin and they regram their favourites. This gives followers a varied perspective of Dublin and what it brings to the table.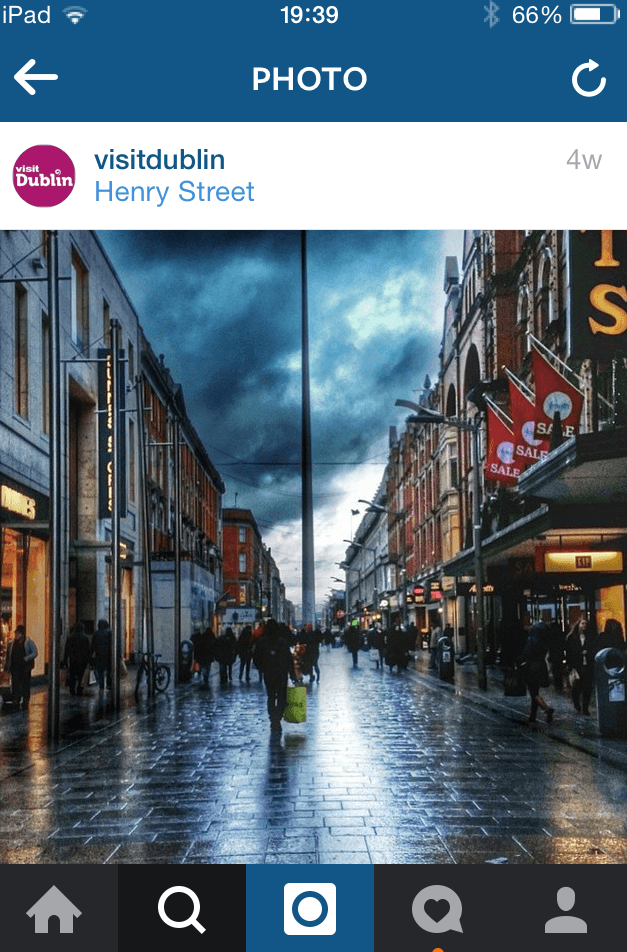 To wrap it up:
These are barely the surface of Instagram post ideas you can implement in your marketing strategy, if you're the creative type, you would most likely come up with more creative and engaging content ideas for your Instagram community.
If you have a really creative or interesting Instagram post and want to get more exposure tag it with #DigitalMarketingSkillInstitute and we will gladly regram our favourites.
Related articles: