Bounce rate is an essential metric while assessing the effectiveness of a website, and not knowing how to reduce bounce rate can affect SEO, conversion rate and sales.
The fact is:
Nowadays many bloggers and websites are getting high bounce rates on their blog which is really a headache for them.
Due to high bounce rate, they aren't able to generate sales.
Since this is a concern for many website owners today, our digital marketing training is just the answer to your digital marketing problems.
Click here to check out the course outline and how to leverage this advanced digital marketing certification course to grow your business.
Did you even know that bounce rate is an important SEO user signal Google uses to rank a website?
Among other user signals such as CTR (Click Through Rate), time spent on site and exit rate, bounce rate defines how many people love your content/website and have spent time digesting your content.
You may want other metrics to increase such as conversion rate, time spent on website, but you would need to reduce bounce rate of your website if you want to get a chance to improve time spent on your website, as well as increase your chances of converting.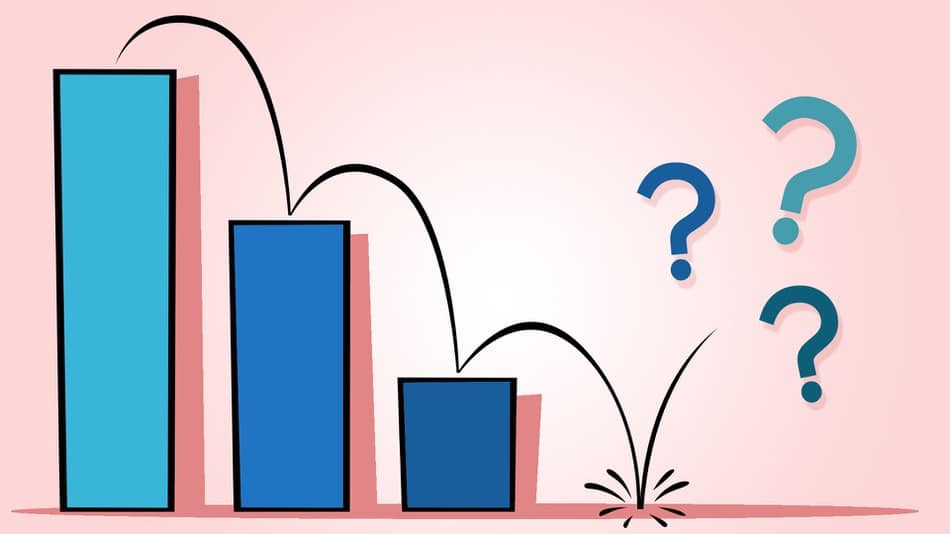 So:
What is Bounce Rate?
Bounce rate is the percentage of visitors to a particular website who navigate away from the site immediately after viewing only one page. A rising bounce rate is a negative sign that your homepage or website content is boring or uninteresting.
In essence, we use bounce rate to know the number people (in percentage) who enters and exits on the same page, without any clicks to other pages on your site.
High bounce rate means that your website is not interesting or of less value to users. This is one of the metrics you want to pay attention to on your website.
When performed correctly, your website will have a better chance of converting leads or prospective customers.
Before I delve deeper into this topic, there is need to talk about your Website goal.
Website Goals and Relationship with Bounce Rate
Is reduced or increase bounce rate really a good thing for your site?
Before I answer that question, you have to understand that bounce rate affects different elements of your website based on your webpages' goals.
I have noticed some websites where the top goal is not to have visitors browse endlessly through a bucket of content, but rather to take a call to action. Calls to action that could lead a visitor off your website include:
Calling your phone number to speak to inquire about products or services.
Leading customers to product sales page on your site or another domain.
Clicking on ad banners that pay per click or lead to affiliate product marketing sites.
Filling out a lead form that does not take the visitor to another page on your website for confirmation.
Typically, if you have any goals that only require people to visit one page on your website, then you may not have to worry about bounce rate unless you are having far fewer goal completions compared to the number of people leaving your website after viewing a single page.
With that said, here are the quick benefits of reducing bounce rate on your website.
Benefits of Reducing Bounce Rate on Your Website.
Here are what you will get when you implement the tips you are about to read below:
Increases time spent on website
Increases conversion rate
Improves site credibility
SEO (Important user signal for search engines)
Bounce rate helps your website in all the following ways mentioned above. But most importantly SEO.
In this definitive guide on SEO, you will agree with me that optimising your content to make people stay a bit longer can help you rank high on Google.
So what are user signals?
User signals are behavioural patterns of users which Google uses to establish the rankings of your website in the search results.
For instance:
Users click on a result in the search engines and after that, they immediately bounce back to Google. This is a signal that the website does not fit the search query of the user. Google uses this type of information to evaluate what results are beneficial to show to people searching with a specific search query/keyword.
If your website has a high bounce rate, people won't spend time on your website which can translate to a drop in traffic or perhaps, drop in sales.
So, I've listed 13 verified methods which would help you on how to reduce bounce rate of your website:
13 best ways to reduce bounce rate of your website
1. Add links to more pages within your website in your content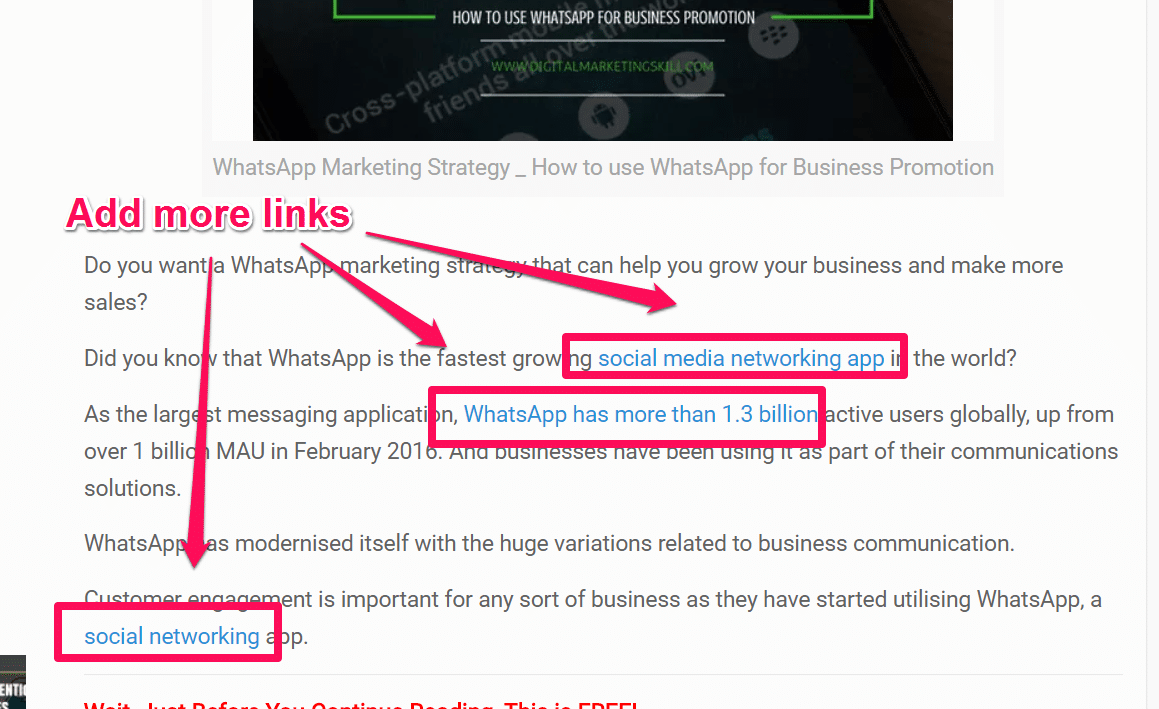 Think about other pages that people interested in that piece of content will want to see, and link to them throughout the content and at the end in a "if you liked this, you'll love this" kind of way.
Also, try to use actionable words when linking the pages of your website. E.g "Click here to signup for our course", "Read more about SEO", "Get more insight NOW" etc!
2. Go beyond just product pages
Someone may not be ready to purchase a product, but they might just want to learn more about it.
Instead of just having the sales copy, include some links such as a product manual, guides on how to use the product to achieve a specific result, what other customers have said about the product or other similar ideas.
Maybe it will keep the visitor on the site long enough to make the sale.
If your design includes a sidebar that remains throughout your website, then include links on that sidebar that everyone would enjoy.
For example:
A new visitor could end up on any page on your website without knowing anything about you, so you could have an About Me / About My Company page linked to the sidebar.
You could also have a "first time guide" to visiting your site, top content, most popular products, and so on, all of which would attract visitors deeper into your website.
4. Improve your content
One of the most important signal when you notice high bounce rate is your content.
If you notice the issue on some of your content isn't just a high bounce rate but also a low average time on site (meaning people leave pretty quickly), then it might be an issue with your content not providing what the visitor wants.
Be sure to review pages on your website with a high bounce rate and low average time on site.
And also look at ways you could provide more information that would keep visitors on the page (like video) long enough to notice that there is more to your website without just immediately leaving.
5. Make Sure Your Site has a "Related Posts" Section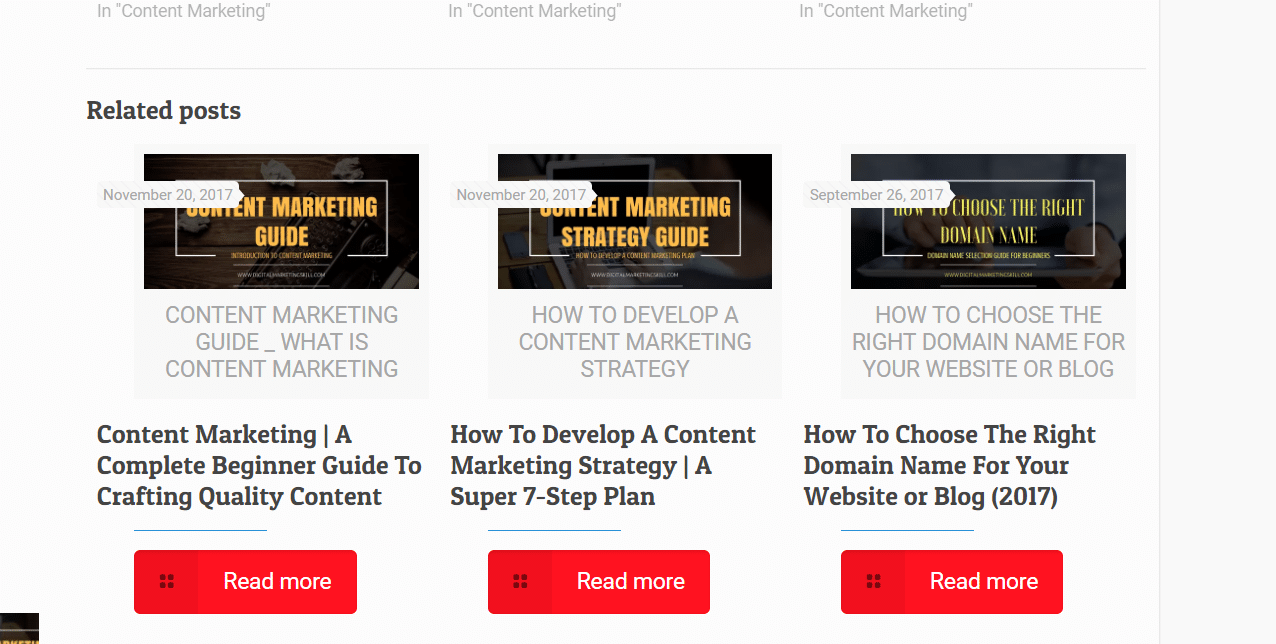 This is one part many website owners ignore. The related post section delivers more articles right below an article.
Now, imagine that you just read about "bounce rate" on this website, and you find an article that talks about "how to reduce email bounce rate", wouldn't you desire to click that also?
Well, you can also leverage the related posts feature for your website to allows readers stay a bit longer digesting more articles on your website.
If you are using a WordPress website, there are nice templates that allow you to insert related posts section automatically. However, you can also use Jetpack plugin to embed a related post after an article.
If you are a blogger, then you might want to structure your primary or main MENU well.
The menu allows website visitors to easily navigate through your blog content.
For example:
A technology blog can structure a menu this way: (Home – Computers – Internet – Mobile – Gaming – Video – CD/DVD)
This way, you can get them to discover hidden or more useful articles on your website they might not have seen before.
This strategy also works for business websites, if you are creating menus for such websites, ensure that all the various services that you offer appear on your service blog probably as a complex or mega menu item.
7. Search bar is important

About 30% of e-commerce site visitors will use the search bar, so search term data provides valuable insight into what your users are interested in.
Internal search queries provide insight into how users are searching for your existing content, but they also show you what content they expect or hope to find on your site. This strategy can also help to reduce bounce rate on your website.
This feature helps customers find what they aren't seeing in your home, landing page, blog etc.
With that said, you should consider using a template that supports a search bar on your website. This will increase the chances of potential buyers finding what they are looking for.
To continue attracting the right visitors to your site, you can also use internal search query data to optimise landing pages and give your conversion rate a boost.
8. Link less often to external websites
There are really cool benefits of building outbound links, especially the SEO benefits which can't be contended.
Perhaps:
Another reason people could leave your website is if you link out too much on your site, it is not advisable.
If you notice a certain page on your website is getting too may bounce, another smart thing you can do is…
Analyse the entire links on that page, there could be too many links sending users to external websites from your website pages.
So, instead of linking to others' websites, follow the first strategy I mentioned on this list.
9. Links to other websites open in a new tab (window)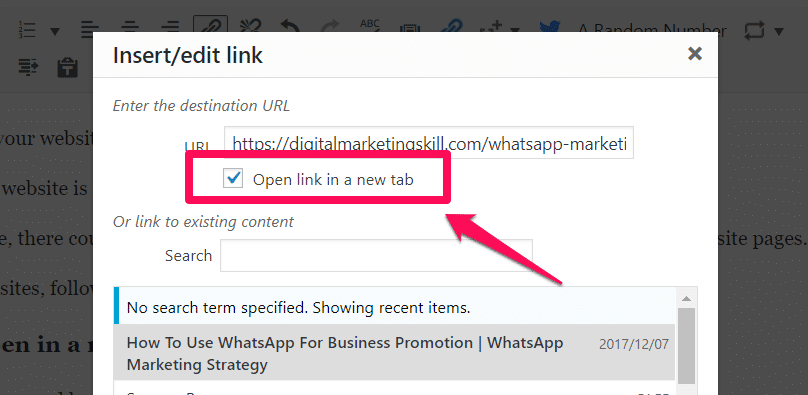 Another reason your website has increased bounce rate is, your links are most likely loading on the already opened page.
Before now, I spotted that you should link less often to other people's websites, however, if there is any reason to link then ensure that each link is opened in a new tab.
If you don't set you link to "open in a new tab", then you might be at risk of having an external link open on an already opened page.
10. Readability must be considered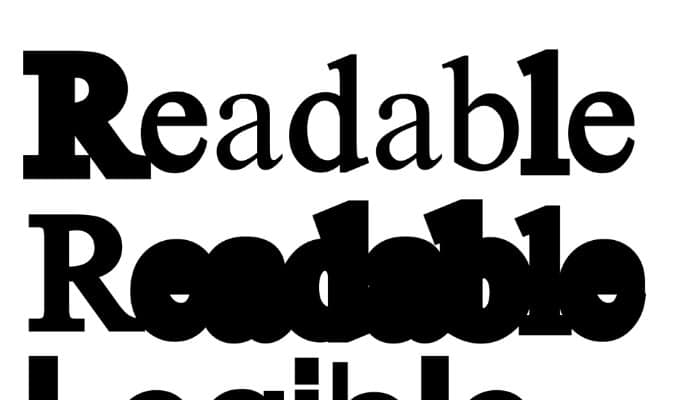 Before publishing a content on your website, make sure it's easy to read with enough white space (no big blocks of content).
If you notice how this blog's content is structured, then you should understand why we do that.
We write really long articles and chocking up chunk of texts might not be a good idea for readability. Try not to make sentences that are too long.
Perhaps, you should learn to also utilise transitions words while writing your content.
Also, If you want to write an article which is nice and easy to read, you should try to avoid passive voice.
In sentences with passive voice, it remains unclear who or what is acting. This results in very distant writing. Texts using a lot of passive voice tend to be hard and unattractive to read. Avoid using (as much as you can) the passive voice altogether. You can read more about passive voice here.
11. Trim down ads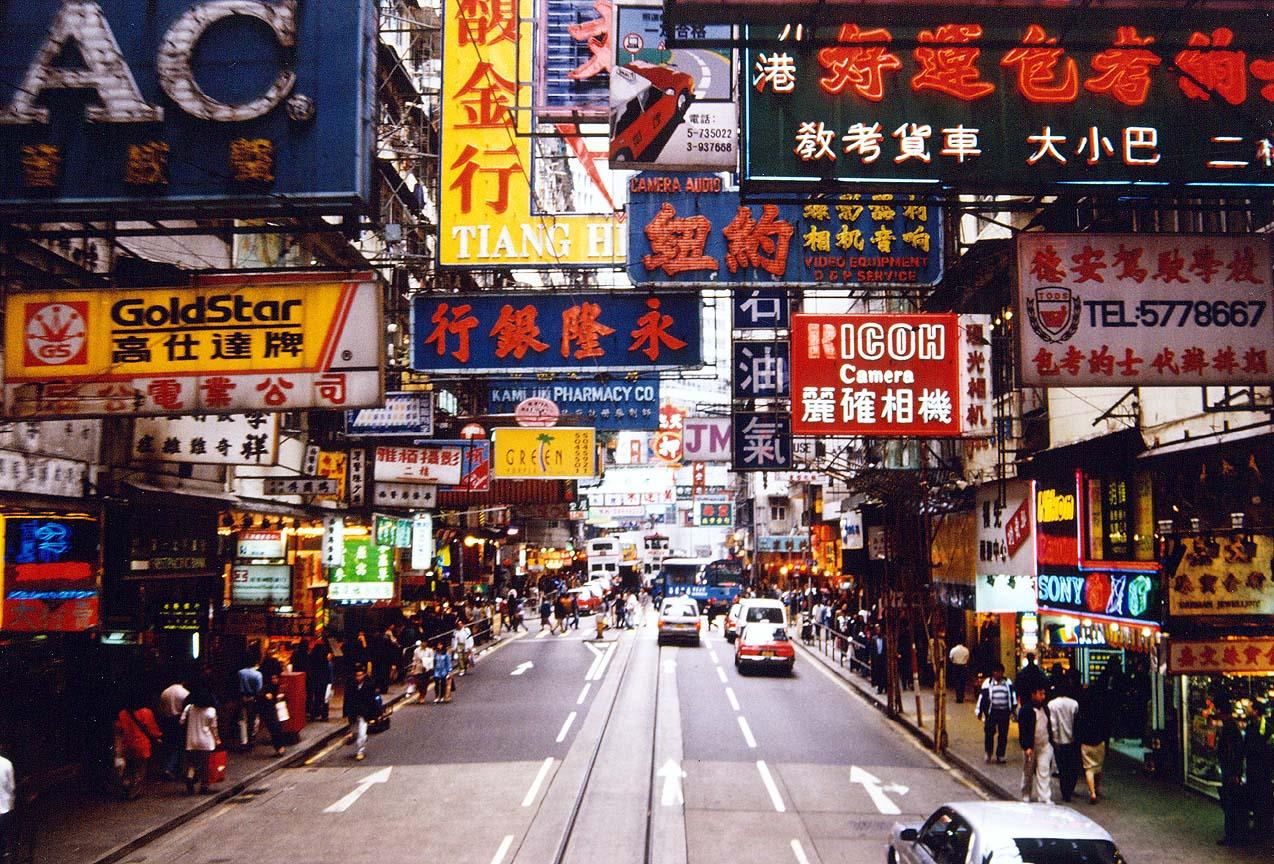 Many online businesses monetise their websites by selling ads.
In fact, most of the largest online publishers incorporate ads into their websites. It's a practice that's been around since 1994.
I understand that displaying ads is one of the most effective ways to make money blogging.
Sadly, doing too much of ad placements can ruin the user experience of your website.
Too many ads cant hurt your website and as such, can increase bounce rate on your website.
Advisable ad placement should follow this format: (Only one below the first few paragraphs and one at the end of the content and both are horizontal responsive text ads, so not big at all).
12. Website is mobile responsive
Another reason you could be suffering from high bounce rate on your website is not having a mobile responsive site.
Designing your websites to be mobile friendly is important to ensure that your pages perform well on all devices.
Google has said mobile responsiveness is not an option anymore, in fact, if you are still using a theme from years back, then I think you should look at getting a template that's mobile responsive.
A theme that can adapt to any screen resolution or size without distortion.
You can use Google Mobile-Friendly Test Tool to check if your website is actually mobile responsive.
13. Make sure your website loads fast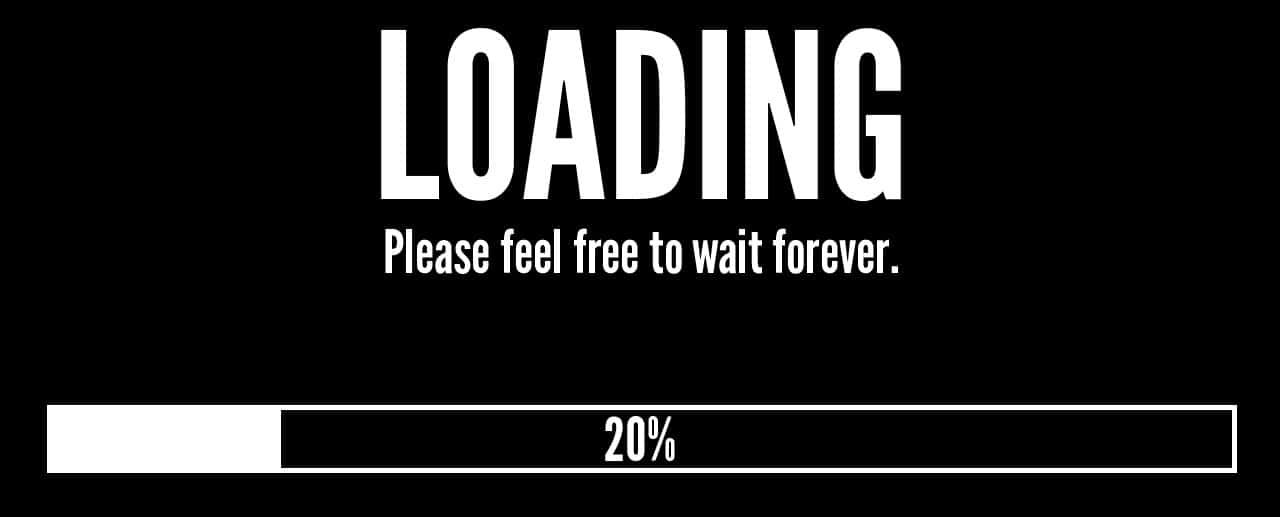 Website or page speed is not to be left out!
Having a fast website is one of SEO best practices. Google has indicated site speed (and as a result, page speed) is one of the signals used by its algorithm to rank pages.
In addition, a slow page speed means that search engines can crawl fewer pages using their allocated crawl budget, and this could negatively affect your indexation.
Please, if you have pages on your website that load really slow, you have to optimise pages to make them fast.
If I may ask you:
What would you do if you land on a certain website that loads in about 20-50 seconds?
Leave, right?
So you see, having a very slow website is one of the biggest cause of people bouncing off your website.
You can use the tools below to check your website speed before thinking of optimising them.
Try Pingdom tools, Google PageSpeed, and GTmetrix.
So there you go!
We have come to the end of this write-up, I have listed all the various methods that I have used in dropping my website's bounce rate. And I think you should combine all tactics mentioned above if you really want to attain low bounce rate on your blog or website.
before you go, are there other nice tactics you have used that helped to reduce your website's bounce rate and wasn't listed above?
Please, use the live chat or comment box and share with others what you did right.
Lastly:
Since high bounce rate is a concern for many website owners today, our digital marketing training is just the answer to your digital marketing problems.
Click here to check out the course outline and how to leverage this advanced digital marketing certification course to grow your business.
More articles: