A low customer retention rate is similar to filling a container with holes in the bottom. Peter Drucker (American-Austrian management consultant) once said the purpose of a business is to make and keep a customer.
People who have an online business can attest that's quite challenging to keep customers coming back to your website.
Every small business loves the exposure, empathy and sense of community that having a website that's a daily destination for customers can generate.
But getting people to visit on a day to day basis can be a tough hurdle, particularly if updates are occasional or all you have to offer is the irregular monotone press release or product announcement.
Having a great customer retention approach that allows your business clients to come back asking for more is such a big deal if not followed by the right strategies.
Thankfully, building a website that's "sticky" enough to keep users engaged and coming back doesn't have to require spending thousands or reinventing yourself as the next online media king.
One way of reducing customers not returning to your website is to focus more on your current clients instead.
After all, whether clients have visited your business once or a number of times, you have already broken the ice with them. They already know what to expect from their previous experience, they have a feel for the staff, and they have started to get to know the expert who's looking after them.
If you want to learn more about customer retention strategies that will help you retain more customers, you should consider attending our digital marketing training course.
This course will reveal more in-depth every piece of information you are about to read below.
Click here to access our course page or visit the link => https://digitalmarketingskill.com/digital-marketing-training-course/
All it takes is a little elbow grease and personal touch, as indicated by the simple customer retention strategies below, each outlined to send your homepage's daily number of visitors growing.
Let start by understanding what customer retention is.
What is customer retention?

Customer retention rate is how well a company keeps its paying customers over a period of time.
A low customer retention rate is similar to filling a bucket with holes in the bottom — sure, you could keep piling on to make up for it, or you could find out what caused the holes and how you can fix them. Retaining customers costs less than acquiring them, and both add to your company's bottom line; revenue doesn't care where it comes from, earned or saved.
In a country like Nigeria where the resources are dwindling coupled with a harsh business environment, it is important we get our customer retention strategy perfectly.
And basically, for you as a business owner to continue to ensure sustainability in business you also need to get it working perfectly.
So, let's get started…
Here are the Top Customer Retention Strategies Needed to Keep Customers Coming Back Again and Again.
1. Connect And Communicate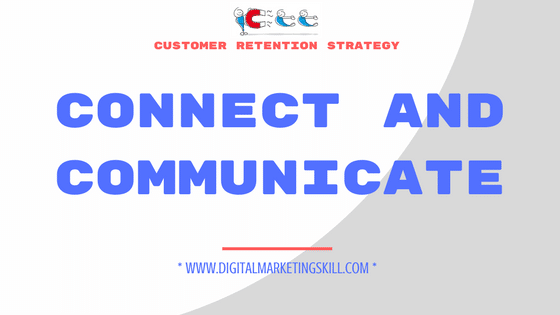 Most new modern websites have ignored blogging today.
What many don't know is:
Blogging should be an essential part of any modern website.
After all, a few clicks are literally all it takes to post updates in real-time around the clock, creating a steady stream of content that promises something new and exciting with every visit.
Better still, professionals at all experience levels have the capability of readily doing it, and the practice also helps put a personal face on your organisation, shining the spotlight on the individuals behind it.
However:
To really captivate a one-time visitor enough to keep them returning, take note of this:
You'll also need to provide a content that's dynamic, original and offers measurable informational or entertainment value, plus speak in a language that everyone can understand.
In short, the occasional pre-approved sound bite from the HR guy or gal won't cut it.
Rather, you need to approach website audiences like you're having a healthy conversation and give content with meaningful substance to the reader.
Making-of articles, features detailing how to get more from your products, partner profiles, project diaries, step-by-step how-to guides, interviews with notable personalities or internal stakeholders: All present compelling ways to connect with audiences while also keeping them interested and informed, providing ample incentive to keep coming back.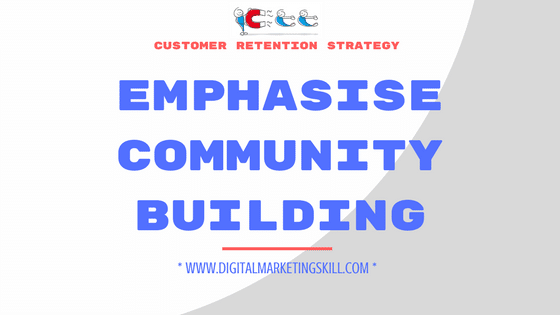 As social media insiders well know, creating a sense of community around your website is one of the most powerful tools for engaging and ultimately enthralling prospective fans.
But doing so doesn't simply mean throwing up a sponsored message board then leaving it to stagnate, or e-mailing customers sporadic newsletter updates that disgorge existing material easily found elsewhere.
Rather, you have to not only promote discussion and actively take part in conversations by committing internal time and resources but also make customers feel as if they truly have a voice in the discussion by attending to their concerns, responding and sourcing feedback at every opportunity.
Implementing programs that recognise and reward valued contributors is also vital, as is creating fan-based initiatives that allow community members to contribute and share ideas, concepts and creations of their own.
Even simply giving enthusiasts the chance to submit designs for your next fundraiser's logo or arranging times where they can chat with top execs to provide input on upcoming ventures won't just engender goodwill.
They'll also excite and empower a legion of amateur brand ambassadors–an essential source of free ongoing updates and constructive conversations, which will both attract users to and keep them enamoured with your site.
3. Design For Mass Distribution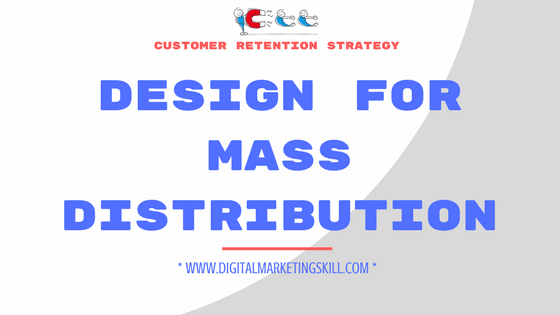 Sharing is good–even more so if you've got a message that deserves spreading and it winds up in front of millions of eyeballs.
As such, you should be not only updating your website with unique pieces of content (surveys, research reports, custom editorial clips, guides to solving common problems, unique looks behind-the-scenes, etc.) designed to grab viewers' attention, but also making everything from blog posts to pictures, photos, PDF documents and videos shareable, embeddable and ready to be commented upon or re-tweeted via social media platform.
When it comes to corporate assets, the tendency–especially among hyper-competitive start-ups–is always to tightly hold and control.
But often, the more powerful strategy is to design pieces of content with the specific idea in mind of seeding them throughout the user community, as it's a great way to build brand awareness.
Beyond heightened exposure and additional media mentions, using your website to disseminate unique, specially branded pieces of content can also lead to improved search engine optimisation results through a larger number of incoming links.
And, more important still, generate heightened word of mouth surrounding your homepage, letting countless potential readers know exciting things are happening there on a regular basis.
If you want to learn more about customer retention strategies that will help you retain more customers, you should consider attending our digital marketing training course.
This course will reveal more in-depth every piece of information you are about to read below.
Click here to access our course page or visit the link => https://digitalmarketingskill.com/digital-marketing-training-course/
4. Focus On Value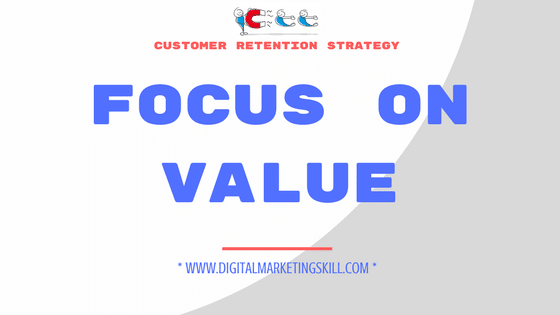 Another strategy needed to keep customers coming back is to centre your content to drive value.
Exclusive specials, contests, promotions and timed discounts can all be powerful drivers of website traffic, especially in these cost-conscious times. By offering direct bargains and rebate programs on both an ongoing and sporadic basis through your online headquarters, you can keep customers' interest piqued, and generate additional sales.
These marketing programs become even more relevant when coupled with Facebook, Twitter and other social marketing tools, which have the potential to help news spread like wildfire online.
Just ensure that the only place such bargains can be found is on your website homepage, and be consistent in terms of the pages to which you drive this traffic, to establish in shoppers' minds the importance of regularly checking a certain destination.
Similarly, establishing rapport with key bloggers and members of the media can also help reinforce the message, as can a regular series of e-mail or newsletter updates designed to inform current and prospective buyers. Customers get to save on purchases while you benefit from enhanced publicity and heightened sales, creating a win-win situation for all.
5. Use Targeted Demonstrations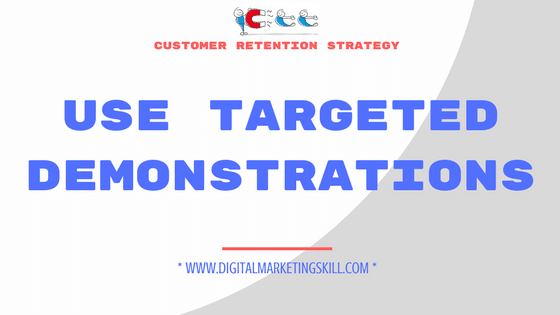 While special membership options, premium subscription packages and frequent buyer programs can all prove great incentives, services that you freely give away are often just as important as those that you reserve for more exclusive clients.
Whether you're looking at giving free computer virus scans by having users visit your homepage, providing a suite of free continuing learning resources or simply hosting an archive of complementary, corporate-branded webinars on software engineering, realize: Providing helpful services or information at no charge that solve pressing, evergreen problems or answer important questions can all serve to generate a steady source of online traffic, and provide a ready supply of leads to upsell on premium services. Sometimes you have to give in order to get.
It may seem counterintuitive, but ultimately, the practice makes a ready way to demonstrate your organisation's abilities to a conceivably lucrative customer base, while also delivering the benefits by partnering on more exceptional or long-term services.
6. Ask For Customer Feedback Regularly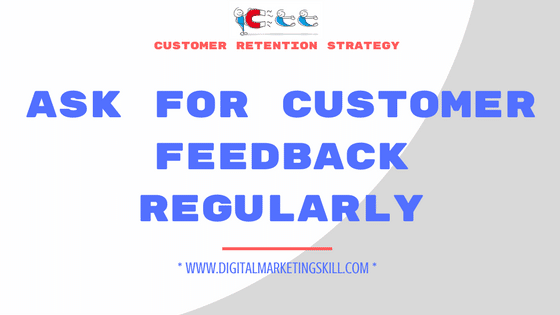 Analytics and data give you all sorts of insights into what your customers want from your business.
But sometimes…
Don't you wish you could get an answer straight from your customers?
That's what customer feedback is all about.
If you are looking to retain more of your customers, you need to leverage on customer feedback strategy.
Whether you set up a short, online survey for your clients to complete after their buying experience, or you ask for feedback via email or text, all feedback (whether good or bad) is essential for you to see your business through your customers' eyes.
It's important to take the feedback on board, too, and act on it.
Here are the 5 best ways to get consistent (and high quality) feedback from your customers:
Surveys
Feedback boxes
Reach out directly
User activity
Usability Tests
Kissmetrics have a detailed article that covers how to get the best feedback from your customers. Kindly read through that article to have better insight on how to channel your business to collect these important feedbacks.
If you want to learn more about customer retention strategies that will help you retain more customers, you should consider attending our digital marketing training course.
This course will reveal more in-depth every piece of information you are about to read below.
Click here to access our course page or visit the link => https://digitalmarketingskill.com/digital-marketing-training-course/
7. Always Exceed Your Customers' Expectations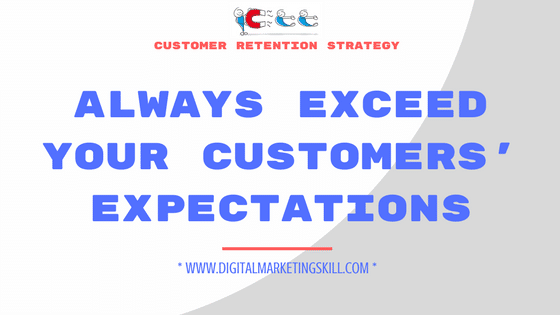 Another customer retention strategy that works really well, is to exceed your customers' expectation.
Customer service has never been so important, yet many firms seem to have lost sight of their customers.
More and more customers prefer buying goods and services on the internet as it provides greater flexibility, speed and choice.
As a result, organisations are adding more and more content to their websites, which is fuelling the customer's thirst for knowledge.
However, what they're often missing is that this increase in knowledge is leading to an increase in questions of a more complex nature.
As a result, there is a growing requirement for good online support as well as traditional offline support for those customers who need or want it.
When you go out of your way to make a client feel special, go that extra mile, your client will remember the extra effort and how you made them feel.
In turn, they'll be more likely to share the ins and outs of this experience with their friends and family, and when they hear what a fabulous business you have, they'll be picking up the phone to make another purchase.
8. Utilize Positive Social Proof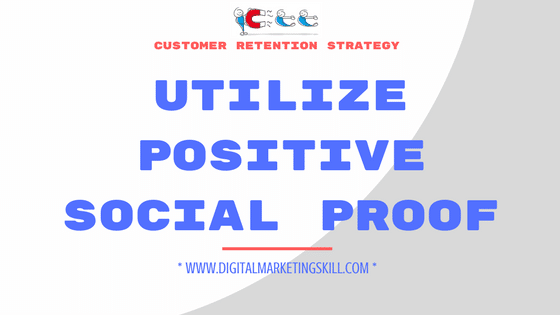 Social proof (also known as informational social influence) is a psychological and social phenomenon where people assume the actions of others in an attempt to reflect correct behaviour in a given situation.
Whatever is it you're selling, it likely doesn't sell itself. And neither does you just talking about how great it is, which is where social proof comes in.
From testimonials to number of customers you've worked with to social media presence, social proof is a mighty powerful force.
The big mistake businesses often make is that they use negative social proof to increase the effectiveness of their call-to-action, which could be destroying their conversion rates!
While negative social proof has been proven to dissuade customers rather than encourage them, numerous studies on customer motivation have shown that positive social proof (like testimonials) are commonly the most effective strategy for getting people to listen.
9. Surprise Your Customers Often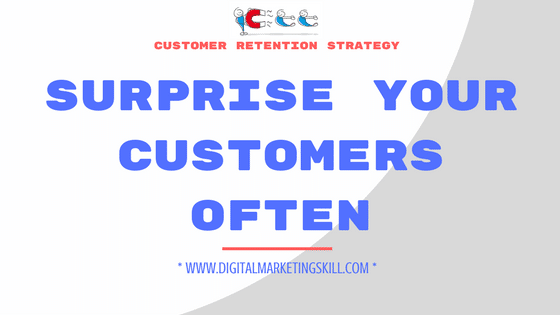 Surprises can totally make anyone's day. They provide quite the elation and in most cases, turn a satisfied customer into a delighted one.
You might be inclined to ask though, how do you surprise your customers?
Here's where the data about your customers turn of value.
If you know the date on which a customer's birthday or wedding anniversary falls, send them a personalized greeting along with a cake.
Want to do something even cooler?
Send the customer a simple, fun video greeting!
The ROI of doing such an initiative might not be quantifiable but your customer will eternally remember the moment a business that entertains hundreds or thousands of customers each day took time off to wish one particular person.
I will stop writing here. If you are seriously searching for tips to bring back customers, try out all the aforementioned customer retention techniques.
Although, we have a hand full of effective customer retention strategies that we share with folks who have registered for our digital marketing training course.
I think you should check out this course page to see what we offer and how you can benefit from our core digital marketing training in Nigeria.
Or use the link => https://digitalmarketingskill.com/digital-marketing-training-course/
More Reads: