How can you make money online with affiliate marketing, he asked?
That question was asked by one curious past student who attended our Make Money Online Training Course. He wanted to know if he could start an online business and make money as an affiliate marketer.
Let me throw the question back to you…
Do you think it is possible to start a successful affiliate marketing business with low capital?
You're probably pondering and thinking your heads out, right?
Well, before I started Digital Marketing Skill Institute, I teamed up with my flatmate to start an online hotel booking business and I lost my savings to a digital marketing firm that drove little or no results for the online business.
I became bankrupt and frustrated that I took matters into my own hands and decided to learn digital marketing. I became obsessed and so passionate about digital marketing as I began to drive quality traffic, convert that traffic to customers and engage prospects and customers into new, returning, and referral sales.
It was then that I realized digital marketing could help all types of businesses grow quickly if only the right digital marketing strategy is implemented and for that reason, Digital Marketing Skill Institute was founded to help businesses succeed using proven digital marketing strategy that works.
Through a relentless ambition and focus on the ultimate goal to make businesses succeed online using digital marketing channels and strategies.
I now have a brilliant team of experts in Nigeria with experience working with various clients both within Nigeria and internationally.
OK, that's enough about me. I will answer that question above.
After so many years helping businesses succeed online, understanding what works and what doesn't, I have come to the conclusion that… You can make money online with affiliate marketing. I'm sure the next question is…
How can I achieve that?
This method I'm going to share requires a few basic skills of generating and monitoring traffic, content writing skills, and a bit of patience too.
And that's why we have the Make Money Online Training Course that we created to ensure that you acquire all the necessary skills needed to succeed and make money online in Nigeria.
You can click here to read more about our "Make Money Online: Success Circle Coaching Membership"
You can also register using the button below:
If you implement the strategies, tactics, and tools we teach you, you WILL make money.
But before I start, I would like to clarify;
What affiliate marketing is and the different types of affiliate marketing.
The advantages of being an affiliate marketer
What Is Affiliate Marketing?
Think of this as a lazy money-making strategy. (This means you can make money
Now, Affiliate marketing is basically when you are rewarded for helping businesses promote and sell its product.
For example, if you sign up for Jumia.com affiliate program and promote its product then you will get a commission when the visitor you send from your site, blog, or Facebook page makes a purchase.
When you join Jumia.com Affiliate program and choose the products that you want to sell, Jumia.com will provide you with a unique affiliate code that you can use to refer traffic to Jumia.com.
When interested visitors click on these links from your site, blog, or Facebook page they get redirected to Jumia.com, and if they purchase a product or subscribe to a service you as the referrer make a commission.
Do you want to know the sweetest part of affiliate marketing?
You don't need to sell products all the time to make a commission.
Yes… you really do not have to sell all the time to make a commission.
This is basically because different affiliate programs can use different payment terms such as:
Pay per Sale: In this program, a product owner pays you a percentage of the sale price when the purchase is completed.
Pay per Click: In this program, you get paid based on the number of visitors you redirect to the products owner website from your affiliate site, whether or not a sale is made.
Pay per Lead: You get paid once the referred visitors provide their contact information on the target site by filling out a simple contact form.
Advantages Of Making Money Online With Affiliate Marketing
Today, Affiliate marketing is considered to be one of the world's fastest-growing and best internet marketing techniques to earn money online.
Here is why:
It is cost-effective: Marketing on the internet is cheap and you don't have to worry about the production cost as the product is already developed by the seller. You don't need a physical business location or hire employees either.
Global Market: Online marketing gives you the opportunity to reach people all over the world easily.
No Fees: You don't need to pay anything to join affiliate programs.
No Storage No Shipping: You don't need to worry about storage, packing, or shipment of the product. They are all taken care of by the seller.
No customer support: You don't need to provide any customer support or deal with consumer complaints as the Seller does that for you.
Passive income: A regular job can give you a fixed income as long as you continue to work. Depending on your marketing skill, Affiliate marketing can create a steady flow of income even when you are not in front of your computer.
Work from home: If you make enough money then you don't have to worry about going to work at the same time every day or getting stuck in traffic. You can work in the comfort of your own home.
So let's start…
What technical setup will you need to start an affiliate business?
To best explain this I would be using one of the several affiliate marketing strategies we teach our students during our Make Money Online Training Course.
Click here to learn more strategies I have used to make more money online through affiliate marketing. This 100% working method is so simple and easy with fast and guaranteed results upon your hard work.
Remember there are several strategies for making money through affiliate marketing.
Most of these strategies will be shared with you by our team of digital marketing experts when you register for our Make Money Online Training Course. Click here to learn more.
You can also register using the button below:
If you implement the strategies, tactics, and tools we teach you, you WILL make money.
Practical Steps On How TO Make Money Online With Affiliate Marketing
If you follow this guide on how to make money online with affiliate marketing, from A-Z and put in the work, you will build a career out of affiliate marketing and earn a living.
These guides have been selected out of practical steps we teach in our digital marketing training, where our students learn how to build and make money online with affiliate marketing.
Step 1: Choose a Niche
Rule number one: If you want to succeed in making money online using affiliate marketing, choose a niche.
No affiliate marketing expert ever registers for all niche just to broaden their way in affiliate marketing and make money from all the available niches.
So if you're thinking to signup for all the available niches, you're headed for a pitfall.
Choosing the best niche requires your expertise in that field and sometimes requires in-depth knowledge and skill.
For instance, one of my employees started a technology blog to market strictly tech products on his website and social media pages.
He opened this blog due to his interest in helping people with simple tech problems.
So, I believe you understand what I'm saying now.
There are different affiliate marketing niche you can venture in – Fashion, Education, Health, Digital products, and more. Carefully look for the area you fit and find a product you would promote in that market.
Factors to consider before you choose a niche in affiliate marketing
Rate of monetization
what you love doing
ease of promotion
Once you figure out the first step to make money online using affiliate marketing which is to identify a niche, this second step is where you either define your success, or you lose out.
Step 2: Build A Blog Or Social Media Community
There's no doubt that effective affiliate business requires a blog or affiliate website, the importance of a website for any digital business is unarguable.
You'll need a blog.
But,
Owing a blog or a community where you promote your affiliate link isn't all enough.
You'll need to build traffic, but in the next step, this will be covered in detail.
The need for a blog in making money with affiliate marketing is this.
Your readers search for a product or how to use a specific product
your blog serves the purpose of teaching the necessary lessons on how to use a product
now, to market your affiliate products, you will subtly refer to a link (your affiliate link) where they can purchase the said product and you earn a commission.
When you click on this link to register, the owner of the blog "JOHN CHOW" will earn a commission from HostGator.
Step 3:

 

Build Quality Traffic To Make Money Online With Affiliate Marketing
Like I said, If you have a platform where you market your product, be it social media pages or a blog… you must understand that your customers or follower are never enough!
The more website visitors on website or followers on your social media page, the better chances of getting increased affiliate sales.
Building traffic for Social media pages
Here are some resources that will help you grow a healthy social media community;
There is a lot more resource on the internet that will help you get more customers or followers where you can start marketing your affiliate products.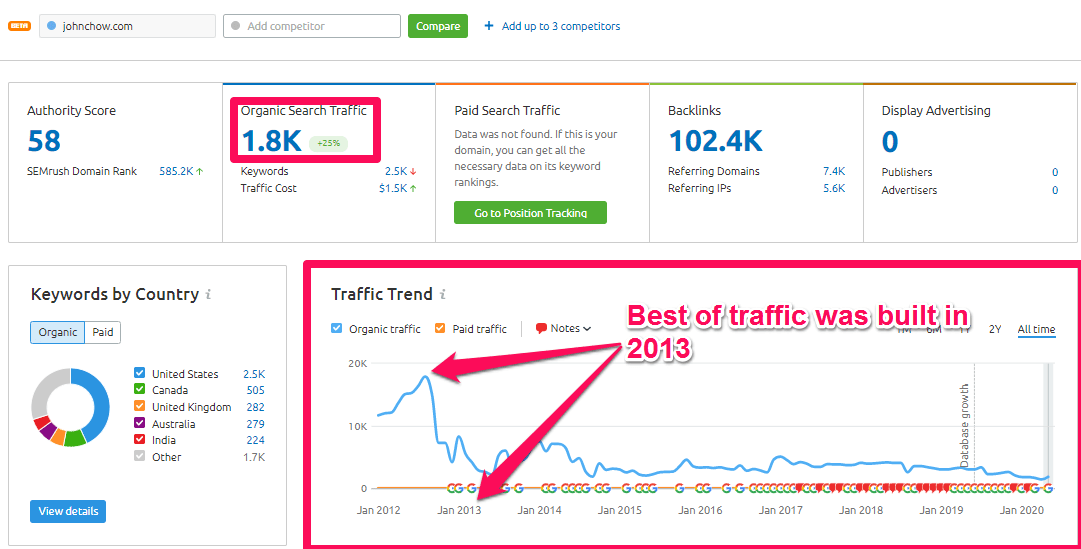 Building traffic for blog
Once you have built your own blog, all you need is a little over 100 to 1000 daily visitors to your blog.
Getting 100 to 1000 visitors for free on daily basis to your blog won't be that difficult as long as you follow the step by step guide we give you to getting your blog post seen on Google's first page in our digital marketing certification training.
Create an eBook for your blog.
If you want to make money online with affiliate marketing by first giving out value? then this is the most important factor in this process. You have to create an eBook which is really totally unique. It must attract your readers.
It's what we call a lead magnet. Click here to learn more about lead generation.
Write an eBook with great information about your niche, which audience all over the world wants for FREE. For doing this, create a very catchy cover and make the title of eBook a bit spicy.
If you can't write an eBook then you can outsource it from others too. They are many writers available there. It may be a bit expensive. So better you write on your own. After creating an eBook, it's time to create a landing page for your blog.
A landing page is where your visitors' lands and that page attract the visitor and make him give his email/buy the ebook/subscribe to your blog etc.
Different landing pages have different purposes to convert. For this process, you need that visitor to provide you with his genuine email address. In return, you'll give the report/eBook to him for free. You create a landing page on your blog's homepage because of most of the visitors arrive at your homepage.
We believe this is one of the most effective ways of generating quality leads or buyers with an interest in your affiliate product and service. Click here to learn more about building landing pages
So let's move on.
After that, you've to set up an email auto-responder. Ths is so effective if you must make money online with affiliate marketing.
When someone gives his/her email address, the auto-responder will send him a notification to confirm it and the eBook (for what he subscribed).
Now, this is where your knowledge of email marketing comes into play.
Email marketing is an important part of your affiliate marketing strategy. This is because most times 90% of your first-time blog visitors won't buy from you immediately.
You will need an email marketing system to nurture them over time.
Click here to learn more about email marketing.
Once you have built this all things, you'll need the traffic to your landing page. Remember even if you are getting 1,000,000 daily traffic to your blog if they are not interested in what you are offering it will all be a waste of time and effort.
The key is getting quality traffic of people with an interest in the affiliate product or service you are offering.
Which is what we show you how to do in our Make Money Online Training Course.
Click here to learn more about generating traffic from Google or social media.
For example, you want to sell slimming tea as an affiliate product and the kind of people you get to your blog are people who are already slim… what's the likelihood of them buying the slim tea?
Almost close to none… even though you may get models who still want to slim down, the idea is to get as much quality leads as possible.
Once you got the email address, now you need to convert it to a buyer. Send them a 7-day course which will teach them something unique in your niche. For example, if you are blogging about weight loss, send a 7-day course named "The 7-day Plan to lose weight guaranteed"
If your blog is about blogging tips, then send them "How to Make Your Blog More Profitable in 7-days". The more attractive your headline is, the more attention you will get.
In this 7-day course, you need to win the heart of your prospect. You need to build a relationship of trust with them. So be careful while writing it, it is very very important. Once you are done writing it, now it's time to earn some money. You have given them lots of information for free, now you need to earn money from them.
You will help them make the process fast, and help them, and earn money. Like when you sent a course titled "The 7-day Plan to lose weight guaranteed" promote some products related to losing weight and earn money.
When they trust you, they'll surely buy it.
Step 4: Find An Affiliate Product To Make Money Online With Affiliate Marketing
To start affiliate marketing, you need an affiliate product to promote.
For finding products related to your niche, you need to sign up at Clickbank or Amazon Associates.
These two are the best affiliate networks. I use Clickbank most. Amazon Associates is also good.
If you are looking for Nigerian affiliate programs that will pay in Naira, you can read my article on top affiliate programs in Nigeria with high commission.
Once you are registered for the affiliate program, you will get a unique link named affiliate for the product from the affiliate networks. Include it in the email, when the person will buy it via that link, you'll earn a commission for it.
Let me show you how to get links with Jumia affiliate:
Here is a step to get affiliate links or banner links with Jumia.
Log in to your Jumia affiliate dashboard
Locate Tools, then select if you want banner or links.
For generating banner links: 
Select your target country from the advertising offer drop-down menu.
Select the banner folder and preferred banner size.
See the picture below:
All you need is the banner code to get this banner to display on your website.
However, if you're going with marketing your links on social media pages such as Facebook and Twitter, then you only need to copy the Ad URL.
For building affiliate links:
If you intend to promote a specific product, then this one is just what you need.
Select Build links.
Go to Jumia.com as if you're a visitor then copy the URL of the product you want to promote on your website.
Head back to your affiliate dashboard. Select your target country from the advertising offer drop down menu and paste product URL in the PAGE URL section.
See picture below:

So that's pretty much how to generate product and banner links for your website.
This step does not look the same on other affiliate partners.
If you're using Konga affiliate, AliExpress affiliate, Clickbank affiliate, Amazon affiliate, etc, then you might as well look for how to do this on their different platforms.
The concept is the same.
Step 5: Promote Affiliate Products
Ok, now the most important part.
If you don't know how to properly promote them, everything you've learned would be a waste.
In this step,
We're going to look at some of the easiest and most successful ways to promote an affiliate product.
a. Product Reviews
If you've built up a lot of trust with your audience, product reviews are a fantastic way to generate some sales.
This works for all three types of products you can promote, and I've personally seen success with each.
The key to a successful product review is honesty.
I'd generally only review things you like, but if there are drawbacks or little things that bother you – be upfront about them.
Most people know that no product is perfect.
So:
If you set expectations and are open with them, there's a good chance they'll buy it anyway.
Make sure you include the following items in any product review:
Clear headline featuring your desired keyword ("product name review" for instance)
Clear links for where to buy at both the top and bottom of the page
A clear recommendation
A personal story about how you use the product or why you recommend it
b. Tutorials
Tutorials are easily one of the most effective strategies for driving affiliate sales.
They can take a long time to put together, but it's also totally worth it.
So what is a tutorial exactly?
Simple,
You create a post that shows people how to accomplish something step by step – you then make a product or service one of the key components to success.
For example,
A while back I created a post that was all about how to start email marketing in Nigeria. I talked about it in a step by step guide. I make a few hundred dollars a month just from that one tutorial.
c. Comparison Posts
This can be another really effective strategy for making affiliate sales.
It works well when there are either two products that are very similar and people are thinking about one or the other.
A great example would be comparing the iPhone X vs the Samsung Galaxy S8.
If people are looking for a new smartphone, it's probably going to be one of the two. You can create a definitive post and make sure you put your SEO skill into practice.
d. The Resource Page
This is probably the easiest thing you can do right now to bring in a few sales over the coming weeks: create a resource page.
Regardless of what your business is, there are tools, products, and services that you use to run your blog or business.
By putting together a page of all of your tools and resources, you're creating something that's shareable, as well as useful.
e. Email Series
This is probably the most effective (and most advanced) method we'll talk about for making affiliate sales: your email list.
If you're getting to the point where you have a sizable list, you could create a series of emails to promote a product.
This works best if it's an information product with relatively high commissions.
For this to work well you should have the following:
A list of at least 1,000 people
A product you've either used and had success with, or have a very good story/reason for promoting
A product that converts well (talk to the creator about this)
If you have no idea about writing an email series that will sell your affiliate product, I recommend that you join our digital marketing training to learn more about this. We take our email marketing module seriously!
To sum it all up:
The secret success of affiliate marketing is not just consistency, hard work but using the right affiliate marketing strategies.
Also, understanding the various traffic generation tips.
That's why in teaching you how to how to start affiliate marketing and make money online with affiliate marketing in our digital marketing course, we over emphasize on teaching you how to generate quality traffic for your affiliate marketing business.
We also drive our focus on ensuring you learn how to build a customer base, target commercial value keywords and more importantly you will learn how to drive quality organic traffic for free.
Click here to join our complete digital marketing course.
Additional Resources: